Entertainment
Mila J & Siblings Bond, How Is It? Explicit Details On Net Worth & Ethnicity
What's worse than your parents comparing your success (net worth) with that of one's overachieving siblings? R&B starlet Mila J, age 35, might have an answer or two to the said question.
Sisters with widely recognized pop sensation Jhene Aiko, Mila - whose ethnicity remains a topic of conversation because of her exotic look - has been living under her baby sister's all her life.
While her more famous sibling continues to make headlines either because of her lustful songs or dating life, it looks as though the Los Angeles native seems purely focused on resurrecting her promising musical career.
Now releasing songs at a frightening speed, has she let the fact come in between their once blossoming sisterhood? Read along to find out!
Siblings Rivalry With Sister Reflected On Net Worth?; Parents' Ethnicity Discussed
Ever since her sister Jhene, age 30, hit it big with her breakout project Sailing Souls, Mila had to wear to the cruel tag of being the underachieving sibling.
See Also:- Who Are Erinn Westbrook Age 27, Parents & Siblings? Explicit Details
Once placed together in a girl group, she and her sister's career trajectory couldn't have taken more different paths. Frustrated with the lack of desired success, the My Main hitmaker quit the music industry in the mid-2000s, only to make a return with a new moniker Japallonia half a decade later.
She would eventually revert to her original stage name after signing a record deal with prestigious label Motown in 2013. Under the Detroit-based imprint, she found very little success. Since getting dropped by the said record label in 2017, Mila has released over a dozen EPs to a mediocre reception.
Despite all her best efforts, the former Motown artist is still trying to keep up with her sister's Jhene - who has multi-millions in net worth - accomplishments; a fact that inadvertently gives rise to the sibling rivalry trope. Mila, however, begs to differ. In 2014 Global Grind interview, she assured:-
"I don't compare, but I think people are going to do that just because we look alike and we have the same last name. It's weird because some people don't even know we're related. I feel like our music is totally different. People are always going to create a sibling rivalry and there is none. Not at all."
Raised alongside their three siblings - of which a sister named Myagi passed away in 2012 - Mila and Jhene grew up in a musical household which was spearheaded by creative parents: a pediatrician-cum-musician father Karamo Chilombo & art teacher mother Christina Yamamoto.
Discover:- Openly Gay Johnny Mathis Married? Bio Reveals Addiction, Ethnicity & Facts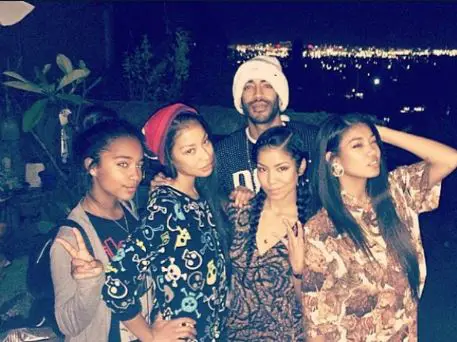 Mila alongside her siblings (Photo:- capitalxtra.com)
Not just musical aspirations, the Chilombo sisters have "exotic" looks to be thankful for because of their parents' ethnicity -- their father is of African-American descent with German Jewish and Native American bloodline while their mother, on the other hand, is of Japanese, Spanish and Afro-Dominican ancestry.
Songs About Boyfriend: Is Mila J Dating Again?
There's no denying that Mila's an incredibly talented singer/performer with a personality that could tame even the wildest beasts.
The most notable person to fall for the Next Up songstress - who was once in a relationship with Marques Huston - charm is none other than R&B crooner Trey Songz.
Starting as friends, she and her former boyfriend Trey, age 34, first showed off their budding romance publically at a charity event in New York City.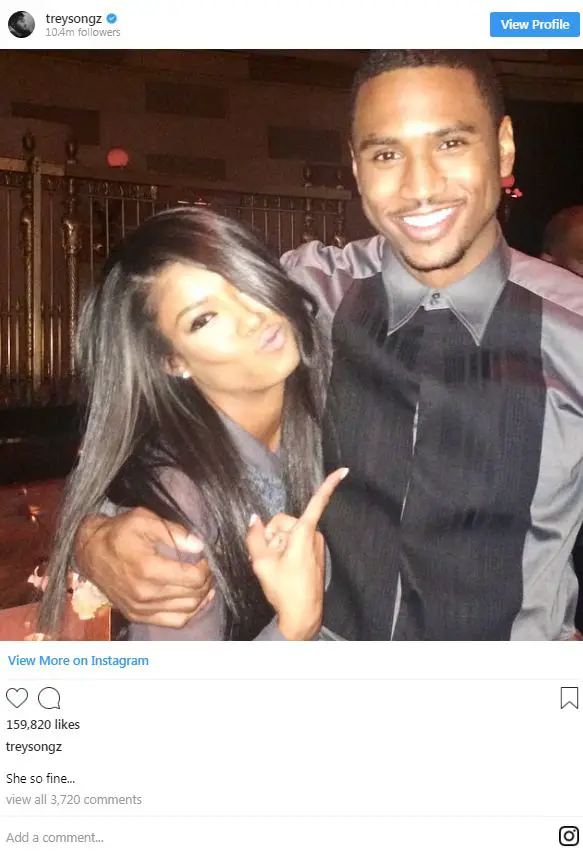 Mila with her then-boyfriend Trey (Photo:- Trey Songz's Instagram)
Don't Miss:- Get All The Details Of Aesop Rock From Net Worth, Tours To Personal Life
She and the Can't Be Friends hitmaker's brief romance also led them to a collaboration. A single off the latter's album Trigga titled Disrespectful sees the former lovebirds profess their love for each other on "the record."
No longer with Trey, Mila's love life has undergone several changes; so much so, she proudly announces the arrival of a better boyfriend in her life on her 2018 single aptly titled Boyfriend as she croons:-
"Got a new boyfriend, got a new boyfriend, got a new boyfriend, it's true
Got a new boyfriend, got a new boyfriend, got a new boo, it ain't you
Got a new boyfriend, got a new boyfriend, anyway better than you"
It is still unclear if the subtle jabs were aimed at her former boyfriend Trey or not!