Entertainment
Cynthia Nixon Leaves Husband Embracing Gay Sexuality As Wife Came Along
Spending 15 years together with ex-partner........Cynthia Nixon has finally come out to her true sexual orientation. Calling an end to her previous relationship, the Sex and the City star has been living blissfully with her new girlfriend......with whom she tied the knot with and has a son named Max.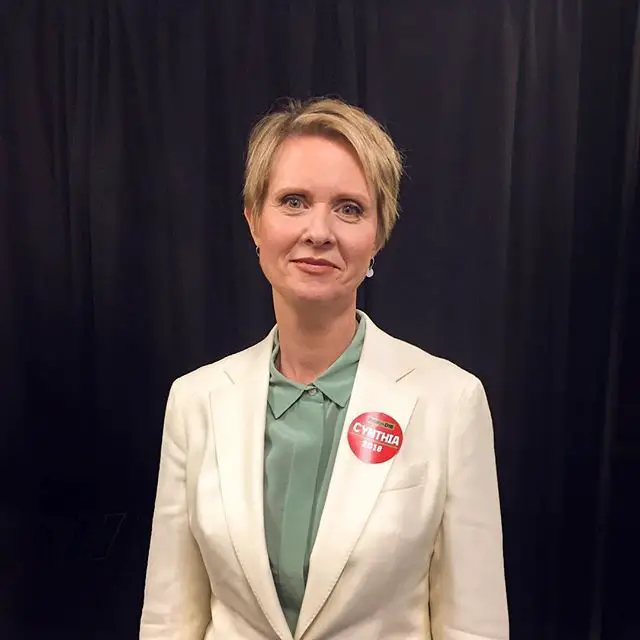 Her true sexuality came knocking down her door late in life. After being married to husband for 15 years, the Sex and the City 2 star, Cynthia Nixon realized her love for girls when she finally met Christine Marinoni.
Coming out as a lesbian after nearly 37 years of her life, Nixon, now lives as an open bisexual wife with partner Christine. Their love story is yet to be told.
Coming Out As Gay: Leaves Husband And Becomes Wife To Christine!
It was a happy 15 years of togetherness that Cynthia Nixon shared with her former partner Danny Mozes. The couple, who were high-school sweethearts, never officially got married.
They started dating in 1988 and ever since had been living together parenting two children whom they welcomed into the world. It was in 2003, that 'The Women' star finally came out as gay and called it an end with Mozes.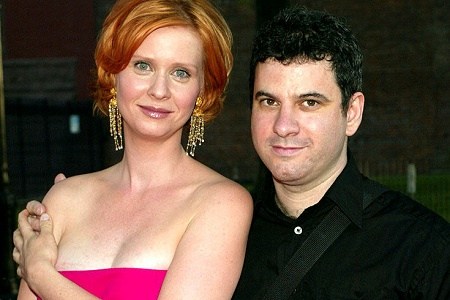 Cynthia called an end to 15 years of relation with boyfriend after coming out as gay (Photo: Pinterest.com)
he 15 years of a relationship ended within a blink after Nixon revealed her true sexual orientation. Though Nixon did report her attraction towards her ex-boyfriend was as real as it is towards her current partner. She said to Telegraph in 2008:
"In terms of sexual orientation, I don't really feel I've changed. I don't feel there was a hidden part of my sexuality that I wasn't aware of. I'd been with men all my life, and I'd never fallen in love with a woman. But when I did, it didn't seem so strange. I'm just a woman in love with another woman."
After meeting Christine Marinoni in 2004, Nixon felt deeply connected toward her.  The duo then started attending the LGBT support groups and fighting for gay rights whilst dating and sharing love together.
It was then, Nixon, who had never tied the knot before, choose to take their relationship one step ahead by ringing their wedding bells. The lady, who had never dated let alone kissed any girl before, was the first one to feel comfortable being the wife in their relationship.
More Sex and the City Stories: Will Kristin Davis Ever Get Married And Have A Husband? This Is Her Answer
She reported in the Radio Times saying:
"Marriage was never a goal of mine ... But it seemed like Christine and I did fight really hard for it and we had a lovely wedding ... Why wouldn't I have done it?"
Tieing the knot after being engaged for 3 years, the couple has been sharing a good moment together. They also welcomed their only son Max in 2011, when Marinoni carried the baby after receiving a sperm donation from their male friend.
Read The Inside Story: Christine Marinoni Age 50 Wiki: Post Pregnant Bliss To Family With Cynthia Nixon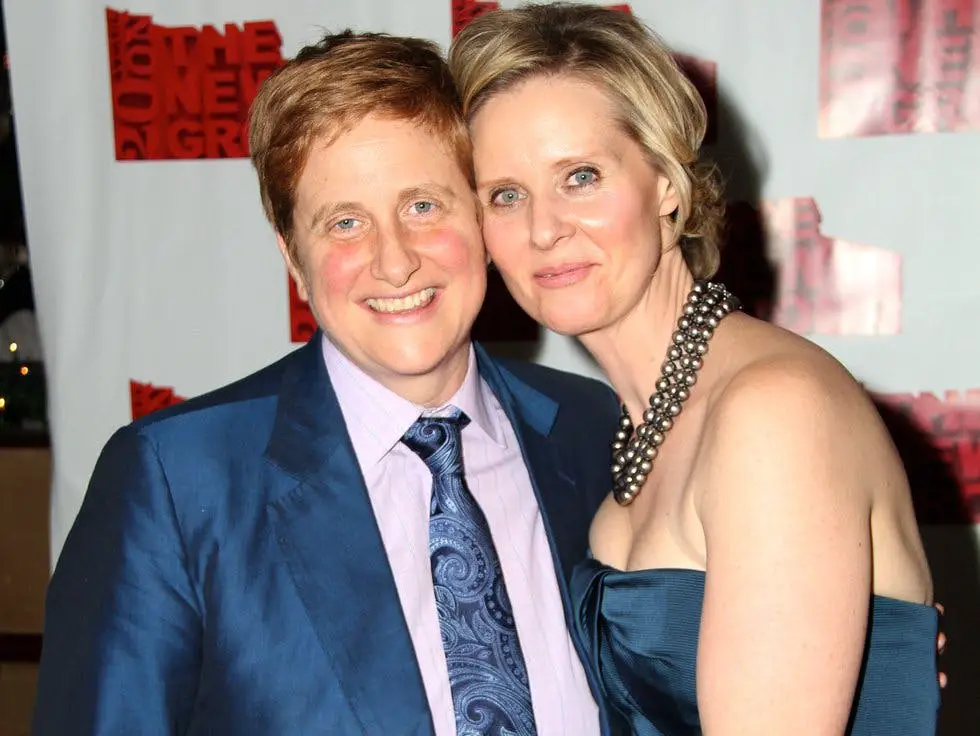 Cynthia together with partner Christine flaunting their matching blue get up (Photo: Stylist.co.uk) 
Being a survivor of Breast Cancer, the Sex and the City star has always had her Marinoni by her side to love and support her at all times.
Cynthia Nixon Wiki: Age, Wife, Education, Net Worth
Born in New York City to actress Anne Elizabeth Knolla and the radio journalist E. Nixon Jr, Cynthia Nixon came to this world with an already set entertainment background. After getting her education degree from Hunter College High School and Barnard College, she started her career as a Broadway actress in 1980.
Being a passionate actress, she has played in numerous movies like Little Darling, The Women, and Quiet Passion and more. She won herself a Tony Award for her role in Indiscretion. Her biggest breakthrough in the industry was through the famous series Sex and the City which helped her earn a total net worth of $60 Million.
Don't Miss: Who Is Amanda Setton? The Actress Who Once Made A Buzz From Her Dating Affair With Singer Boyfriend
After dating her former boyfriend Danny Mozes for 15 years, she came out as a lesbian and married her current partner Christine Marinoni. She has three kids, two from her former boyfriend and one from her current relationship.
At the age of 52, she has been flaunting her acting skills through different shows and movies and has been actively participating in the LGBT communities and fight for gay rights at a great height.