Dale Brisby is a rising social media personality. With his unique rodeo life of bull riding on display online, Dale is a budding Snapchatter and YouTuber.
On the latter, he boasts over 130K followers and more than 20 million views. While not entertaining the audience online, he remains busy in managing the Radiator Ranch Cattle Company as its CEO.
Married Life
Dale is a self-proclaimed ladies' man. He doesn't leave a single opportunity to boast about his popularity among the female population. Even in his official Facebook page's bio, he has bragged about his expertise in dating the fairer sex.
However, the " ladies' man" hasn't let a single thing slip about his personal life. Far from a legally married wife, he doesn't introduce any one of the ladies, whose heart he has supposedly broken. But, a secretive Dale did jokingly call fellow entertainer Fallon Taylor his girlfriend in December 2017. Later, their collaboration turned out to be a professional partnership for a series on barrel racing world.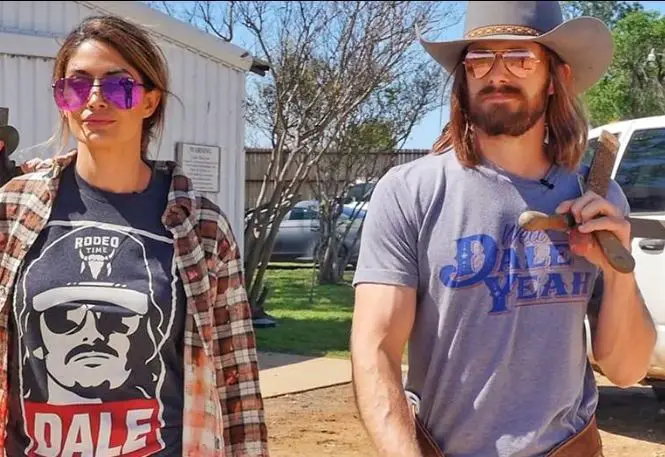 Dale Brisby poses with entertainer Fallon Taylor in December 2017 ( Photo: Dale Brisby's Facebook)
Dale's stand on his dating life suggests he casually dates people but hasn't found the one to settle down and get married finally. On 5th February 2019, he replied to a Twitterati that he would instead be living his rodeo life than going out for a Valentines' Day dinner. The reply made his single status glaringly obvious.
Dale's Bio & Real Name
The YouTuber celebrates his birthday every year on 12th February. Thus, he boasts an Aquarius sun sign.
Dale has embraced the cowboy style of living in his life. He started his bull riding career in July 1987 and his been at it ever since. Also, the YouTuber branched out in his career as a ranch manager at Radiator Ranch Cattle Company in 2004. He remains at the position till date.
Actress With Twin Name:- Dale Dickey Married, Family, Net Worth
In 2013, he found time to work at another place named Brightstar Ranch. Dale worked at the ranch for more than two years until the owners sold the site.
Interestingly, the cowboy holds a Masters' degree in Agriculture from Texas A & M University.
Real Name & Net Worth
Although an online personality, Dale is pretty private about his personal information, including his age, family details, and real name. It is a paradox that a social media personality's private information is a secret.
It is widely speculated that Dale's real name is Clint Hopping as the YouTuber's ardent fans bombard his comment section with his supposed real name, Clint.
Another YouTuber In Our Midst:- Reece Hawkins Age, Net Worth, Dating
In contrast to the YouTuber's personal information, his successful career isn't hidden. Dale earns a yearly average salary of $3.5K - $55.4K from his self-titled YouTube channel. Similarly, he also fetches a salary of $36,434 per year as a bull rider.
Also, Dale is the CEO of Rodeo Time, Inc- a retail company-since 2013. His company sells cowboy hats, caps, and T-shirts, which are most popular among his followers. Fans even inquire about his products on Instagram. Thus, all of Dale's endeavors surely add to his undisclosed net worth.