Dale Dickey, an actress by profession, gets best recognized for portraying Patty on the TV series My Name Is Earl. When ABC picked the stated sitcom for a second season in 2006, she quit her job at a non-profit to devote herself entirely to acting.
After going full time as an actress, the Knoxville Tennesse-native went on to star on numerous blockbusters including Iron Man 3, The Guilt Trip, and Hell Or High Water. For her performance on the 2010 indie classic Winter's Bone, she clinched an Independent Spirit Award.
An ever-present face in the TV realm, Dale boasts incredible catalog with credits on shows such as Breaking Bad, 2 Broke Girls, Grey's Anatomy, Criminal Minds, and True Blood.
Bio - Age, Family, Height & Education
Born in the year 1961, Dale and her older biological sister grew up in the tender love and care of parents Missy and David Dale Dickey. The family-of-four turned into a crew of three after her only sister passed away in 2001.
Went Through Similar Tragedy:- Willow Palin Wiki, Pregnant, Baby
The 57-year-old actress - who surpasses the 5 feet and 3 inches (1.6 m) height mark by ease - commenced acting at an early age, participating in high school plays. Pursuing higher education, she attended the University of Tennesse, only to drop out and join a Theater company.
Recognizing her influence, the University of Tennesse handed Dale an honorary Master of Fine Arts degree in 2015.
Dale Dickey's Net Worth Now
Life as a college dropout saw Dale struggle to make ends in LA. To survive - and make her dreams tic - she held demeaning jobs of a waitress and valet parking attendant.
Building on the momentum that she garnered for her role on the 1989 Broadway production of The Merchant of Venice, the Christy actress hit it big in 1995. That year, she made both TV and film debut by starring in Cagney & Lacey: Together Again and The Incredibly True Adventure of Two Girls in Love respectively.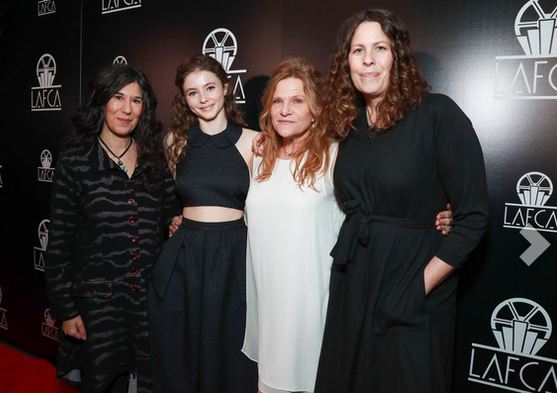 Dale Dickey (dressed in white) attends the 44th Annual Los Angeles Film Critics Association Awards in Jan 2019 (Photo:- Zimbio.com)
Dale's perseverance and continued dedication deserve praises and platitudes. The Bloodline actress' six-figure net worth now shouldn't be the only metric which defines her character.
Relationship/Married Life With Husband
Though she may not come off as a relationship type based on the characters that she portrays on TV and movies, Dale in actuality is a married woman.
Together with her husband Steve, the former Sordid Lives: The Series star leads a low-key romantic life. For all the world may care, the married duo's relationship has borne multiple children. That said, they couldn't help tied the knot before 2014.
Equally Secretive Relationship:- Colion Noir Wife, Net Worth, Real Name, Family
Providing a rare insight into their married life, Dale - in 2014 AZ Central interview - opened up about how her husband finds her attractive in person.