Entertainment
Damaris Phillips Exclusive Insight On Spectacular Wedding To Husband
Every little girl grows up fantasizing about having a dream wedding.
Celebrity chef Damaris Phillips, age 37, wasn't one of those little girls growing up.
Damaris - who first came to prominence as the winner of the season nine of Food Network Star - hadn't much dwelt on the kind of wedding she would like prior to accepting the engagement ring given to her by then-boyfriend, Darrick Wood.
But when the time came, the Jefferson Community and Technical College Alum rose to the occasion and with a little help from her husband, she managed to throw one of the most epic wedding parties in recent memory spaces of many.
Wedding With Husband: A DIY Festivity
For the sacred ceremony like a wedding, some may prefer an intimate ceremony enclosed in a tight-knit surrounding made up of close family and friends.
Interesting:- Iron Man Actress Gwyneth Paltrow & Brad Falchuk Married; "First" Wedding
Contrary to that, Damaris and her husband, Darrick is more of a "the more, the merrier type" as evidenced by their 2015 wedding reception which was attended by 235 guests.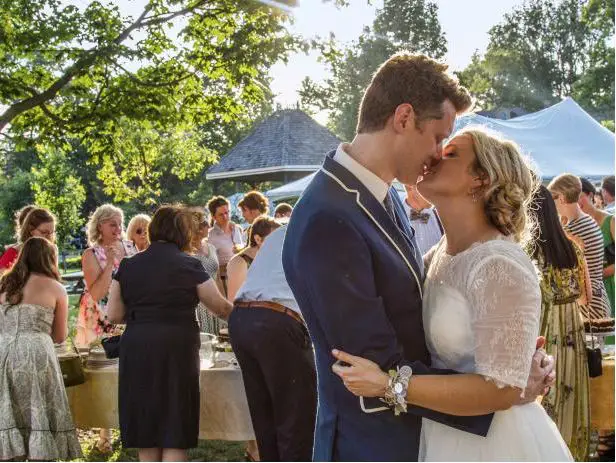 Damaris and her husband, Darrick share a kiss on the day of their wedding (Photo:- Food Network)
After soaking up the post-proposal bliss for a night, the Southern & Hungry star and her husband, Darrick got right down to the business of preparing for the wedding.
Damaris had his share of second thoughts in his then soon-to-be-wife's ability to organize a wedding which would be remembered for its extravagance. In 2017 Food Network interview, she recalled the moment of being faced with doubt after accepting Darrick's engagement ring and said:
"I was like, 'What are you thinking about the wedding?'"
As the part of their wedding plan, the Kentucky native and her then-fiance, Darrick each jotted down three wedding wish list.
Damaris wished for an outdoor wedding, a parade-style procession and furniture with ill-assorted vintage china whereas Darrick wanted family-like dinning, and the only furniture to accompany all the guests and a fork from each guest for the newly-weds to keep.
The newlywed's contrast in their respective wish list culminated in a wedding reception held in the middle of a city street with a non-identical place setting for each guest and all-vegan menu. And for the adorable couple, a 10-cake dessert buffet was exclusively baked as per their demand.
Discover:- Zandy Reich, 35, Engaged To Girlfriend Lea Michele! Flaunts Engagement Ring
The 37-year-old celebrity chef had, by no means, kept the spoils of the ceremony to herself and her husband.
Their family and friends were equally hands-on throughout the process. She even asked their family and friends to vote on favorite cake flavors and was also accompanied by her mother and best friends when she was marching down the aisle.
Damaris and her husband's wedding reception might have all the making of a dreamy affair, but for the former Food Network Star winner, the fact that she was marrying Darrick was dreamy enough. In the same Food Network interview, she quipped:
"I was so excited to marry Darrick, I would have gone to the courthouse, But this was more fun — and a lot prettier."
Almost three years after the momentous occasion that was their wedding, the pair were on a celebratory mood once again as they announced that the Wood-Phillips family were expecting a newborn.
Pregnant: Damaris & Hubby Welcome A Newborn
If the wedding was a big hot cake for all, American chef's could also not go unnoticed. 
In the March of 2018, the Kentucky native took to Instagram to break the news of Florence's pregnancy. The lengthy post which also featured a picture of Florence read:
"Florence update- still pregnant and LOVING her kitty bed. Everyone's advice has been so helpful. We have a few options that she may like for delivering the kittens, boxes, dog beds with a baby blanket, covered corners with kitty beds, but for now she is all about her kitty cave. She is eating, drinking, using her litter box and most importantly tonight she let us brush her."
Florence's a pet cat owned by Damaris and her husband, Darrick.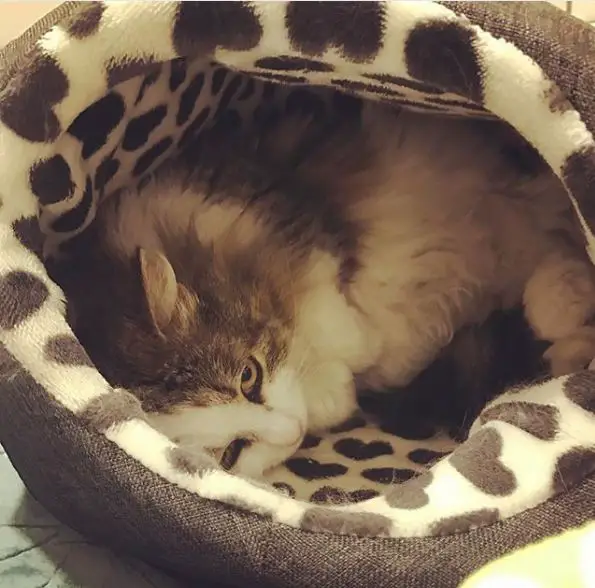 Damaris and her husband, Damaris' pregnant pet cat named Florence (Photo:- Damaris Phillip's IG)
Interestingly enough, Damaris bio suggests that the duo has yet to conceive a child of their own. Between Damaris' TV gigs and Darrick's frequent trip abroad as an education consultant, it's highly likely that the couple hasn't had the proper time to start a family.
Better Not Miss:- Aurora Perrineau Boyfriend! 'Equals' Star Dating Amid Rape Conflict?
Should the Southern & Hungry star get pregnant - judging by the magnitude of the pair's wedding ceremony - you'd think that there won't be a shortage of epic celebrations.