Entertainment
Ariela Barer Bio: Age 19 Actress Parents, Ethnicity Dating Status Revealed
American actress Ariela Barer is only teenage in age but her resume is way more accomplished for her age, filled with achievements which many spend a lifetime to achieve.
Ariela, who rose to fame after playing the role of a goth girl Carmen in the TV series One Day At A Time, is still relatively unknown to fans due to her relatively low-key life.
With fans interested in knowing the bio and ethnical background of the actress, this article covers her professional and personal life along with the details of her dating status and whether she has a boyfriend.
Bio Including Parents And Sister; Age, Height, And Ethnicity
Ariela's bio suggests that she is a by-product of Jewish parents who are both initially from Mexico.
Her parents moved to the US and gave birth to Ariela in the American soil, however, most of her family members still live in Mexico. Ariela also inherits her Hispanic ethnicity from her parents.
She showed acting talents at a young age of three and even joined a children's theater when she was four. Her acting career finally began at the age of nine when she started performing professionally after being discovered by her manager at a local play.
You May Also Like:- Who is Aaron Phypers? Bio of Denise Richards' Husband and Their Wedding Details
During the start of her career, Ariela played minor roles in several shows such as The Thundermans, Liv and Maddie, I Didn't Do It, and so on. One of her first major TV acting roles include playing the onscreen daughter of John Leguizamo in the pilot episode of the TV show King John.
Ariela, who ages 19 and has grown up to the height of 5' 4" (1.63 m), currently resides in Los Angeles to pursue her acting career. Further, she is also involved with an Indie rock band named The Love-Inns.
The Runaways actress also has an elder sister named Libe Barer who also works as an actress. Her sister has acted in several movies and TV shows including Sneaky Pete, Colony, Those Who Can't, and more. Ariela shares a close sibling bond with Libe and doesn't miss an opportunity to flaunt her sister on social media.
On 17 April 2018, Ariela posted a picture of the sisters' joint photoshoot for The Untitled Magazine. The portrait which she shared via Instagram featured the siblings dressed in matching clothing items.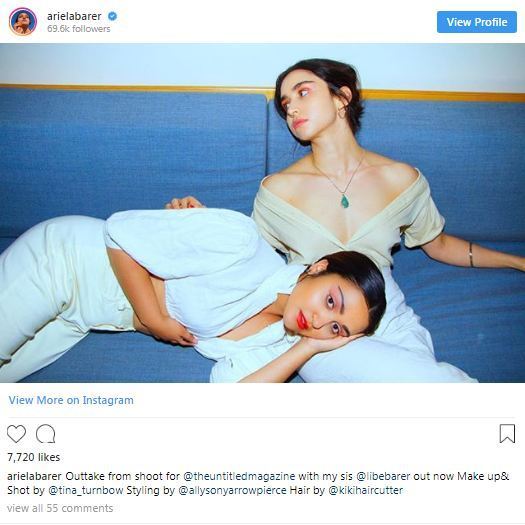 Ariela Barer and sister Libe Barer pose for a picture at a shoot with The Untitled Magazine (Photo: Ariela Barer's Instagram)
Don't Miss:- Lindsey Morgan Has Some Dating Affair With Boyfriend Or Too Busy With Career And Steamy Photoshoot?
Like her sister, Ariela also enjoys a successful career and has acted in several TV shows and movies like One Day at a Time, New Girl, Atypical, Crush, Yo Gabba Gabba! and more.
Apart from a smoothly running professional life, Ariela also made a mark on the LGBTQ community when she came out as a lesbian.
Wanted A Boyfriend But Came Out As Gay; Dating Anyone?
Ariela came out as a lesbian in November 2016 with a tweet that hinted towards her gay sexuality. However, the post went unnoticed and her sexuality would not come to the focus of fans until about a year later.
In the tweet which Ariela shared on 3 November 2016, she wrote,
"Literally everything I do is to get back at the people who called me ugly & gay n middle school. They were right, but it was mean spirited!"
More than a year later, Ariela came forward with a series of tweets which implied that she could either be bisexual or lesbian but not straight. In the first of the many tweets to follow, Ariela stated on 5 December 2017,
"Bi culture is having your friend hack it off then going to the salon to get it fixed"
However, it's been assumed that her revelation came after much confusion as Ariela thought she was a heterosexual person until 2015.
Back on 20 January 2015, Ariela posted a picture of then-President Barack Obama and former Vice-President Joe Biden mentioning that she wanted her boyfriend to have the same passion which Joe had for Barack.
More From LiveRamp Up:- Thomas Jones, Single & Seeking Relationship! Signs Of Getting Married?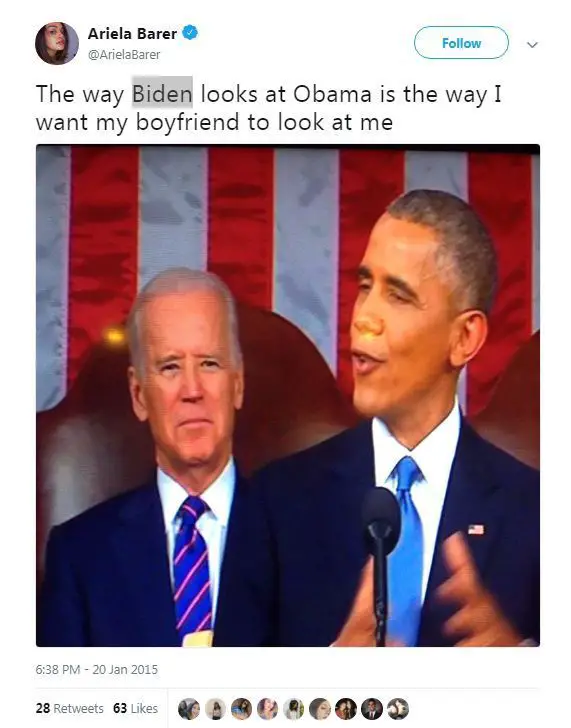 Ariela mentions about having a boyfriend before she came out as gay (Photo: Ariela Barer's Twitter)
In the meanwhile, there has been no known history of any boyfriend or girlfriend. Ariela even shared a post on Valentine's Day 2018 explaining that the day should be called as "Gal Palentine's Day" for lesbians, however, she didn't mention if she was dating someone.
So currently, Ariela is assumed to be single and far from any dating rumors.