Entertainment
Dana Tyler: 59 And Single After Boyfriend Chose Former Married Life Over Her
Relationships are unpredictable; one who left another woman for you can leave you as well. One can't foretell when a person would run out of love.
The scenario is relatable to WCBS' reporter Dana Tyler, whose longtime boyfriend left her to nurse her broken heart alone. The love triangle between her, Phil and Phil's ex-wife is more complicated than they might let the public to believe.
So, let's read to find out how did she cope with the pain.
Phil Collins: Husband That Wasn't
Dana Tyler's longtime partner Phil Collins, who she met back in 2006, left her to deal with the pain by reconciling with his previous wife, Orianne Cevey.
Also, Dana took a break of three months to deal with the pain of separation from a decade-long partner.
Dana attending an industry event with Phil Collins (Photo:- Dailymail.co.uk)
The beloved journalist announced that she wouldn't be anchoring the news program of 6 pm slot on 9 February 2016 via a Facebook post as,
"Many of you have noticed that I have not been anchoring the 6 p.m. news the past few nights. I am taking some time off and will return soon. I look forward to seeing you when I get back."
A source close to Dana revealed about Dana's condition after being dumped by Phil, and the source stated,
"Dana's been trying to put her life back together. She and Phil were a couple for around 10 years — and then he pulled the rug out from under her."
After taking three months leave from her work due to personal reason she rejoined WCBS and reasoned for her absence as,
"I have taken the last three months off for personal reasons and I look forward to returning to WCBS-TV within the next month."
Dana's three month sabbatical from the on-air hosting gig at WCBS didn't create quite the buzz as the next headline did. Her beau, Phil, who had left his ex-wife for her, ended up leaving her for his ex-wife.
Read Also:- Lauren Silverman Okay With Not Being Married? Has A Son with Boyfriend Who Just Won't Turn into A Husband
One Time Married Couple Reunited Again
In an interview with Daily Mail in March 2016, Orianne confirmed that she and Phil are deeply in love all over again.
She said that falling in love for the second time with the same person is more thoughtful and mature.
'It's different this time. When you first fall in love there is passion and excitement. But the second time around it's more thoughtful, more mature.'
Swiss jewelry designer, Orianne talked about rekindling a romance with the person, whom she got divorced in 2008 with a settlement of £25million, as,
'You've both thought about it for so many years, you've missed each other, you've come to the realisation that this is the right place to be and this is the person you truly love. It's more profound, a deeper connection.
Also, she admitted that she never stopped loving him and eventually realized that Phil is the love of her life. Despite their split in 2006 followed by divorce, Orianne and Phil remain close for the sake of their two sons.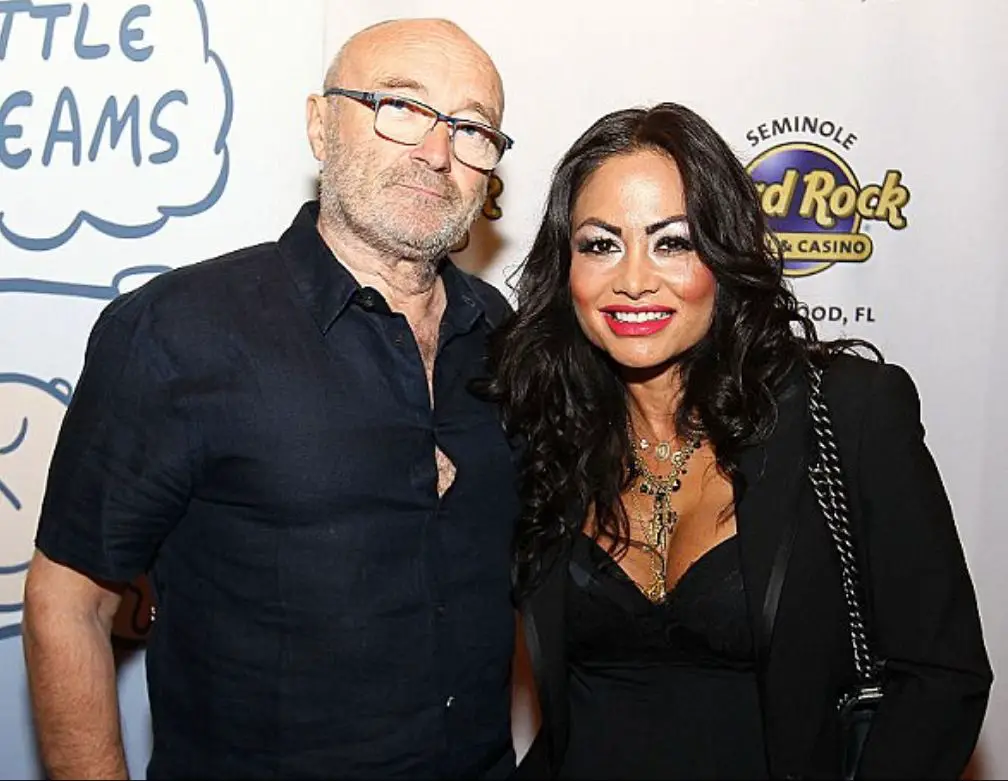 Phil Collins pictured with Orianne Cevey at an industry event (Photo: Dailymail.co.uk)
Phil and Orianne attended a press conference of Little Dreams Foundation in Miami in October 2017 which not only affirmed that they are together it also spoke volumes about their relationship.
Interesting:- Model Lara Stone, David Williams' Ex-Wife Secretly Romancing After Divorce!
Moreover, Phil also confronted the most asked question about his relationship and clarified that getting a divorce from Orianne was a mistake.
"That's what I mean by being wiser, you sort of say, 'Look we made a mistake, we both agree that…' How can you look your kids in the eyes and say, 'Well, we should have got back together again but we didn't.' It really doesn't take anything to work it out. If you don't like each other then that's different. So it's a good story."
Phil missed his sons a lot and wanted to live with them in Switzerland after retirement, but Orianne left for Miami with them. So suddenly his kids became ten hours away than ten minutes which started to take a toll on his health too.
Sources to the couple have revealed that the pair are looking forward to getting remarried and even Orianne was quoted as saying that the initial divorce between the two was "a mistake."
Dana Tyler Embracing Singlehood
Phil's decision to move on with his former wife turned girlfriend has caused a stir in Dana's life. And while the pair is enjoying their reunion, it seems that Dana is suffering alone and single.
Since the split, she hasn't been spotted with one who could be guessed as her partner, nor has she addressed a man as her boyfriend yet. As of now the possibility of her married life with a husband seems to be a distant dream.
Know Another CBS Personality:- Lonnie Quinn And Family - A Loving Husband To Wife And A Proud Father To Three Children
It appears that work is her escape and Dana who is 59 of age, is currently working as a senior news anchor as well as a reporter at WCBS-TV in NYC. Also, she co-hosts the 6 pm newscast and Eye on New York for WCBS.
Dana receives a surprise visit from her twin cousins at work (Photo:- Dana Tyler's Twitter)
Furthermore, Dana, who joined WCBS in July 1990, also hosts local special like Tunnel to Towers Run, CBS 2 at the Met and CBS 2 at Tony's.
A CBS reporter makes $52 thousand per annum in salary. Given Dana's longevity, she ought to make much more. Moreover, after her almost three-decade-long contribution towards the network, she must be earning a decent salary which she hasn't disclosed in figures yet.