Entertainment
Dane Cook Looking To Get Married? Approaches Dating Sites To Get A Girlfriend
Dane Cook Looking To Get Married? Approaches Dating Sites To Get A Girlfriend Dane Cook, an American Stand-up Comedian and a film actor, have all that it takes for making a girl adore him. With his pictures of him carrying his toned up physique, he has been grabbing a lot of steamy attention.And for a guy, that perfect, does he require approaching dating sites to get hooked up with? Or is he already looking to get married, leaving his female fans doomed?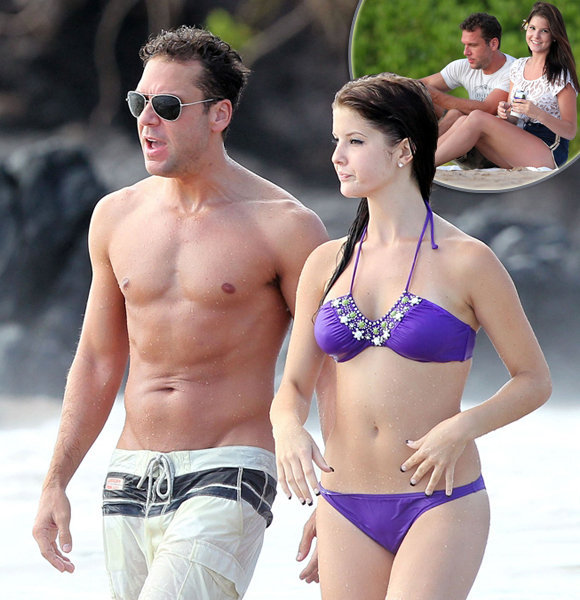 Dane Cook is the first American stand up comedian to use the social platform like MySpace to gather a huge fan base. A massive name in comedy, Dane Cook, has made headlines through his dating life but the million dollar strikes whether the comedian is married or not. 
Dane also took the help of dating app to find the perfect girlfriend. 
So, today our article will be covering Dane cook's dating life and figure out whether your favorite comedian is married or not. 
Dane Cook's Not Married! Still Dating
The Cambridge, Massachusetts native was reportedly dating American actress, Raquel Houghton in 2009. Dane was first spotted together with Houghton at the September 2006's premiere of Dane Cook's movie, Employee of the Month. 
On March 2010, Dane was again spotted with another American actress, Julianne Hough, who is also the two-time winner of ABC's Dancing with the Stars. The pair were spotted sitting side by side in a private dining room at Sam Nazarian's Katsuya Hollywood. 
In August 2011, Dane was spotted with a mystery girl at Dane's vacation in Hawaii. The duo was pictured kissing, cuddling and enjoying each other's company during their vacation.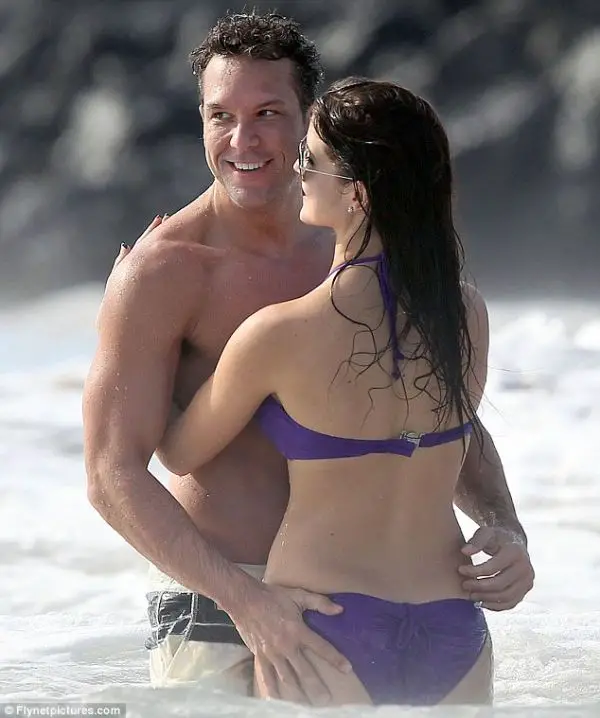 Dean smiles as he spends quality time with his mystery girlfriend in HAWAI (Photo: Dailymail.co.uk)
Though the duo flaunted their moments out in the open, the girl's identity with whom Dane was with is still a mystery. 
Few months from his vacation in December 2011, Dane made headlines once again as he rumored dating Nicole Scherzinger, one of the American X Factor judges. He was spotted with the American singer, Nicole returning together from the Hollywood bar, The Den, located on Sunset Blvd, West Hollywood.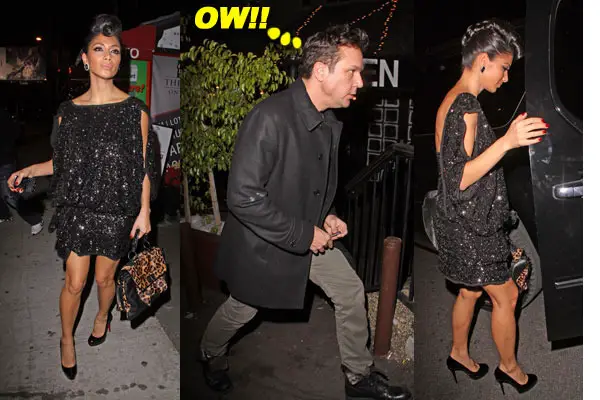 Nicole and Dane spotted returning from the Hollywood bar, The Den  (Photo: moejackon.com) 
However, neither Dane nor Nicole were vocal about their possible relationship and only remained as rumors. But, the list of the names that Dean got rumored for being hooked up with doesn't seem to end any sooner.
Similarly, in July 2016, Mr. Comic was also spotted with another beautiful American actress, Bella Throne. The duo, who were cast together in a 2003 movie, 'Stuck on You' spent a lot of time together off-camera in the filming period of the film. However, it was revealed that the duo shared no romantic relationship. 
Dane Cook's New Girlfriend: 20 years Old Singer
Dane is dating the 20-year-old singer and actor Kelsi Taylor, who is 26 years younger than him.
The 46-year-old comedian started dating Kelsi quietly since 2017 and used social media, Instagram as the platform to flaunt their beautiful relationship.
Dane first talked about Kelsi on his Instagram post dated back on 12 April 2017 where he stated that Kelsi is one of his favorite people. On the image, he posted with the caption which reads,
"My girl @itskelsitaylor is one of my favorite people on the planet. She's a talented singer but more importantly she's a genuine person. Check out her music and get to know her. She's gonna go far!"
Likewise, for 2019 Valentine's Day, he shared a snap of the two smiling on Instagram. Accompanying it was a lengthy caption where he called his girlfriend Kelsi an "incredible woman," as well as professes an eagerness to binge watch every season of Game of Thrones.
Moreover, Dane's hectic tour life continues to pose a problem. To combat the very matter, the lovebirds seem to have taken the initiative to find a way to spend much more time with each other. For instance, Kelsi traveled with Dane on his 2019 cross country tour.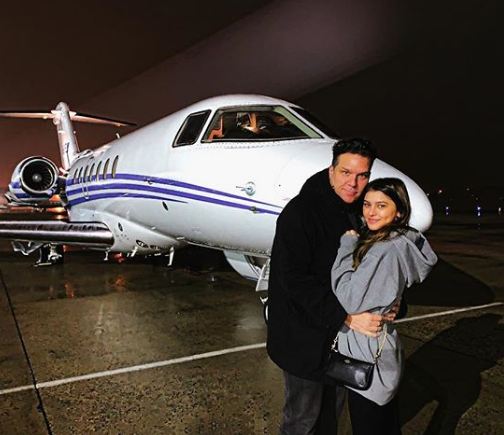 Dane Cook and his girlfriend Kelsi Taylor smile for a photo, moments before they board the private jet to Boston in February 2019 (Photo:- Dane Cook's Instagram)
The duo often documents their trips and special moments together. They seem to be enjoying their dating life as of now and yet to be married.
Dane Cook On Dating App
;

Gay Label Persists

In November 2016, Dane Cook opened that he took to dating app to look for love online. He shared the information via his Instagram on 27 November 2016, where he revealed that he was on few dating applications. He captioned the image as, 
"I'm on a few dating apps because I love the unusual. If I've ever sent you something you will know it's me because I challenge the status quo, dominate the Dosie Doe & really have an Aunt Flow. 
Read this with care."
Dane Cook's message on Dating App (Photo: Dane Cook's Instagram)
The stand-up comedian sent the texts to the girl named Sandra, through dating app. But whether that text took the duo to date or not, Dane has kept it a secret. Dane's dating history and use of dating app surely prove that he is far from being gay. So, the gay rumors are baseless in case of the American comedian.  
Dane Cook's Tour & Net Worth
Dane, who lost both of his parents from cancer, has been touring all over the world, making people laugh to the fullest.
In 2016, Dane toured to different states in U.S and Canada starting from 17 September till 19 November, and now he is all set for beginning another tour starting from May 31st, and the venue in Hollywood, CA.
Dane continued touring in 2018 too as he visited different places like Illinois, Canada, New York, etc. And again in 2019, he embarked in a cross country tour, which sees him perform at various comic circuit across numerous American cities. The tour is entitled Danke Cook: Tell It Like It Is.
Dean Cook is one of the most financially successful comics of all the time, and he's also one of the most controversial ones. He was born in a Roman Catholic family to the parents; George F. Cook (father) and Donna Jean Ford (mother) on 18 March 1972. He often refers to his mom as "my biggest fan."
Believe it or not, but both his father and mother died of cancer, nine months apart from each other. Dean's mom passed away in 2006, meanwhile, his dad passed away in early 2007.
Cook, who stands at the height of 1.83 m, has a half-brother named Darryl who was Cook's business manager until 2008. His half-brother remained manager until it was discovered that Darryl and his wife had embezzled $12 million from him.
Fellow Comic:- John Mulaney Married Life & Net Worth Details; 'Big Mouth' Meet Proudest Wife
Dane started doing stand-up comedy along with acting in Arlington High School to overcome his shyness and has garnered an enormous success from comedy.
Cook released his first comedy album, Harmful If Swallowed in 2003 and also signed a contract with Comedy Central Records. Following two years after the release of his first album, he released his second album entitled Retaliation.
Cook's album 'Retaliation' went double platinum in sales, which was also the first time in 29 years a comic had a record at No. 4 on the Billboard charts. On 12 November 2007, Cook also became the only second comic to get sold out in Madison Square Garden; he even did two sold-out shows in a single night.
With such massive success in comedy, Dane has bagged the net worth of $ 30 million throughout his career.