Entertainment
Daniel Seavey's Age: All About The American Idol Star Who Is the Upcoming Band Sensation of 2017
American Idol is a great platform for the upcoming new talent, who dream of pursuing a career in music. American Idol has shaped the career of many, and the same can be said about Daniel Seavey, who made quite the name for himself during the 14th season of the singing reality show, despite the fact that Nick Fradiani emerged as the winner, and not Daniel.
But Daniel is not taking his steps back and has been moving forward, honing his talents. So let us see what makes him the next big thing and the next band sensation of 2017.
Everything You'd Like To Know About Daniel Seavey:
Daniel Seavey was born on April 2, 1999, in Vancouver, WA, and is 18 in age. He is known for being the fan favorite in the 14th season of American Idol, and he made his mark from the get go since his auditions in San Francisco with his rendition of "Hallelujah"- the song which he sang sitting behind a piano.
Caption: Daniel Seavey Performs "Hallelujah" For His San Francisco Auditions. Published on Mar 28, 2015.
That expression on Jenifer Lopez's face says it all, right?
Daniel has always been addicted towards music, and he was only seven when he began getting into music. Since then, he has loved music to the depth, and it is known that, along with his father, he used to travel all the way down to Portland to play music on the street.
Speaking of his time on American Idol, he sang "Thinking Out Loud" and "I See Fire" by Ed Sheeran during the Hollywood Rounds that helped him advance to the Showcase Week.
He also sang "Straight Up" by Paula Abdul once more which enabled him to earn a place in the Top 24, where he sang the infamous "I'm Yours" by Jason Mraz.
Moreover, he sang other songs like "How Sweet It Is" by Marvin Gaye, "Happy" by Pharrell Williams and "Lost Stars" by Adam Levine, "You Make My Dreams" by Hall & Oates, but was unfortunately eliminated afterward on April 1, 2015, after reaching the top 9.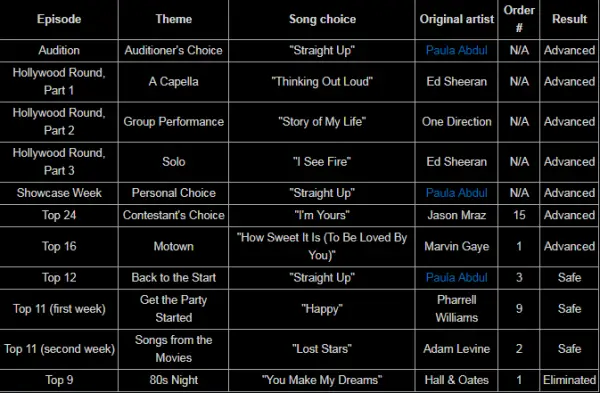 Caption: Daniel Seavey's performances on American Idol 14.
Photo Credit: americanidol.wikia.com
During Daniel's time on the show, he was often criticized for his lack of experience and his young age. But after the show, he has been proving the critics wrong and answering them emphatically, as he is now a young music sensation with his boy band "Why Don't We," along with his talented bandmates; Zach Herron, Corbyn Besson, Jonah Marais, and Jack Avery.
Caption: 'Taking You' Official Music Video by 'Why Don't We' (Published on Oct 20, 2016.)
The band also performed an epic mash-up while releasing their EP on June 2, 2017. 
Caption: "Something Different" and "Tell Me" Mash-Up by Why Don't We. (Published on Jun 14, 2017)
The band came together last year, but in 2017, they are making positive inroads in their career as a collective band rather than going solo. They are even being termed the next big boy band by many and the way they have been moving forward in their career as a band, the claims might not be wrong.
Daniel Seavey's Family Life And How You Can Connect With Him On Social Media:
Daniel Seavey is from Vancouver, Washington and he is one of four children of his parents. His father is a Pastor, who is instrumental in his love for music. Not much has been revealed about the identity of his parents, but he has often been open about his relationship with them.
An example of that was seen when he shared a picture from his graduation with his parents all proud of him over on Instagram on June 14, 2017.
Now, this post shows how much the musician is in love with his parents!
If you want to stay tuned to some fun activities he carries out, then you shall add him up on Snapchat.
Besides, Daniel asks to add him in a Snapchat via a tweet so Daniel fans, if you have not added, then add him instantly!