Entertainment
Danielle Herrington: Sports Illustrated Swimsuit Model Raging Storm!
The rising model, Danielle Herrington is now featured on the cover of the 2018 edition of Sports Illustrated's Swimsuit Issue.
The 24-year-old model became the third black woman to ever appear on the magazine's swimsuit themed cover after Tyra Banks, who got the top spot in 1997, and Beyoncé, who appeared on the cover of Sports Illustrated Swimsuit in 2007.
Appearing on the cover of Sports Illustrated's Swimsuit Issue is a big deal for a model as it massively boosts the careers of models which includes the beauties like Kate Upton and Chrissy Teigen.
Undoubtedly, it must be very special for Danielle, as she is one of the few black women to make the cover in the swimsuit edition's 54-year history. She made her Sports Illustrated debut last year (2017) as one of the magazine's rookies. A few months later she was on the cover.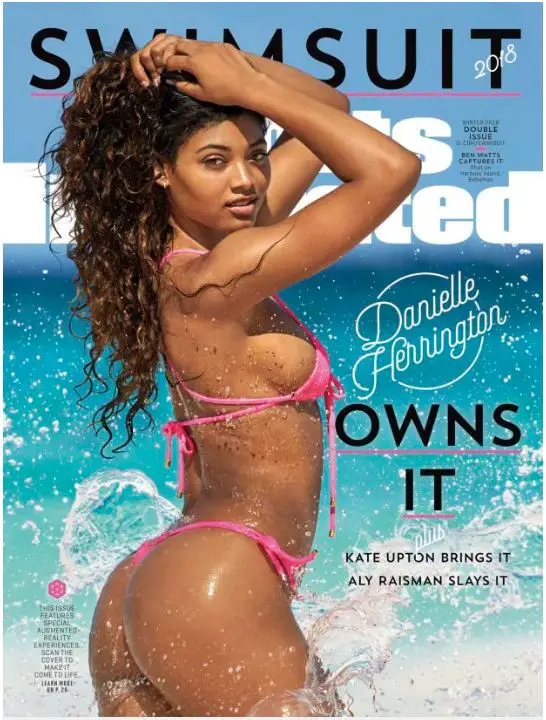 Cover of Sports Illustrated's Swimsuit Issue 2018 (Photo: Metro)
Before this, Danielle appeared in campaigns for Victoria's Secret and Guess. Talking about the issue, Danielle shared,
I can't even believe I'm saying this. I am the 2018 Sports Illustrated Swimsuit cover model.
Likewise, 13 February 2018, was quite a day for this beauty as she grabbed her first ever magazine cover for the iconic Sports Illustrated Swimsuit issue. She also got the golden opportunity to met her modeling idol, Tyra Banks. Similarly, she walked the 'Black Panther' premiere red carpet alongside Banks in matching outfits.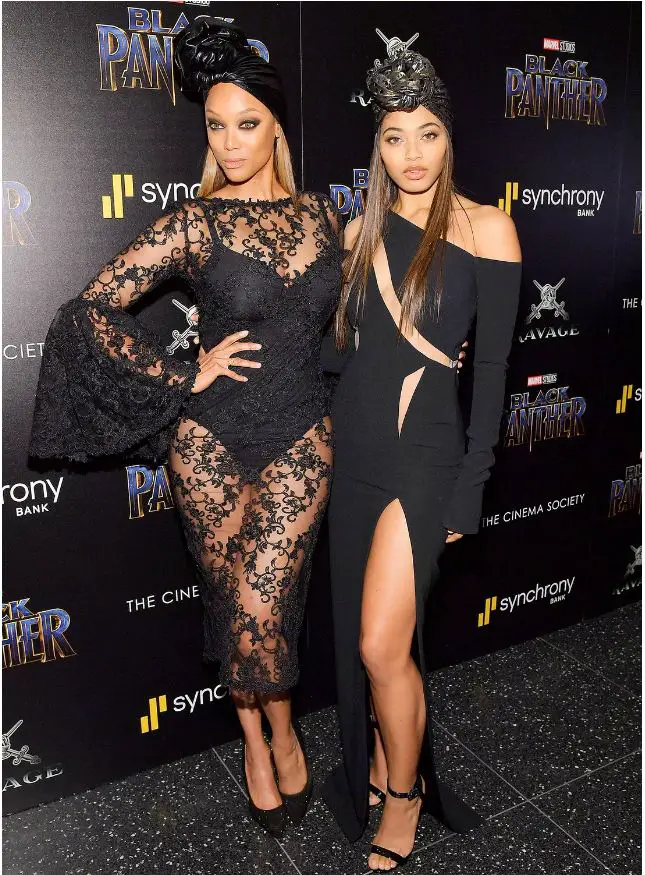 Tyra Banks and Danielle (Photo: Dailymail)
They attended the N.Y.C. 'Black Panther' premiere wearing matching head wraps. Banks wore a fine lace midi dress with splayed sleeves, while Danielle went with a slinky off-the-shoulder gown with cutouts and thigh-high slit.
Danielle grabbed a Rookie spot in the 2017 Sports Illustrated Swim issue and told Fox News that she always looked up to Banks.
I just remember Tyra Banks being on the cover and that's where it all started for me. That's what really made me pursue modeling. SI was a goal from that point, from seeing Tyra on the cover. It was love at first sight… everything happened naturally.
Likewise, Sports Illustrated Swimsuit Editor MJ Day said that Danielle is an extra hard worker and a natural brand ambassador. All those things separately don't guarantee a cover, though. He then added:
Danielle was a shy girl, who went from taking her first photos last year to showing up this year a completely different person. All the good things about her seemed to be magnified.
Photographer Ben Watts shot The model Danielle for her cover photo in Habour Island, Bahamas. Daniel grasped her first ever professional photo shoot as a Rookie for the magazine last year in Fiji.
Danielle Herrington's Personal Life
Danielle has been open about her professional life, but when it comes to her personal life, she has kept things close to her chest. With her Twitter post, it is for sure that she is dating, but she did not reveal her boyfriend's name.
If you are curious to see the tweet, you can have a look.
Happy Birthday to my boyfriend <3

— Danielle Herrington (@DaniHerrington) September 27, 2011
Not just that, Danielle also has not disclosed anything about her parents and family. But by far, it is known that she was raised in Compton, California and came from a working family. She rose to fame after becoming a resident of Brooklyn's Bushwick neighborhood.
Danielle attended private school, which she credits with keeping her out of neighborhood troubles. She describes her childhood as normal and says she was focused on school until college.