Entertainment
ESPN's Darren Rovell, Wife & Their Healthy Family! Complete Bio - Details Revealed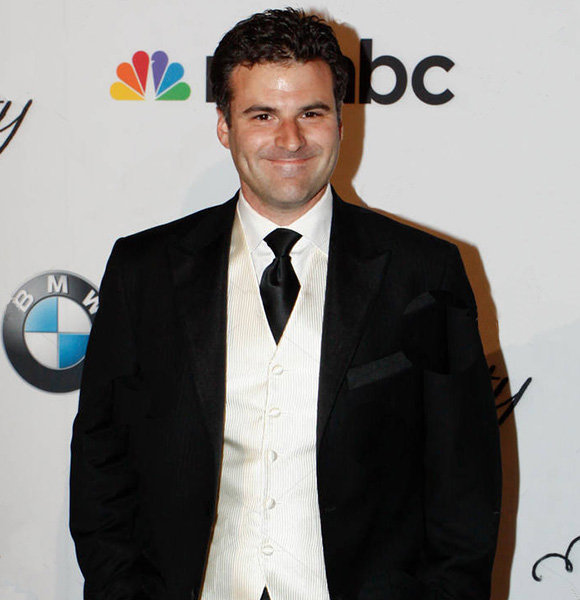 American sports business analyst Darren Rovell has all his thanks to ESPN for his professional growth while for his family happiness, he has a wife and children on his side. 
Be it the professional or family success, the host of ESPN's SportsCenter, Darren has achieved more than he could ever ask for. Darren, who is happily living his life along with his family of five, also enjoys a substantial net worth which he earned from his professional career.
This article revolves around the personal life of Darren, his net worth, and his bio-related details.
Family Of Five With Wife And Children
Darren married Cortney Brooke Schlosser in a ceremony held at the Woodbury Jewish Center in Woodbury, New York in November 2008. Nearly four years after the wedding; Cortney who works as a marketing manager at American Express, gave birth to a daughter named Harper Rovell in early 2012. 
Related:- ESPN Reporter Olivia Harlan Bio: At Age 25 Turning Boyfriend Into Husband
The ESPN-based sports analyst shared the news of his wife's delivery on 28 February 2012 through an unofficial Twitter account where he mentioned that his three-hour-old daughter was already in possession of a Twitter account along with her profile created in various on social media sites including Gmail, Pinterest, and Facebook.
Darren and his wife have two more sons from their marriage, who were both born in 2014. However, he has not mentioned if the two children are twins or merely conceived in the same year.
Darren, who is a loving father and husband, loves spending time with his family and even flaunts them frequently on his Instagram. On 23 November 2017, he shared a picture of the happy family for the occasion of Thanksgiving and mentioned that he cherished every single moment spent with them.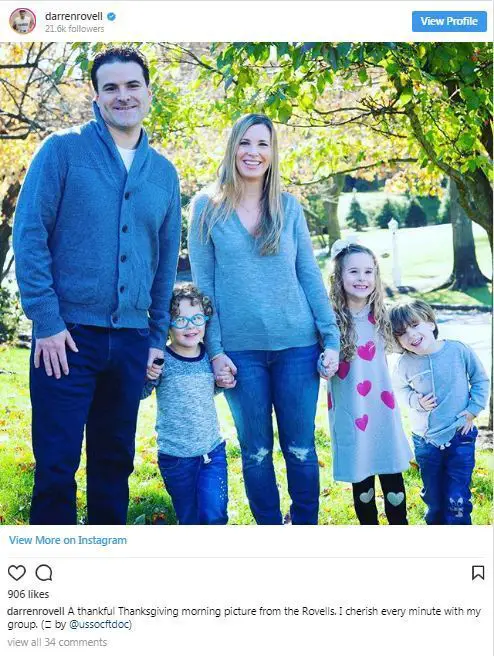 Darren Rovell with wife and children on Thanksgiving 2017 (Photo: Darren Rovell's Instagram)
Later on 4 March 2018, he shared another portrait of his family via Facebook wishing his daughter Harver on her sixth birthday. 
See Also:- The Bachelor's Erica Rose & Husband Blessed With First Baby 'Daughter', Family Of Four!
Despite remaining married for about a decade, Darren and his wife Cortney have shown no signs of dispute in their relationship. The partners are content with their personal life and their marriage has been long suspected to last a lifetime.
Parents, Career and Net Worth
The son of Jeffrey Rovell and Marcia Gordon Rovell, Darren's bio reveals that he commenced his career in mainstream sports news joining ESPN in 2000. After working for six years, he left ESPN and joined CNBC in July 2006.
During his time at CNBC, he analyzed and reported the world's sports business on various programs of the network including Squawk Box, Street Signs, Power Lunch, and also authored a blog called Sports Biz. Further, he also interviewed many famous athletes including Tiger Woods, Michael Jordan, Dwyane Wade, Maria Sharapova, Michael Phelps and several other sportspersons.
The writer of the book "First In Thirst: How Gatorade Turned The Science of Sweat Into A Cultural Phenomenon", Darren left CNBC in 2012 to rejoin ESPN where works as a Sports Business Analyst and also regularly appears on SportsCenter.
Working at ESPN, Darren earns a yearly salary of $500,000 and even though his net worth is not made public, it is estimated to be in millions.
Further, Darren is also active on Twitter and even got involved in a Twitter war with Yahoo columnist Dan Wetzel in June 2018.