Entertainment
"Wicked Tuna" Dave Carraro Age & Girlfriend, The Girl He Might Get Married To
Reality star and fisherman, Dave Carraro has been serving as a captain on the tuna catching ship, Tuna.com, for years now which is featured on the TV show, Wicked Tuna.
Along with a successful TV career, Dave also maintains a loving relationship with his girlfriend who has been together with him for a while now.
Although the commercial looks harsh on the surface, he is actually a passionate lover and a loyal boyfriend. Judging by their romance, the pair seems excited to get married and pronounce each other as husband and wife.
Jokes About Making Girlfriend Sleep On Garage, Plans On Getting Married
While Dave keeps a low-profile, he has been quite vocal about his girlfriend. He is in a committed relationship with Jess Boardway but how or when the couple started dating is still a mystery. 
Take A Look At:- Edgar Hansen Keeping Wife and Family On The Low Side? A Man Only Prioritizing Professional Life!
The pair's relationship was first revealed in August 2016 when Jess posted a picture together with Dave. Over the years, the couple has shared several photos of each other while describing themselves as partners.
Similarly, she also uploaded a display picture on Facebook of herself and her boyfriend on 7 October 2017, which showed the two enjoying their outing.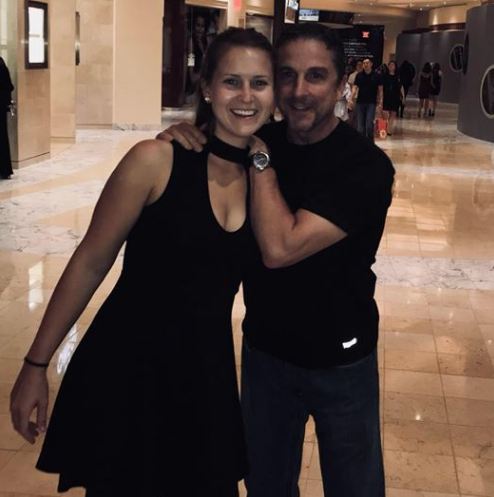 Dave Carraro with girlfriend Jess Boardway in October 2017 (Photo: Jess Boardway's Facebook)
Further, Dave also joked about being harsh on his girlfriend via a tweet which he shared on 13 April 2018. He wrote on his Twitter,
"You have no idea how bad I really am...twice as bad in real life. My girlfriend sleeps in the garage."
However, in real life, Dave is a gentleman and a passionate lover. Otherwise why would have Jess, who appears so younger than her boyfriend, stayed with him for so long?
See Also:- It's Official | Paul Bernon Age 41 Is Dating Rumored Girlfriend Bethenny
Their loving relationship can be seen in either of the two's social media profiles. Similarly, the pair is also expected to get married soon in the future, but neither Dave nor his prospective wife has talked about plans for a wedding.
Wicked Tuna Star Also Commercial Pilot; Net Worth
Dave Carraro is a reality star and a fisherman, who appears in the National Geographic's show, Wicked Tuna. In the series, Dave captains a tuna vessel called Tuna.com and features alongside his crewmates Paul Hebert, the first mate of the ship, and Sandro Maniaci, the deckhand.
The New Jersey native, who ages 50, has been catching fishes since a young age and has accumulated 38 years of fishing in the Bahamas, East Coast, and Mexico.
Dave, an expert in Cod and Tuna fishing, has even caught a large bluefin with a length of 11 feet and weighing over 1200 pounds. 
Apart from Wicked Tuna, Dave is also a licensed pilot who flies nearly 10 days a month. He has been piloting for Jetblue Airways for more than 25 years now. For his works as a pilot, the TV personality earns an annual salary ranging from $130,059 to $139,573.
Interesting:- CNN Leyla Santiago Bio: Husband Finally Revealed; Height, Salary & More
Further, he is also paid a handsome salary for appearing in the National Geographic show which amounts to an average of $60k per year. Dave has also started an online store selling clothes and other accessories, which has increased his net worth.