Entertainment
Dave Rienzi Wiki: 5 Facts of The 33 Years Old Married To Ex-Wife of 'The Rock'
By now everybody probably knows that Dwayne 'the rock' Johnson is all set to experience parenthood again with girlfriend Lauren Hashian. 
However, today, we are going to talk about a person, who as well is related to Dwayne. We are here presenting you the five facts about the man who is the reason for Dwayne's perfect physique.
Well, the guy is non-other than Dwayne's personal trainer, Dave Rienzi, who also happens to be the husband of Dwayne's ex-wife, Dany Gracia.
Ready to get acquainted with the facts related to this trainer? 
Let's get started!
Dave Rienzi's Wife is Dwayne's Ex-wife:
The man behind Dwayne's impressive physique, Dave Rienzi got married to Dany Gracia on 29 March 2014. It was six years after Dave's wife got the divorce with Dwayne Johnson.
The couple is enjoying their married life well as Dave posted an Instagram image together on 5 January 2018. 
In terms of  Dwayne 'The Rock' Johnson, both, Dave and his wife, Dany Gracia are related to him. Dave is Dwayne's personal trainer, and Dany is Dwayne's ex-wife, business partner, and manager.
Dave's wife was previously married to her college sweetheart, Dwayne Johnson. Before the pair got married, they first met at the University of Miami as they both were University's students. Dany was at the age of 21 years old while Dwayne was at the age of 18 years. 
The two tied the knot back in 3rd May 1997. Also, the then-couple shares a daughter, Simone Alexandra Johnson, together, who was born on14 August 2001 in Florida, United States. 
The duo enjoyed the marital dimension till they parted their ways on 19th May 2008.
Following the divorce, Dany's ex-husband, Dwayne started dating American singer, Lauren Hashian. The pair already welcomed their first daughter, Jasmine in  2015. On 12 December 2017, Dwayne posted an Instagram image about expecting the couple's second child. 
It was also rumored that while Dawyne was still married to Dave's ex-wife, he cheated her with Lauren. Even wrestling.com published an article entitled, "Did The Rock Cheat On His Ex-Wife?, Now Dating A 24 Yr. Old."
Dave Is The Man Behind 'The Rock's' Masculine Body':
Every one of you must have wondered how does Dwayne work out to maintain such outstanding body shape. 
Well, you now know the man, who has been helping Dwayne with the perfect workout schedule to groom the body that he flaunts.
In 2015, Dany tweeted congratulating Dwayne for featuring in the cover of 'Muscle and Fitness' magazine, while thanking her husband, Dave for his brilliant work.
Dave and Dany are Both Close to Dwayne:
Despite Dwayne not sharing a husband-wife relationship with Dany anymore, the two are still professionally related, as Dany yet is Dwayne's business partner and manager. 
Also, apart from being Dwayne's conditioning coach, Dave is Dwayne's good friend.
The 2015's Instagram post of Dave receiving cookie basket for his birthday from Dwayne and his girlfriend, Lauren, makes their bond apparent in front of people.
The couple is yet to start a family together! 
Both Dave and His Wife, Dany Are Into Body Building:
Dave and Dany indeed are a power couple, not just for the success they have achieved in their professional front, but for their muscles that demonstrates strength.
The couple works out together as well,
Moreover, Dany apart from being a founder of 'Garcia Companies' was a former professional bodybuilder!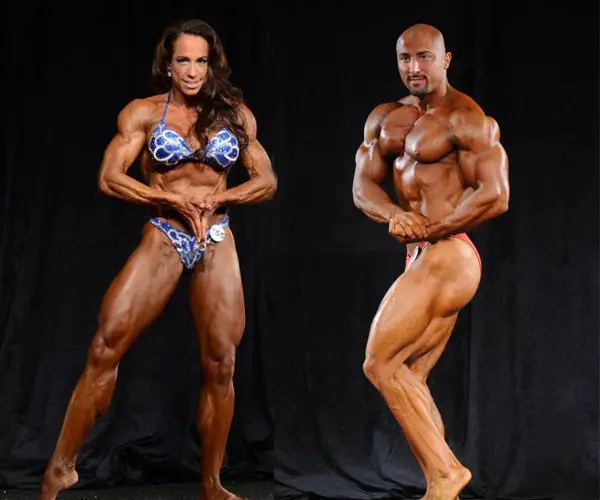 Dave Rienzi and his wife, Dany Gracia know how to take care of their bodies
He even posted the videos regarding workouts on his Instagram on 1 February 2018. 
Dave Rienzi's Wiki:
Born on April 25, 1984, in the United States, Dave is 33 years of age and belongs to an American nationality. 
Apart from being a personal trainer of Johnson, Dave is also associated with 'Rienzi Strength & Conditioning' which is "an elite, one-on-one private training facility located in Sunrise, Florida."
Moreover, for all the hard work the masculine man vests in grooming other's body, he sure has garnered an impressive net worth; the figure of which is yet to be revealed. 
Also, as of recent, Dave and his wife were on the Judges' panel at Mr. Olympia LLC, during September 2017.
Stay with us for the updates on your favorite celebrities.