Entertainment
Does David Oakes Have A Wife? Glimpsing Personal Life For Partner
British actor David Oakes is famous for his portrayal of a protagonist in the period dramas Victoria and The Pillars of The Earth. Despite portraying roles with darker shades, David has a different side in his real life. 
He has romanced numerous woman on screen, but when it comes to his life behind the camera, it has been a mystery to the audiences.
This void in information about his life has created a keen interest in the actor's love life. So, let's dissect his private life to get acquainted with his dating status!
Dating Status With Girlfriend? Possible Wife?
Much like David's roles with darker shades in epics such as The Pillars Of The Earth and Victoria, his personal life is also much in the dark.
See Also: Bryton James Age, 31, Dating Status! After Saddening Wife Rift, Single Or Taken?
The actor tweeted about getting a girlfriend along with his other wishes in 2009, symbolizing he was single at the time. Moreover, he reiterated the desire to get a girlfriend in 2011, again through Twitter.

David Oakes talks about his life goals, including getting married (Photo: David Oakes' Twitter)
Furthermore, he tweeted about his Latin classes and described that he didn't have a girlfriend even in 2012.
However, the chic actor set the pulses running when he tweeted a picture of two women, labeling them wife and mom in 2015. But, the people in the picture turned out to be his reel life wife and mom from the movie Sins of A Father(2015). 
Not just that, the actor also started the rumor mills weaving and sent the Twitterati into a frenzy after he tweeted a picture of three Maltese puppies and shared that his true love had sent him those gifts on Christmas 2017.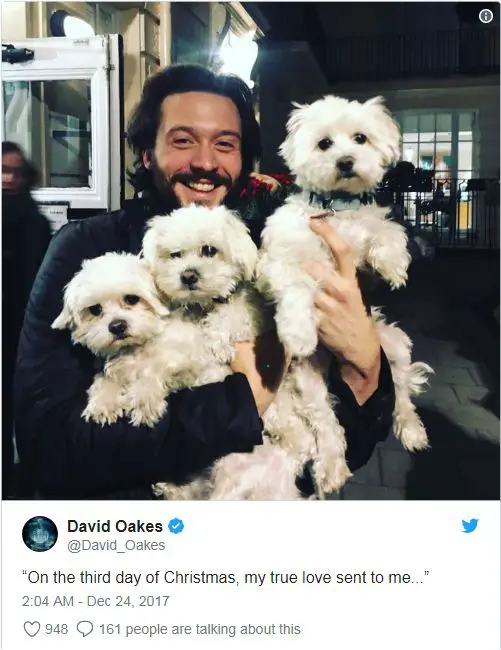 David Oakes post about his true love's gift to him on Christmas (Photo: David Oakes' Twitter)
However, as always had been the case with the actor, there were no mentions of his loved one. The gossipers linked him to numerous women, but there have been no confirmed reports about his girlfriend. As of now, the bachelor is single, with no partner and is not married, but remains a believer of marriage.  
You may also like: Rose Leslie & Kit Harington Married; Recited Wedding Vows In Front Of 'Game Of Thrones' Crew
In the meantime, David, whose Cold Skin recently got released, was recently spotted with his ex-co-star Natalie Domer in April 2018. They were witnessed leaving the Fashion Retold pop-up store in aid of the NSPCC as she followed David out of the party into the back of the car.
Natalie walked a few feet behind him as David darted his way into the car. Reportedly, David ducked down at in the back seat of the car to avoid much exposure whereas Natalie hid behind the front seat.
David and Natalie previously shared the stage together back in West End play Venus In Fur from October-December last year. Their working relationship ended back on 9 December last year with the end of  Venus In Fur at Theatre Royal Haymarket.
Gay Right Activist, Reader
The Venus In Fur theatre drama star is a supporter of LGBT rights. He playfully tweeted about getting his co-actors of the drama Pride And Prejudice married on 29 June 2013 on the occasion of Gay Pride Day, which falls on the last Sunday of June.

David Oakes supports gay people on The Gay Pride Day (Photo: David Oakes' Twitter)
Apart from that,  Bristol Old Vic Theatre School alum also shares a special relationship with books.
An avid reader himself, he also encouraged his massive Twitter following to get engaged in books rather than social media sites through Twitter in 2017. And his unique relation is not only limited to books, but he is also an animal lover and has three Maltese dogs as pets.
Don't Miss: Boy George, 'The Voice' Judge Married In Secrecy? A Different Kind Of Gay​​​​​​​
Hopefully, David, who shares his love of reading and animals, extends that to humans and finds himself a special person soon.
Keep Visiting to stay updated on the life of David Oakes!