Entertainment
Boy George, 'The Voice' Judge Married In Secrecy? A Different Kind Of Gay
Openly gay British singer Boy George has had lead one interesting life. From attaining early success as the frontman of the 1980's rock collective Culture Club to appearing as a judge on The Voice franchise, he seems to have seen it all.
Whether it is the verbal altercation with One Direction starlet Liam Payne or the public fallout with fellow British icon, George Michael, the Brit has been able to withstand everything the music industry has thrown at him. 
So, it's no surprise that Boy, age 57, has attained the longevity every artist hopes to by the end of his/her career. 
His secret for success, you ask? Throughout his 40+-year-old career as a musician/artist, the Culture Club frontman has remained true to his "origins," in that he has been an outspoken critic against anti-gay rhetorics online.
"Affair" With Married Man: "I'm A Gay Man, And I Tell Women They Are..."
However, his benevolent commentary online hasn't always panned out as he would have preferred. The Voice judge was labeled a hypocrite by the Gay Star News journo Jamie Tabberer after he had thrown a few jabs at the Lady Gaga's most recent pictures.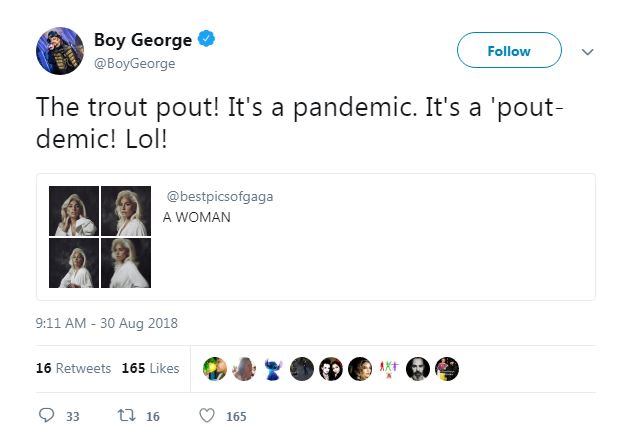 The tweet which landed Boy George in hot waters (Photo:- Boy George's Twitter) 
An excerpt from the article - which was published on 31 August 2018 with the headline As Boy George mocks Gaga's looks, why gay men must stop judging women - read:
"but the question I'm addressing today is: why oh why do gay men feel the need to comment on women's appearances?"
After a month silence, The Voice judge spoke on the pressing matter in an interview with the New York Post's music critic, Alex Aktar in September of 2018. Despite claiming to have made judgments on people's appearances on a regular, the openly gay singer claimed his tweet wasn't about Gaga. He clarified by adding:
"It wasn't necessarily about her, I just think that people are interesting because of their defects and their facial personality."
Those who follow the 57-year-old London native would argue that Jamie is mistaken. There has been plenty of instances where Boy has publicly praised women, all the while acknowledging his sexuality. In a tweet that dates back to April of 2018, he wrote:
"I'm a gay man and I tell women they are gorgeous all the time."
Boy, whose family origins are rooted in southeast London, hasn't always owned up to his sexuality. For years, he denied answering questions about his sexual identity amidst rumored romances with Kirk Brandon of The Spear of Destiny.
He had even claimed to be in heterosexual relationships before coming out as a gay.
Read Also:- Film Actor Richard Armitage Engaged to his Girlfriend, When can We hear about them Getting Married?
Most recently, the Karma Chameleon singer made the headlines one more time after he was seen flaunting a ring. The rumor which alleged that Boy had married secretly was later retracted.  
In his autobiography Take It Like A Man, the 57-year-old claimed to have been in a relationship with fellow band member and Culture Club drummer Jon Moss. His former partner, Jon is married to a woman now.
Similarly, in a recent THR interview, George reflected on his relationship with Jon by saying:
"My relationship with Jon is like a mythical beast. When people say we've had a relationship, it's kind of mad. [Laughs] I know what we did, but let's pretend we didn't."
Following the pair's split, Culture Club was disbanded, and Boy embarked on a solo journey to superstardom. One project led to another, and he found himself acting as judge in the popular TV franchise The Voice.
Coming Second At The Voice
The Do You Really Want To Hurt Me?  singer has altogether judged three seasons across two separate The Voice platforms, starting in 2016 as a replacement for Tim Jones in The Voice UK. He left the franchise following the end of the season, only to return a year later in 2018 for the franchise's seventh season after one season stint at The Voice Australia.
Discover:- Jon Rahm's Wife To Be? Meet Smoking Hot Girlfriend Of Pro Golfer
With the seventh season of The Voice UK ending on 17 June 2018 and the Culture Club much awaited comeback album scheduled to drop on 26 October 2018, Boy is looking forward to life on a road ahead as he and his Culture Club family prepare for the upcoming North American Tour.
The band's reggae-influenced first single, Let Me Somebody Love You, off their comeback album, Life, is very reminiscent of their breakout single Do You Really Want To Hurt Me.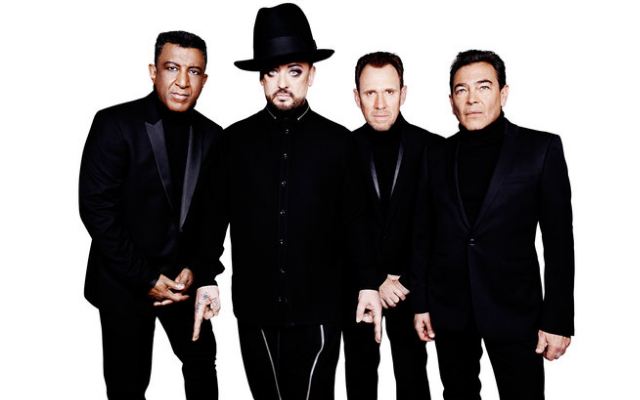 Boy and his band partners of Culture Club vogue for 2018 Billboard profile (Photo:- billboard.com)
In last month's Billboard interview, the Culture Club frontman spoke on what's like to have stage jitters while discussing the upcoming tour. He said:
"Whenever I go on tour I always think, 'Oh, I've forgotten what to do, I've forgotten what to say' or 'Will I be able to engage?' And slowly it all comes back to you, like riding a bike or riding a horse, and I think it's the same for everybody on stage."
The 57-year-old echoed a similar sentiment, when he drew a parallel between his failed romances and the abovementioned stage fright, in an interview with Greg Archer of Palm Springs Life. He quipped:
"My idea of love was that every time you love someone, you get hurt, and you risk it not being exactly what you want it to be. I suppose it's like being on stage, too"
The openly gay pop icon blamed "unpredictability" behind his stage jitters as well as his reluctance to commit to a relationship. However, this tad bit of insecurity has helped Boy craft beautiful music.
You May Also Like:- Olly Murs Dating Status Now: Who Is Singer's 'Troublemaker' Girlfriend?
Boy's life on the road and TV gigs is sure to contribute to his already skyrocketing net worth, which is believed to be around $35.5 million -- a feat that makes him just as relevant now as when he first popped up in the music scene.