Deadmau5 is a Canadian electronic DJ who released his first studio album in the year 2005...He has been married to his wife since...The DJ was previously engaged to...Deadmau5 was born on...His real name is..and his parents are...He goes by the stage name Deadmau5 because...His net worth is...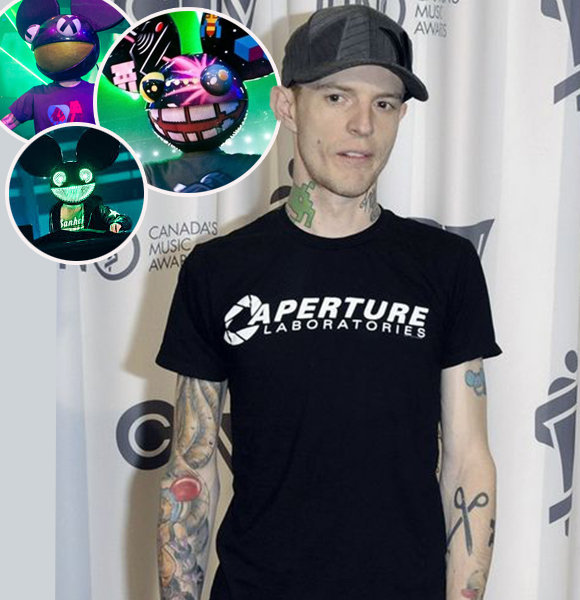 Canadian electronic DJ/dance artist and record producer, Deadmau5 released his debut studio album in the year 2005 under the name Get Scrapped. His second studio album, Vexillology, was released by Play Digital in 2006; the album was re-released in 2015 by Play Records. 
In 2007, Deadmau5 started his record label named Mau5trap. He released his third album, Random Album Title, in 2008, which was launched by Mau5trap along with Ultra Records and Ministry of Sound. The album was a breakthrough for Deadmau5; it peaked at No. 31 in the UK Top 75 Albums chart. 
Personal Life Insights
The DJ is married to longtime girlfriend Kelly Grill Fedoni- a salesperson.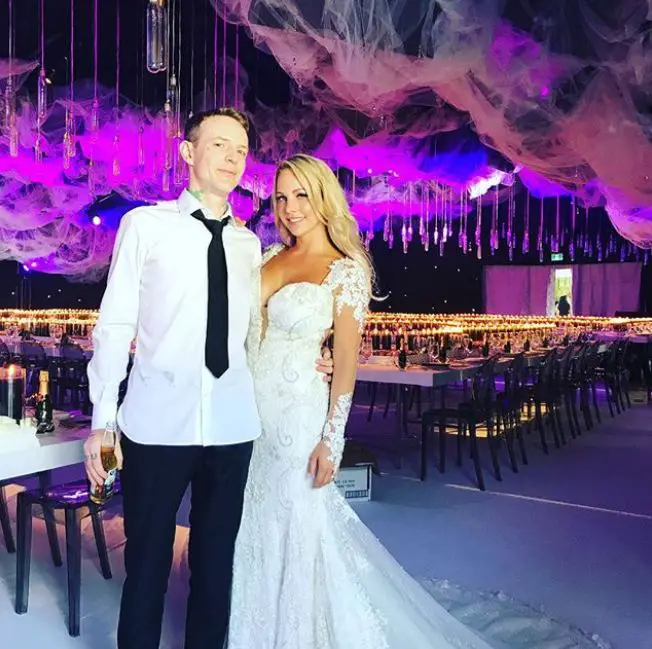 Deadmau5 poses with wife Kelly Grill Fedoni at their wedding day on 13th August 2017 (Photo: Deadmau5's Instagram)
The two got engaged in January of 2016. And they eventually tied the knot on 13th August 2017. The wedding was attended by fellow DJ and record producer Steve Duda and Canadian HGTV host Bryan Baeumler, as groomsmen.
Previous Relationships
Deadmau5 dated Elle Evans, an American model in 2010. But, the ex-flames broke up a year after in September 2011. 
Highprofile DJ Diplo's Dating Status:- Girlfriend, Son, Who is His Baby Mama?
Also, he was in a relationship with the tattoo artist; Kat Von D. He was engaged to her from December 2012 to June 2013.
Age, Real Name, Parents Details
The electronic music artist was born as Joel Thomas Zimmerman on 5th January 1981 in Niagara Falls, Ontario, Canada. His family members include his parents: Rodney Thomas Zimmerman- a general motors plant worker and Nancy Zimmerman- a visual artist and his two siblings: Chris Zimmerman and Jennifer Zimmerman. 
Education Details
Deadmau5 graduated from Westlane Secondary School in Ontario. 
Net Worth 
The Canadian DJ has a net worth of $53 million, according to Celebrity Net Worth. 
Facts About Deadmau5 Including Height
Deadmau5 stands at the height of 5 feet 9 inches (1.75 m). 
He is nicknamed as Halcyon441.
He is of German, Swiss, and English descent.
In 2014, Deadmau5 bought a mansion worth $5 million.
In the late 1990s, when he was a teenager, a mouse chewed through his computer wiring, killing itself, and his computer in the process. The incident inspired him to adopt the stage name- Deadmau5. 
Dating History Of Another Popular DJ:- Calvin Harris ,Who Is Scottish DJ's Girlfriend In 2020?
The DJ has received six Grammy Award nominations for his work.
In 2017, Deadmau5 was declared as one of the highest-paid electronic music producers in the world.
His Zodiac sign is Capricorn.