Entertainment
TV Host Bryan Baeumler: Married to Lovely Wife, Raising 4 Kids, Living Ideal Family Life?
Bryan Baeumler, who is a famous Canadian host working on several HGTV/HGTV Canada shows, will teach you the proper way to build or renovate your house. In fact, he runs one of these shows with his wife Sarah and their 4 kids.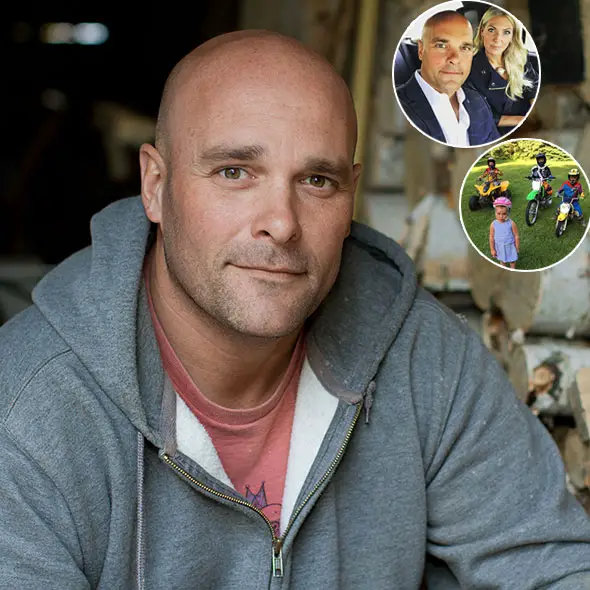 Bryan Baeumler, who is a famous Canadian host working on several HGTV/HGTV Canada shows, will teach you the proper way to build or renovate your house. In fact, he runs one of these shows with his wife Sarah and their 4 kids.
Learn about his experience on raising the family of 4? 
Ideal Family Life with Wife and Children:
Caption: Bryan with his wife Sarah, who is a fashion/ design/ lifestyle blogger 
When it comes to his personal life, the host has hit the jackpot. He is happily married to his wife, Sarah Baeumler. They married on September 3, 2004, and its been 12 years of happy living.
In their happy marital life, they have had the chance to become parents to 4 children; son Quintyn Werner, daughter Charlotte Anne, son Lincoln Wolfgang, and daughter Josephine Judith.
Caption: Bryan's wife ad kids
Bryan has been quite open about his personal life. His family members are often seen on his show 'House of Bryan', and also on his other shows.
But having 4 kids is a very hard thing in itself, let alone raising them with good ideals. Sarah expressed her mixed emotions on motherhood to 'Vancouvermom' on February 21, 2014. She said:
"There is no person in the world better at balancing the chaos that life throws at you, than a mother.  Somewhere in between late night feedings, constant diaper changes, permanent exhaustion,  and the most amazing love you can ever imagine….lies a mother that has perfected multi-tasking.  With a baby perched on your hip, a basket of laundry in your opposite hand, a telephone under your chin and a toddler clinging to your leg….a mother magically manages to juggle it.  I must admit,  I have bought cookies from a local bakery and passed them off as my own, I have sent my kids to school with a lunchbox full of takeout leftovers, and prayed that our newborn would sleep for 10 more minutes so that I could finish one last email….but I'm honoured to be a Mom."
She further added about her partnership with husband. She said:
"Bryan by saying,Bryan and I have always been adamant about teaching our children that Mommy and Daddy need time to be adults and friends to one another.  When you have children you spend years dedicating every ounce of your time and energy to their well-being.  But we have always told our children that we need to put time and love into our own friendship.  We don't ever take 2 weeks to vacation alone together, but rather we try to make the most of a night up at our cottage or travelling together for business when we can.  We are not big on 'date night' — possibly because we can never find a sitter for our brood!  So we try to take advantage of the day to day moments we have together."
Doesn't it mean they have an ideal family, each understanding the needs of one another, celebrating the day to day moments whenever they are together? We guess they have.
Doing Something Right:
They have to be good parents. Just look at this rare adorable picture of one of their son holding the hand of his younger sister. It is moments like these that will make a parent feel that they might have done a good job.
They say a man just not looks for a wife but also seeks for the mother of his future children. This must be the reason he fell for Sarah. She is a mother and the only thing important to her beside her children is - the photo albums of her children. She has baby pictures of all of her kids that she would love to keep close to her heart forever.
Bryan Baeumler's Short Bio:
Bryan was born on April 18, 1974, in Canada. He did his B.A. in Political Science and Business from the University of Western Ontario in 1996.
Before doing TV shows, he ran an air cargo business from 1995 to 2003. Later, he also became the President/CEO of Baeumler Quality Construction and Renovations Inc. Bryan also won the Gemini Award for "Best Host in a Lifestyle/Practical Information, or Performing Arts Program or Series" for his presenting work.
He has hosted several shows, including "Disaster DIY(2008)", "Disaster DIY: Cottage Edition(2007-2011)", "Leave It to Bryan(2012)", and "House of Bryan(2010)", which became the highest rated series ever on HGTV Canada, now he is back with his latest show, 'Leave it to Bryan'. He was also a judge on the HGTV show "Canada's Handyman Challenge(2012-2014)" along with Mike Holmes and Scott McGillivray. He has a huge estimated net worth of approximately 8 million dollars.