Former NFL Vice-president, Dean Blandino is famously known for making many changes in rules of the game during his tenure. Also, a former stand-up comedian, he is one of the few to have made a successful career transition.
Apart from his professional career, fans are also interested in his married life and if he has a wife. But, before that, let's explore his wiki details and the 2015 scandal!
Wiki: NFL, College, And More
Dean, a New York native, was born and raised in Bellmore, New York. His birthday is yet to be revealed. He attended the Wellington C. Mepham High School and went college to Hofstra University.
He graduated his college with a degree in communications in 1993. Soon after finishing college, he joined as an intern working for the NFL officials. Due to his charming personality and co-operative nature, Dean was hired as a full-time employee once the 1994 NFL season concluded.
NFL Players:- Dallas Cowboys Randy Gregory; Wife-Like Girlfriend, Good Rep - Still In Trouble
While he was working at the NFL, Dean also pursued his dreams of becoming a stand-up comedian. Further, he also served as the replay official for two super bowl seasons and managed NFL for nearly six years.
However, he left the NFL in 2009 to start his own business which trained and evaluated replay personnel. He returned to the league in 2012, and one year later, he got promoted as the Vice-President of the Officiating Department.
During his tenure as the Vice-President, Dean made some significant changes to the game and was well-liked for a guy with no football background. However, his perfect social image got ripped once he was caught in a scandal.
Party Scandal
Dean Blandino got involved in controversy back in 2015 when he was at the height of his career. Dean was spotted partying with Dallas Cowboys' officials. A video showing Dean exiting the club's party bus and entering a night club with the Cowboys' officiants was leaked online.
After the video was leaked on the internet, people including rival teams' players and owners started accusing Dean of practicing favoritism. However, it came to an end when he claimed the meeting to be official and said he didn't stay in the night club for more than ten minutes.
Drunk Scandal:- Michael Oher Has A Wife! A Drunken Scandal Revealed Married Life
Two years later, Dean - age 47 - retired from his position as Vice-President in 2017.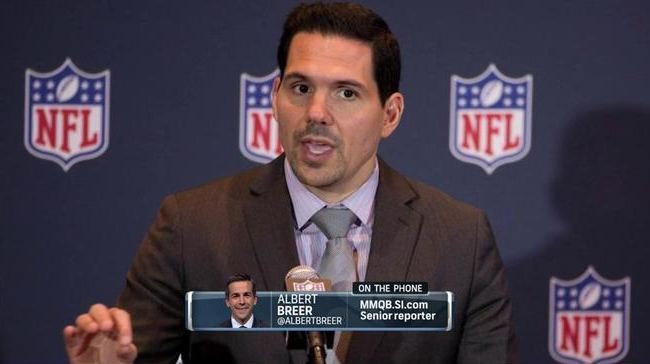 Dean Blandino announces his retirement from NFL in 2017 (Photo: NBC Sports)
He stated that he wanted to divert his attention on raising his family as the reason for his exit.
After his exit from the NFL, Dean joined the Fox Sports as an NFL analyst. He is currently earning a salary of $75,637 per year. Further, he also serves as the executive producer, receiving an annual salary of $104,641.
Gay Or Married To Wife?
It won't be right to say that Dean has never been suspected of being a closeted gay. His hard-partying lifestyle had many asking if he was compensating for his gay sexuality.
However, he proved the paparazzi wrong when he came out as a married man. Dean is married to a lovely wife and even has two children under the age of five.
Married To Wife:- Ron McGovney Wife, Net Worth, Now
But, due to privacy issues, Dean has kept the identity of his family a secret. As Dean is often on the spotlight, his decision to keep his family out of the tabloids is considered a wise decision.