Entertainment
Dean Cain Fought For Son With Ex-Girlfriend; Thinking To Get Married With The Perfect Wife?
TV Superman, Dean Cain was once the heartthrob of many girls around the globe and you can hardly argue that he has lost his magic now. He is known to be someone who has earned a huge amount of respect and success through his work in hs professional career. But how many of you know that he has had quite the list of girlfriends in his life and did you know that he also has a son with one of them who he fought for his son's custody.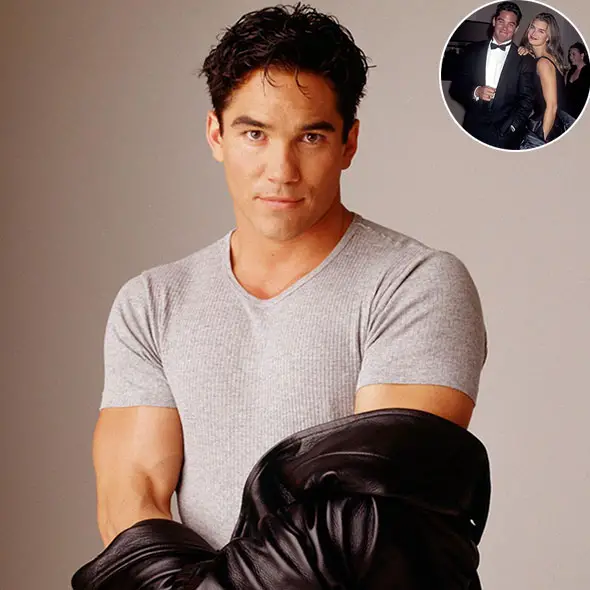 Quick Information
Son/s

Christopher Dean Cain

Hair

Short

Weight

86 Kg (189.5 Lbs)

Height/ How Tall? 5 Feet 11½ Inches (1.82 m)
College

Princeton University

Career

1976 – Present

Net Worth

$6 Million

Gay

No

Ex-Girlfriend

Samantha Torres

Girlfriend

Ami Dolenz

Divorce/Split

Not Yet

Relationship Status

Dating

Date of Birth Jul 31, 1966
Sister/s

Krisinda Cain

Brother/s

Roger Cain

Mother

Sharon Thomas

Father

Christopher Cain, Roger Tanaka(Biological)

Ethnicity/Race

Mixed

Zodiac Sign

Leo

Birth Name

Dean George Tanaka

Profession

Actor

Birth Place

Mount Clemens, Michigan, United States

Nationality

American
TV Superman, Dean Cain was once the heartthrob of many girls around the globe, and one can hardly argue that he has lost his magic now.
He is known to be someone who has earned a tremendous amount of respect and success through his work in his professional career. But how many of you know that he has had quite the list of girlfriends in his life and also has a son with one of them. Let us take a stroll down memory lane see through his life.
Dean Cain's Battle with His Ex-Girlfriend for the Son:
Dean Cain shares a son with one of his girlfriends, Samantha Torres who was once a leading model in the industry. Dean and Samantha started dating in 1999 and welcomed a son in 2000, Christopher Dean Cain who is named after Cain's adoptive father.
Interesting:- Nicole Appleton's Ex-Husband Liam talks about their Married Life, Divorce and Children!
Although the fact resides that Cain and his son live together happily, it was not like this forever as he was once made to battle to have the custody of his son. Cain, who has been raising his son solo since 2011 said,
"Ultimately, we just disagreed on the best way to raise Christopher."
The guardianship was first awarded jointly in 2003, but Cain got it entirely during 2011. Awarded initially joint custody with Torres in 2003, when his son was just 2, Cain assumed sole custody in 2011, with a judge accepting the couple's agreement to raise Christopher in one household. "Stability-wise, this is what's best for him," says the actor.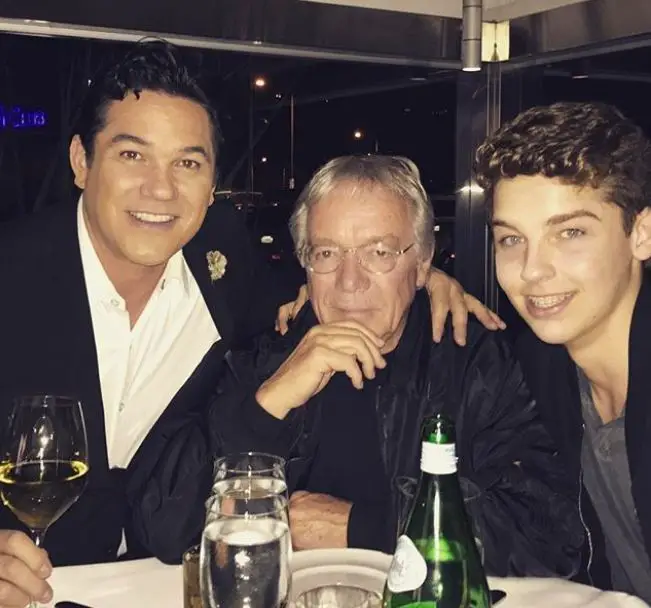 Dean Cain alongside his son and his father at an intra-generational dinner in 2017 (Photo:- Dean Cain's Instagram)
Cain says the two are now on better, if still tense, terms. "Christopher sees his mom as much as he wants," says Cain. "But she's got her hands full, and he's got a stable place with me."
It is clear that the actor was referring to her ex-girlfriend's twins - Elijah and Isabella, now almost eight - while talking about his busy schedule. Unlike many who don't care for their ex's new kids, Cain has taken quite a liking to his son's half-siblings. In his words:-
"Elijah and Isabella are ridiculously beautiful. I'd do anything for those two."
Cain, who is not fazed to raise his son solo, said in an interview that his son is his favorite person in the world and he loves him with all his heart.
"He's my favorite person on the whole planet. He's going to have to fight to stop me from kissing him."
Raising his son on his own seems to have taken an immense toil in his romantic life. Though envious of his friends going out daily and living the best life, Cain knows all too well where his priority lies at the moment. And it's definitely not the search of a wife or a girlfriend, for that matter.
The long list of ladies in the life of "Superman."
Previously, Dean Cain was engaged to a country singer Mindy McCready. The two started their relationship in 1997 and announced their engagement in September the same year.
Discover:- From Wiki to Bio, Inside Joyful Drake's Wedding: Married Life With Husband On Fleek!
However, the plans for their first wedding could not lead to fruition as the relationship between them ended, the main reason being Mindy's aggressive behavior and lies.
Moreover, Cain was also linked with Brooke Shields back in 2014, when Brooke revealed that Cain was the one to take her virginity. Shield and Cain were classmates, and Shield revealed in her memoir that she lost her virginity to Cain when she was 22. Shields revealed in her autobiography, 
"He was incredibly and painfully patient with me regarding sex. I made him wait and wait and my mom kept track."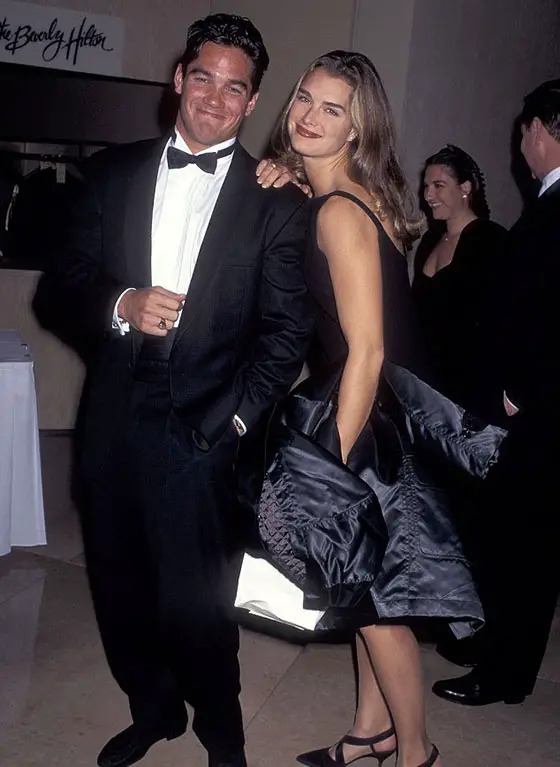 Mindy and Cain were once engaged in 1997 before imploding a year later (Photo Credit: dailymail.co.uk)
While talking on the subject, Cain expressed,
"Brooke was a very big part of my life, and I'm honored to have been a part of her life... "
Besides Mindy and Brooke, Cain has also been romantically linked with former playmate Pamela Anderson in the past. The likes of Gabrielle Rose, an American professional volleyball player, and actress-turned-model Denise Richards are a handful of women in the industry to fall for his boyish charms.
Previously, Dean Cain portrayed a gay role in the movie " The Broken Hearts Club," that raised speculations regarding his sexuality, thereby assuming him to be gay. But his involvement with several ladies in the past and present is a general giveaway of his sexuality.
A new lady: Girlfriend and Dating!
Cain was made famous for Olympic hero Rebecca Adlington's marriage break down when the two were suspiciously linked somehow.
Read Also:- Lynda Boyd Has A Family! But Is It From Married Life With Husband?
Rebecca and Cain were fellow contestants in Channel 4 show "The Jump" and rumors hit everyone as Cain became a constant shoulder for Rebecca to cry on when she was ruled out of the competition after unfortunately dislocating her shoulder. 
Some sources stated,
"Becky's friendship with Dean may have contributed to the split. They grew close while filming The Jump in Austria. Being away from Harry for such a long time made things strained too."
"At the show's wrap party they spent the whole night chatting away together, it was as if no-one else was in the room. Everyone on the show knew how close friends they had become by the end of it."
In retrospect, the fact that they didn't try to hide their brewing romance backfired severely. Regardless, no further evidence surfaced the media, so the truth remains a mystery.
However, if you follow Cain properly, you might know that he is indeed looking for someone to get married to and call him his perfect wife.
Since the scandal, the actor - for better or worse - has relatively stayed off the limelight — the reason why his May 2018 sighting around Washington D.C. created such a buzz.
Dean Cain Bio Unveils Ethnicity & Net Worth
Born on July 31, 1966, in Mt. Clemens, Michigan, USA, Dean Cain is a famous American actor and a TV personality of quarter Japanese ethnicity, best known to be the TV Superman. He is also renowned for his role in Beverly Hills, 90210 and he has also been a part of several other successful projects.
See Also:- DJ Akademiks Bio, Net Worth, Age, Girlfriend
To the fans of the iconic '90s show: the beloved series is up for an untraditional reboot. The Michigan native provided a sneak peek into a possible reunion by uploading a snap of him standing next to co-stars Jack Eckhouse and Carol Potter in February 2019 on Twitter.
The love for his work he has is immense, and he is hard working as well as dedicated. The dedication he has put forth in his career has paid him good dividend which is evident in his splendid net worth of $6 million.