Entertainment
Dean Graziosi Net Worth In 2019, Education, Wife, Kids
Dean Graziosi is a multi-millionaire entrepreneur, New York Times best selling author and world-renowned success coach. His books, like Millionaire Success Habits, have gotten rave reviews and has been the success mantra of many aspiring entrepreneurs.
He is also one of the most-watched real estate trainer and motivational speaker of today's generation. Apart from preaching success strategies to people all over the world, he has also contributed financially to good causes.
In 2014, he donated $100,000 to Feeding America, a US-based non-profit organization.
Bio: Family, Education
Dean was born on 20th November 1968 in New York, the United States under the birth name Dean Robert Graziosi.
His father Paul Graziosi and mother Gloria Post come from Italian family background. While he was at the age of two, his parents divorced, and he went on to live with his mother.
His late grandmother Carmella Fanizzi Post also had an integral part in raising the author and his elder sister. His granny taught him many valuable life lessons, whereas his mother worked tirelessly two jobs under minimum wage to support the family.
As a result, the entrepreneur was inspired by his mother's hardship to achieve success in life and support her.
Italian Entrepreneur:- Gianluca Vacchi Age 51 New Girlfriend After Split With Wife, Who Is She?
Looking back now, he has achieved massive success with just a high school degree from Malboro High School. Moreover, the coach even hired his nephew Tanner Sheldon to run his business empire.
Dean Graziosi Partner, Kids
The millionaire is in relationship with his fiancée Lisa Palacios, a 34-year-old podcaster.
He proposed her in 12th March 2019 in Cabo San Lucas, near a beach in Mexico. She was spotted with a beautiful diamond ring after the proposal as the lovebirds walked hand in hand for their new start.
Furthermore, he surprised his well-wishers with excellent news in May 2019.
The pair couldn't wait to get officially married to one another and announced their plan to wed one another in 22nd August 2019. Interestingly, the millionaire has also already set the venue for their wedding, which is at none other than his ancestors native country, Italy.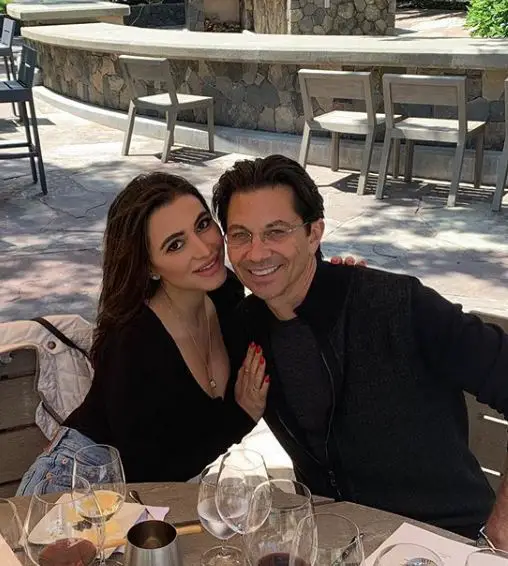 Dean Graziosi spends time with fiancée Lisa Palacios during her birthday on 2nd July 2019 (Photo: Dean Graziosi's Instagram)
Dean was previously married to Jonelle Ward, but their relationship didn't work out in the long term. Although the writer didn't disclose the real reason behind the split, he later hinted at some reasons behind it. As per him, he was unable to put any effort from his part in keeping the relationship passionate, alive, loving, caring, and honest.
However, the ex-partners shared two lovely children. His nine-year-old daughter Breena was born in 2006; whereas, his son Brody came into the world two years later.
Wedding With Lisa
Just like Dean had announced, he managed to wed his fiancée in the designated date. Interestingly, there was a big probability that their wedding could have been postponed. As per the speaker himself, the weather forecast had predicted that 22nd August 2019 (their wedding day) would be the rainiest day. Thankfully, it didn't rain and the day went as planned.
The auspicious event was held on the famous mosaic at Villa D'Este in Tivoli, Italy. A very limited number of guest attended the reception, including the pairs closest family members and friends.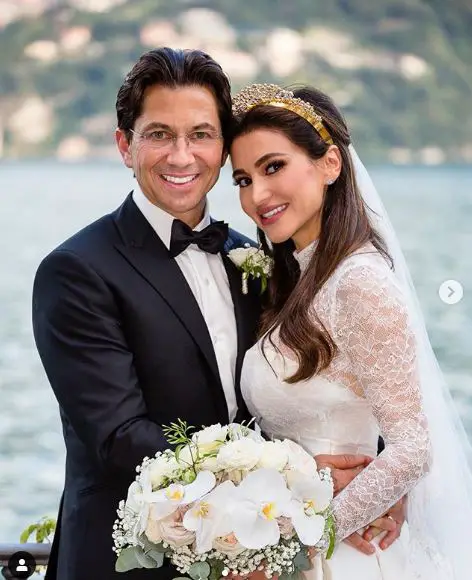 Dean Graziosi and wife Lisa Palacios at their wedding on 22 August 2019 (Photo: Lisa Palacios' Instagram)
Afterward, the newly married pair flew to the beautiful country in Fiji to celebrate their honeymoon.
Net Worth 2019
At the age of 51, the businessman has made a successful career, which is evident through his wide range of investments and assets. Although his precise net worth is still under review, his business and brand have generated about 1 billion dollars in revenue.
On top of that, his widely successful books have more than 1 million copies already.
Recommended Article:- Author Mitch Albom's Life Behind His Best-Selling Books: His Family And Career History
As of now, he has bought a luxury mansion in Paradise Valley, Phoenix for a staggering price of 7 million. So, it seems the millionaire is doing very well for himself while selling formulas of success that everyone craves for in today's economy.