DeMar DeRozan and wife prospect...Close to getting married but...Father of two daughters as of...The family hails from...Stands at the height of...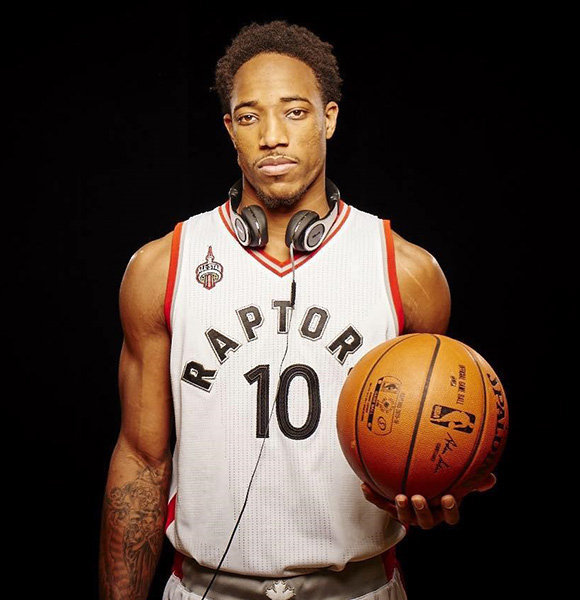 The 9th overall pick by Toronto Raptors at the 2009 NBA Draft, DeMar Derozan is an esteemed shooting guard. Revered for his high-flying maneuvers on the court, he made his first NBA All-Star debut in 2014.
After nine glorious seasons with the Raptors, the Compton, California-native got traded to fellow NBA side San Antonio Spurs ahead of the 2018/19 campaign. The deal also saw fellow athletes Kawhi Leonard and Danny Green travel to the north of the country.
DeMar's move to Spurs - which ensured him a $27.8 million annually in salary for three seasons - came at a precarious time. Amid the much-hyped trade, his relationship with wife prospect Kiara Morrison was in tatters.
Married To Long-Time Partner?
The tumult in DeMar and Kiara's relationship began sometime between 2017 and 2018. The duo's split created mayhem as fans and media outlets flock to close sources for answers. It's interesting to note that they were an engaged item at the time.
Silencing the critics, the former Raptors player and his longtime partner Kiara reunited in late-2018. After the snaps of them moving in together surfaced, eager fans believed they were ready to get married.
Equally Dramatic Love Life:- Ben Simmons Wife, Married, Age, Family, Parents, Siblings
When winter of 2019 kicked around, DeMar and his wife prospect Kiara appeared to have placed their past differences aside. Walking down the aisle felt like the next logical step for the duo.
But, by July 2019, DeMar and Kiara's relationship had reached another dead end. As their public appearance grew fewer, media outlet stopped addressing them as a couple.
Parents To Two Kids, Daughters
DeMar and once-fiancee Kiara met around 2008 as students at the University of California. Bonding over basketball, they became obsessed with each other.
A half-Filipino, Kiara has a deeper connection with the sport. Her father played professionally for the Philippine Basketball Association.
The Spurs player and Kiara's romance continued after his NBA Draft. When DeMar traveled to the Philippines for an NBA promo run, his then-girlfriend accompanied him. Coincidentally, it was her first time in the country.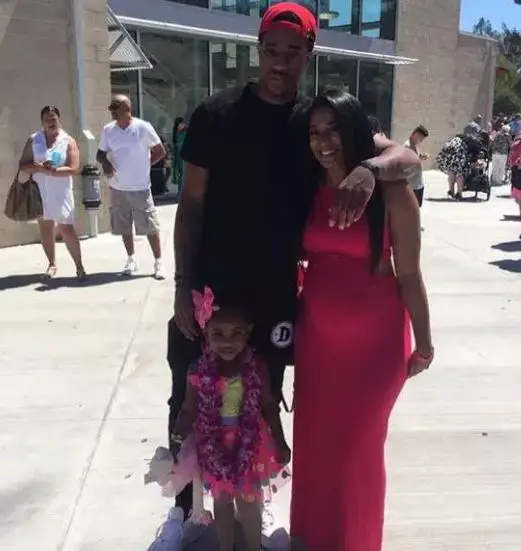 DeMar DeRozan with wife prospect Kiara Morrison & daughter Diar Circa pre-2017 (Photo:- heavy.com)
Despite not getting married, DeMar and Kiara share the guardianship of two kids, both daughters. The duo welcomed their firstborn Diar in 2013. Three years later, baby daughter Mari arrived.
NBA Athlete-Turned-Father:- Shaun Livingston Perfect Married Life With Wife & Kids, Parents - All Details
In the limelight since birth, Diar & Mari had begun to steal headlines long before they could understand their dad's popularity. For instance, Diar - who was three at the time - went viral overnight after interrupting the NBA athlete's press conference in 2016 to profess love.
Family, Age & Height
Born in California in 1989, DeMar turned 30 years of age on 7th August 2019.
In many ways, he got the love for sports from his father Frank, a former football athlete who later became a videographer. Meanwhile, his mother worked at a local thermostat company.
DeMar - who boasts a towering figure of six feet & seven inches (2.01m) in height - is half-siblings with elder brother Jermaine. Although the two are not biological brothers, DeMar still considers Jermaine as a valued family member.