Entertainment
Shaun Livingston Perfect Married Life With Wife, Parents - All Details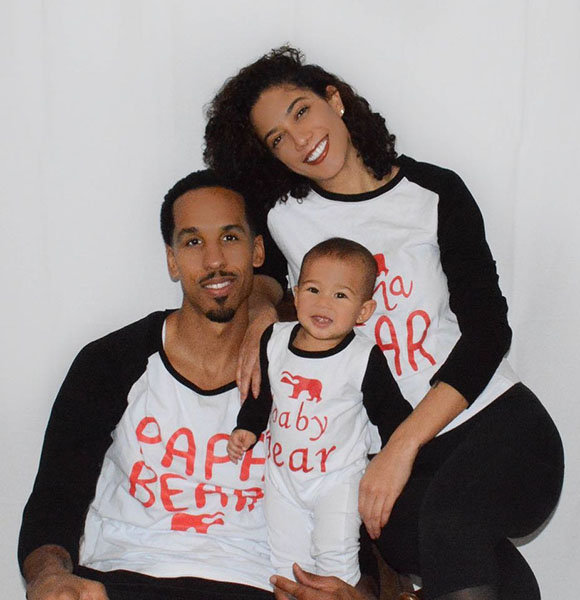 American professional basketball player Shaun Livingston - who plays for the Golden State Warriors of the National Basketball Association - is a living example of perseverance and patience. Despite suffering from the most gruesome knee injury in the history of NBA, Shaun made his way back into the league to earn success that he deserved.
And, while he adds worthwhile numbers to his stats, he makes his family proud. His family includes his partner - whom he turned into his wife via a most exceptional wedding ceremony- his daughter and an upcoming bundle of joy. 
Surprise Wedding With Girlfriend Brings Family Bliss
Unlike people, who make their wedding day public to all, Shaun and his longtime girlfriend, Joanna (Joey) Williams opted to keep their big day a secret. They planned such an exceptional wedding in the backyard of Shaun's Oakland hills home in August 2017 that even the guests were unaware of why they were invited. 
You Don't Wanna Miss:- Joel Embiid Dating Game Is Real Strong! Engaged With Super Hot Girlfriend?
Only after all the guest arrived, the duo went on to reveal that the simple-fashioned celebration was for them to get married. So, in front of the shocked family and friends, Shaun and Joanna pronounced each other husband and wife.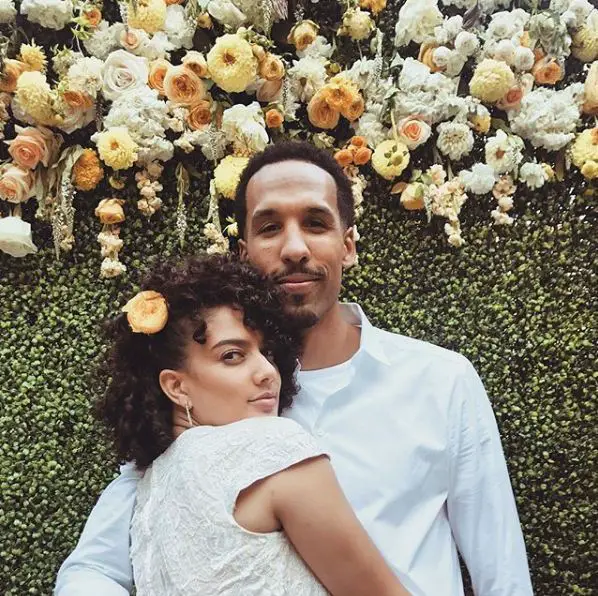 Shaun Livingston with his wife Joanna on their wedding day in August 2017 (Photo: Joanna's Instagram)
The shocker wedding came only months after the pair became parents to their first baby daughter, Tyler Marie in February 2017. 
As of now, the wedding has blessed the couple a family bliss. Their family of three is expanding to four as Shaun's wife is 8-months pregnant and the pair is expecting their second child together any time soon. 
Another Pregnancy:- Skylar Diggins-Smith Pregnant With First Baby, Who Is Her Husband?
Insight On Injury, Stats, & Contract That Blesses Net Worth
Apart from Shaun's family bliss with wife, he has a rocky career as a point guard. The rough path in his career came after he got a spine-chilling knee injury in 2007 while playing for the Los Angeles Clippers. 
The injury was so frightful that his fans inspected it was the end of his career as a basketball player.
But, Shaun - raised by his father after his parents' divorced and surrounded by strong men all his life - didn't give up and kept working to fit into his own shoes. He made his way back into the league after one and a half year while adding numbers to his stats.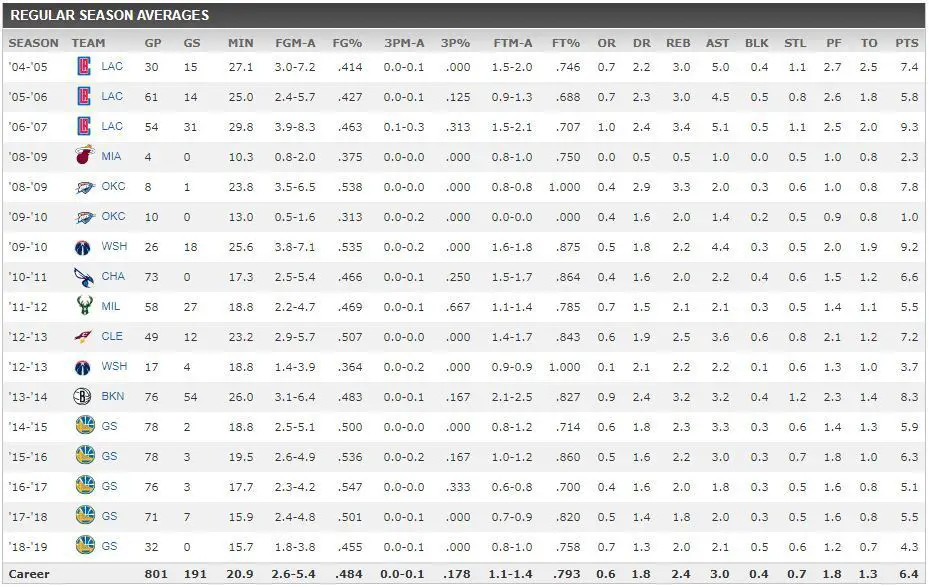 Shaun Livingston's career stats of NBA (Photo: espn.com)
In 2008, his contract with Clippers expired and he became an unrestricted free agent.
Then, he signed a contract with Miami Heat and a year later was traded for Memphis Grizzlies. In 2013, he signed with Brooklyn Nets. At the end of the season, he player career-high of 76 games with average 8.3 points, 1.2 steals, and 3.2 assists. 
Similar Injury In Our Vault: Theo Riddick Fantasy Stats Amid Ankle Injury! Is There A Good News Or Bad?
In 2014, Shaun, who stands at the height of 6 feet and 7 inches, signed a three-year contract with Golden State Warriors. He re-signed the deal for $24 million with an average salary of $7,897,436 in 2017.
With a whopping salary that enriches his net worth, Shaun has, now, facilitated his and his family's life with luxury. And, at the age of 33, he cherishes his married life while living in his house located in the Oakland area.