Entertainment
Dennis McKinley Relationship Details With Porsha Williams, Net Worth
Dennis McKinley is an entrepreneur and businessman who moved into reality TV after appearing on The Real Housewives of Atlanta as the partner of Porsha Williams.
With a background in real estate, commerce, retail, business, and product development, he has a wide array of skills and experience. He is also the founder of Detroit Equities, a branding, and investment firm.
Bio: Age, Birthday
Dennis was born on 25th July 1980 in the United States. He completed his Bachelor of Arts (B.A.), Economics from the University of Michigan.
He worked as a Marketing & Promotions Manager at Planet Hollywood in 2008. He then occupied the position of Chief Content Officer in HooplaSouth from August of 2009 to May of 2012.
Reality Star And Entrepreneur:- Is Joe Giudice Still Together With Wife Teresa Giudice?
Dennis went on to become the CEO of QueenVirginRemy.com in June of 2012. The company distributed exotic hair extensions. He worked there for five and a half years before leaving in December of 2017.
Currently, he is serving as the CEO of Detroit equities.
Dennis McKinley's Relationship With Porsha Williams
Dennis began dating reality star Porsha Williams in early 2018. The couple announced that they were expecting a baby in September of the same year. Following the announcement, Dennis proposed to his girlfriend a month later in October, and the two got engaged.
The pair welcomed their daughter, Pilar Jhena, on 22nd March 2019.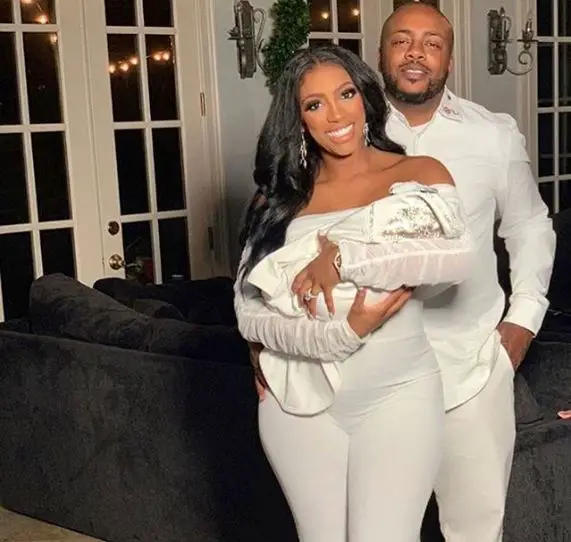 Dennis McKinley and Porsha Williams with their daughter Pilar in April 2019 (Photo: Dennis McKinley's Instagram)
Three months later, Dennis split ways with Porsha in June after rumors of him cheating on her surfaced. The two got back together, this time, not as partners but as co-parents for their daughter.
More On Porsha Williams And Her Ex:- Porsha Williams Update: Net Worth In 2018 After Buying Lavish House
Eventually, they would reconcile, and their relationship would revert back to that of romantic partners.
Is Dennis McKinley Married?
The Real Housewives of Atlanta cast duo sparked marriage rumors in January of 2020. The fans started speculating about potential marriage after they went to Mexico at the end of 2019.
The couple had chosen January 1st as their wedding date back when they got engaged for the first time. It was revealed in the reality show, and lots of fans know of it.
On top of it, Dennis was spotted coming out of Atlanta's City Hall on 5th December 2019. Many fans of the show believe that he was there to get a marriage license.
If this assumption were to be indeed correct, it would reinforce the idea that he got married on January 1st because the license expires a month after it gets issued.
Additionally, Porsha's mother and Monique Samuel (a reality star who is close friends with Porsha) along with her family were in Mexico during the new years.
In the end, no party has commented on the matter. It's not known for sure if Dennis is truly married or just went to Mexico for some other reason.
Net Worth
According to celebritynetworth.com, Dennis McKinley has a net worth of $10 million.