Dennis Schroder is a German basketball player playing for the...was married in 2019...had a baby five months before their marriage...is not gay, but was subjected to gay comments...is 26 years of age...was raised by parents in Germany...has a height of 6 feet...his college information is...was asked to dye his hair blonde by his mother to...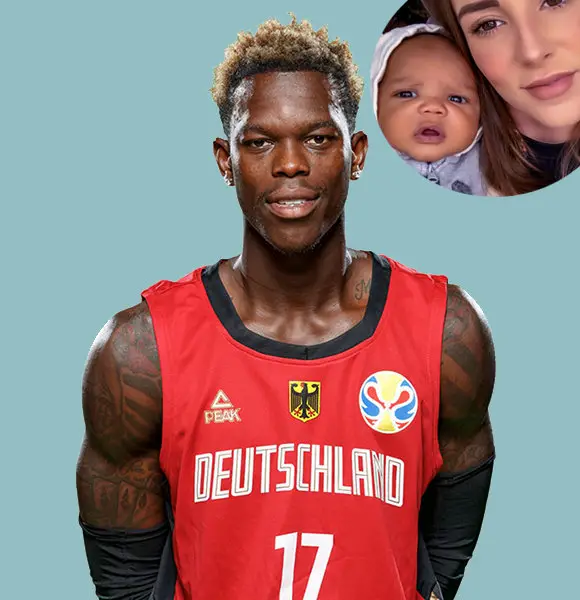 Quick Information
Mother

Fatou Schroder

Instagram

https://www.instagram.com/ds17_fg/?hl=en

Height/ How Tall? 1.91m
Net Worth

$30 million

Partner

Ellen Ziolo

Wedding Date

July 20, 2019

Wife/Spouse

Yes

Children/Kids

2

Brother/s

Cheyassin Secka

Date of Birth September 15, 1993
Father

Axel Schroder

Zodiac Sign

Virgo

Birth Name

Dennis Schröder

Profession

Basketball Player

Birth Place

Germany

Nationality

German

Birthday

September 15

Birth Year 1993
One of the most gifted basketball players from Europe, Dennis Schroder, has set his position as a match-winner in the NBA.
Following a journey that saw many highs and lows, the German-native is now a key player for Los Angeles Lakers. 
But, the game has given him much more than just a career. The athlete has also lived to see many happy moments, including the birth of his baby and the wedding to his child's mother.
Dennis Schroder's Wife, Ellen Ziolo
Dennis is happily married to Ellen Schroder, previously Ellen Ziolo.
The NBA star first encountered Ellen in 2018 and instantly fell for her. The couple got together in August 2018 and did not need a lot of time to realize that they were meant for each other.
One more reason to believe that Dennis and Ellen are made for each other is their son. The couple gave birth to their first-born - Dennis Malick Schroder Jr. - on 19th February 2019. Dennis Jr. was born just five months before their marriage, and his birth gave Dennis and Ellen all the more reason to make their already-strong bond stronger.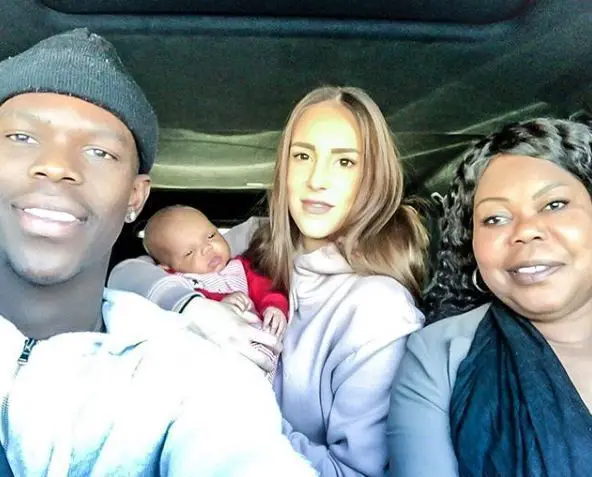 Dennis Schroder with Ellen Ziolo, mother Fatou Schroder, and son Dennis Schroder Jr. (Photo: Dennis Schroder's Instagram)
The couple later got married in Braunschweig-Germany at Richmond Castle in July 2019. Their family and friends attended the ceremony.
Initially, Dennis and Ellen planned to have a small wedding, but that turned out to be an impossible task as Dennis has an African family. More than 350 people attended the nuptial ceremony, which was initially planned for 50 people.
You Might be Interested In:- Andre Roberson Girlfriend, Wife, Married, Parents
The family of three soon added a new member on 3 August 2020. Dennis and his wife welcomed their second child, a baby girl named Imalia Aaliyah. Ellen Ziolo had shared the happy news on her Instagram. 
The family is now leading a happy life. There are no negative rumors about the couple and hope it stays that way for a long time.
Family And Background
Dennis was born on 15th September 1993; He was raised in Braunschweig, Germany, by his parents: Axel Schroder and Fatou Schroder. He has two older step-siblings. 
Axel met Fatou when he was on vacation, roaming around Banjul, Gambia. Their relationship took off from the first meeting.
Not long after Fatou visited Axel in Germany, Axel convinced her to move to Braunschweig along with her two children - Awa and Che. She complied, and the two got married.
Growing up in Germany as a black Muslim wasn't easy for Dennis. He went to school, where he was among the only two black students. He, along with his older sister and brother - Awa and Che - faced many discriminatory behaviors growing up.
However, the discrimination didn't stop him from doing what he wanted to do - play basketball. After his father's death, Dennis became very focused on basketball. He even gave up his time hanging out at the skatepark and had a hectic schedule that consisted of school and basketball.
College And Career
Dennis started his basketball journey to the top in his home country. He began his professional career playing for the SG Braunschweig, a developmental team of the German basketball team Phantoms Braunschweig. 
Another European NBA Player:- Kristaps Porzingis Girlfriend, Parents, Ethnicity
However, after three years with the Phantoms from 2010 to 2013, Dennis decided to take his career one step further. So, he declared for the 2013 NBA Draft and was selected by the Atlanta Hawks.
Dennis spent five years with the Hawks, becoming an integral part of the team. However, he moved on from there as well in 2018 and played for the Oklahoma City Thunder. As of now, he represents the Los Angeles Lakers. Along with his club career, Dennis has also appeared for the German National Basketball Team.
His Parents: Pillars For Success
One way or the other, Axel and Fatou Schroder have played a huge part in making Dennis the player he is today. 
It was his father, Axel, who persuade him to become a basketball player. Just weeks after Axel passed away, Dennis found a letter written by him. It was a reminder of the conversation they had about what a basketball career could do for him and the entire Schroder family. Soon after, Dennis set out to fulfill his father's beliefs about him.
Then came his mother, Fatou Schroder, who encouraged him to stand out and push through the limits. She wanted her children, especially Dennis, to go above and beyond success because of the obstacles they had to face in their ethnicity. 
Signature Hair Style
Dennis has one of the most noticeable hairstyles in the NBA. And, the hairstyle also has an interesting story behind it. It was his mother who asked Dennis to get a catchy haircut. Fatou, who is a hairdresser herself, convinced Dennis to dye his entire hair blonde.
He didn't dye his whole head but agreed to do a small patch above his left temple. The patch remains his signature look to this date. Fatou asked him to do so to stand out from the crowd because of the racially charged society that he to grow up in.
Dennis: Age, And Interesting Facts
Dennis has German nationality but also has Gambian descent from his mother's side.
Dennis's height is 6 feet 1 inch (1.85 meters), and his wingspan is measured at 6 feet 7 inches.
Dennis was involved in a controversy with another NBA player Andrew Wiggins in January 2019. Andrew allegedly said Dennis 'was just gay' during a postgame interview. But, Wiggins denied the accusations through Twitter, and also clarified that he had the utmost love for the LGBTQ community.