Known for his variety of nicknames, Denzel Curry made all his music do the talking when he started writing music at the age of 12.
Not long before that, the Carol City native released his first mixtape while attending high school. In no time, he was on top of his game, producing one hit song after another.
However, a significant set back in the form of his brother Treon Johnson's death affected Denzel a lot in 2014. But, soon, it became a driving force for him to create a more robust and creative piece of music. Let's explore in-depth about the Nostalgic 64 hitmaker.
Dating Girlfriend?
As notorious as Denzel is with his music, the guy has not created havoc when it comes to dating women.
Though, he faced a significant set back in high school when his then-girlfriend left him after dating for two years. The incident left the rapper distorted and in a severe depression.
Ecstatic Character:- Briana Evigan Boyfriend, Married, Family
Saying that, the This Life singer came over it and now jokes about his girlfriend via Twitter. In 2019 Valentine's Day, the rapper recalled every day as Valentine's day when people are in love.
By the looks of it, Denzel looks to be single, but that might not be the equation in a few years.
Net Worth & Tour Info
Denzel Curry started rapping when he was a six grader. It was his ability to convert emotion and stories into his songwriting and raps, which truely captivated an individual's soul.
As he was moving ahead in life, it was at age 16; he shifted full time in music. He collectively worked in hip hop crews and shared ideas with XXXTentacion and Ronny J. Denzel, with whom he used to live with.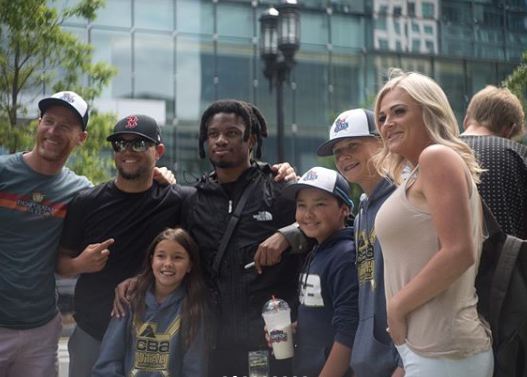 Denzel Curry with his fans at Laced Boston in June 2019 (Photo: Denzel Curry's Instagram)
In 2013, the young rapper released his debut album Nostalgic 64, which introduced him to the hip hop and R&B music world. Similarly, he released albums like Tal3oo, Zuu, and Imperial, which help him attain the title of "Prince of Miami Rap."
Now, the 24-year-old performs concerts and events all over the world. Tickets and details about Denzel's tours can be checked on his official website. Similarly, he holds a net worth of $500K from all his musical works.
Family, Age, Height
Denzel Curry - height 5 feet 9 inches (1.75m) - was born and raised alongside four sibling brothers in Zone 3 of Carol City.
Since his parents were into music, Denzel was brought up listening to songs of Issac Hayes, Marvin Gaye, and James Brown in the family. Growing up, he attended the Design And Architecture High School but got expelled after two years.
Multi-Talented Songtress:- King Princess Girlfriend, Net Worth, Family
Struggling to find a school to study, the 24-year-old entered Carol City Senior High School. There, he set his eyes on a career in music. Further, his songs grabbed people's attention, and he quickly climbed to the top.
Amidst his busy schedule, Denzel completed his graduation. But now, he solely focuses on his music and is winning the hearts of people all over the world.