American actor Derek Mears excels at acting and also at stunts. No wonder, having been a part of several multi-million dollars earning movies, he is mostly known for playing a negative character.
Here's his bio to shed light on several aspects of the actor's life, including his height, net worth & more!
Derek Mears Bio: Age, Net Worth
Bakersfield, California native Derek first rose to fame as Jason Voorhees in the 2009 slasher movie, Friday the 13th. Apart from the film, Derek has been a part of several other successful movies like Men in Black II, Predators, Zathura, and Hatchet III.
The 47-year-old actor's resume also consists of acting jobs in TV shows like Sleepy Hollow and Swamp Thing. Moreover, he is a long-time stuntman and has shown his skills in movies franchise, including Indiana Jones and Pirates of the Caribbean.
Dead Stuntman:- Hospitalized John Bernecker Is No More! The Walking Dead Stuntman Dead After Being Injured On-Set
Derek proclaims a net worth of $3.5 million, but that's not his only accomplishment. Nine of his highest grossing movies have jointly more than $1.5 billion.
As per his measurement, Derek is a man with a height of 6 feet 5 inches (1.95m). For a guy that tall, the weight of 106 kgs seems just as needed.
Married To Actress Wife, Divorce
Derek was previously married to actress-writer Jennifer Flack. The couple had tied the wedding knot in 2008. However, due to their hectic work schedules, the husband-wife duo often lived separately.
Derek even confessed sometime after the wedding that the two had not seen each other for months. Indeed, the marriage was doomed from the start. Four years into the relationship, the pair decided to put an end to their failing romance.
The Friday the 13th actor and his wife divorced in 2012 and moved on their separate paths.
Relationship With Partner
A while after ending his marriage with wife Jennifer, Derek moved on with an uprising photographer named Jenny Brezinski.
Although he was seen together with Jenny in 2014, the couple's relationship only came to light in 2016 when Derek addressed her as his girlfriend in a Twitter post.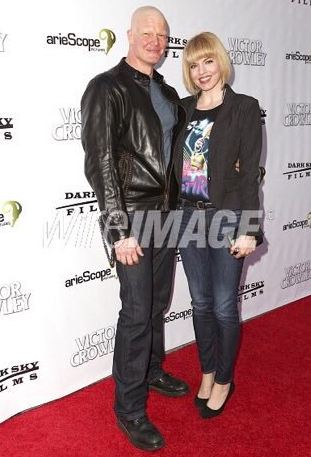 Derek Mears and partner Jenny Brezinski at the premiere of Hatchet 4 in August 2017 (Photo: Derek Mears' Twitter)
Jenny has been a loving girlfriend to her partner, and Derek has also similarly reciprocated the sentiment. Derek even contributed to Jenny's photography career as the actor was the one to present Jenny her first camera.
Engaged In 2019:- Kealia Ohai Engaged, J.J. Watt, Age, Bio
Further, the couple got engaged, reportedly in 2018. Jenny was the first to address Derek as her fiance. Fans are rooting for the duo to get married, and even hoping the actor won't screw up his relationship this time.