An American professional basketball player, Derrick Labrent Jones Jr. plays small forward (SF) for Miami Heat of the National Basketball Association (NBA) for the 2019-20 season.
Derrick, with a height of 6 feet 7 inches (2.0 m), is well known for his high-flying dunks, two of which have also been patented in his name. His nickname,'The Airplane,' fits him perfectly because of the way he can glide through the air while showing off his high dunks.
However, Derrick only played one year of college basketball for the Runnin' Rebels before a controversy over his academics forced him to enter the NBA draft early.
Further, the athlete signed the Phoenix Suns for training camp on 25th September 2016 and impressed the team management. He thus secured an opening night roster spot and made his NBA debut on 19th November 2016 against the Philadelphia 76ers.
Is Derrick Jones Married? Wife?
The slam dunk star has already fathered three kids at an early age of 22 and is probably in the right place with his girlfriend, Sherry.
Don't Miss Another NBA Star:- Myles Turner NBA Stats, Salary, Contract, Injury
His first son, Derrick III, was from his previous relationship with a mystery woman when the NBA star was still in high school.
However, his photographs of dating with his girlfriend Sherry started to surface in social media, especially on Derrick's and Sherry's Instagram, since late 2016.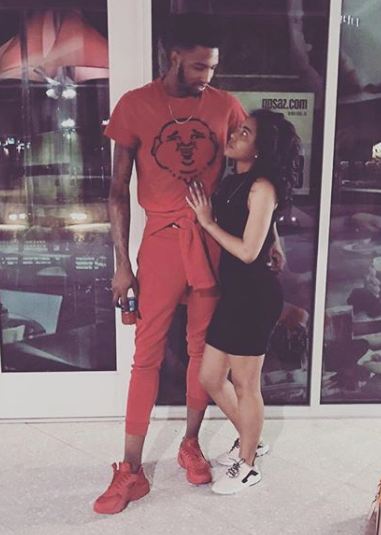 One of the early photos of Derrick Jones Jr with his girlfriend, Sherry in March 2017 (Photo: Derrick Jones Jr's Instagram)
On 7th April 2017, Derrick wished his love a birthday and an 'I love you' message through his Instagram post:
"Happy birthday to my baby so happy that we met when we did you brightened up my life…. baby you made me realize a lot of stuff since we met…. You're the love of my life and I'm never going anywhere I'm yours for good baby……..let's enjoy this day until the end makes it the best day you ever had ❤??. I'm so happy I get to spend this special day with you for the rest of our lives❤. I love you so much, baby ❤"
The couple also has two sons, Prince and Roman, so far as of November 2019. The newest addition, Roman was born in April 2019.
Family And Education
Derrick was born on 15th February 1997 in Chester, Pennsylvania, to Derrick Sr. and Otiesse Jones.
Chester was a violent and rough city just outside of Philadelphia, while he was growing up. In one of his interviews with NBA.com in early 2017, Derrick recalled his growing up with his parents and grandmother in Chester.
"Coming from Chester, it being a violent city, not a lot of people make it out of there, not a lot of people make it to the age of 21. I'm just so thankful that my father, my mother and my grandmother got me out of the situation I was in…. It just means everything. Where I'm from, that's who I am. It's the reason I'm that scrapper.... Either you play your heart out, or you're going to get punked. I learned that when I was about 9 or 10. I never let anybody punk me no matter how big or small they are."
Apart from his parents and grandmother, Derrick also had three siblings to grow up with. He has a brother, Lakeem Johnson, and two sisters: Dej'sha Jones, and On'Jesha Jones.
As for the star athlete with a weight of 87 kgs' education, he attended Archbishop John Carroll High School in Radnor, Pennsylvania, where he was a leading scorer with 1,645 career points. He was the recipient of the Southeastern Pennsylvania Player of the Year award and the Delaware County Player of the Year award.
Former Basketball Player:- Jay Williams All Set With Wife-To-Be! Started 2018 Getting Engaged To Girlfriend
His college career at the University of Nevada's Runnin' Rebels came to an early stop as NCAA nullified his ACT score, which caused him to be ineligible to continue playing for the Rebels.