Sports
Myles Turner NBA Stats, Salary, Contract, Injury
Myles Turner missed about eight games due to a concussion and even after his NBA...increase in his salary from his contract...he completed his college education from the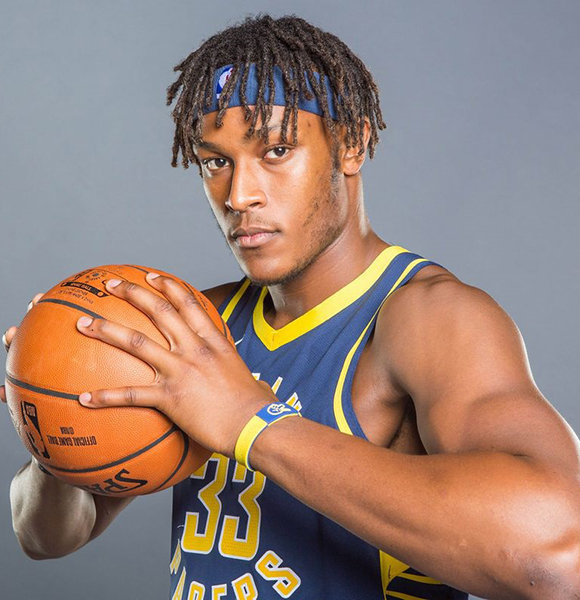 American professional basketballer Myles Turner has devoted most of his NBA career to play for Indiana Pacers. Ever since the team drafted him as the 11th overall pick in 2015, he has been a star player for the club.
Throughout his time in NBA, the player has given his sweat and blood for his team in some significant wins. He even contributed to winning a game against Atlanta Hawks back in December 2018, despite suffering a broken nose.
However, the game wasn't the first time Myles got injured. In 2008, he missed about eight matched due to a concussion. Further, after his NBA draft in 2015, the athlete underwent surgery due to a fracture in his left thumb. Recovering from the injury, he missed 21 games that year.
Still, looking at his performance throughout the years, he seems to have performed his best.
NBA Stats
Although Myles' team Indiana Pacers lost to Golden State Warriors in January 2016 with a two-point difference, his performance was splendid. During the game, he scored a career-high 31 points and the next month was even titled the Eastern Conference Rookie of the Month.

NBA Career stats of Myles Turner from 2015 to 2018 (Source: nba.com)
During 2015-2016, he scored overall 10.3 points throughout the 60 games he played. In the next season, viewers saw a drastic increase in the number of his gameplay as he recovered from his injury. He played over 81 games in the 2016-2017 season, and it remains his highest number of games played per season.
Career Stats Of NBA Player:- Derrick White Stats, College, Contract, Net Worth
The same year his PTS value increased by four points and remains his career best. Although Myles couldn't give the same level of performance in later years, the point he scored was almost close to his highest one. In 2018, his overall points scored was 12.7, whereas the next year, it almost came close to 14.
Contract & Salary
Myles has accumulated about $28,801,804 as salary received from the five seasons contract with Indiana Pacers. From his first signing contract with the team, he received a salary of $2,357,760.From the fourth season, he saw about $1 million increase in his salary from his contract.

Myles Turner's salary as per his contract with Indiana Pacers (Source: spotrac.com)
On top of that, during his fifth season, the athlete was paid a considerable salary of $17.5 million. Since then, he also gets an incentive of $ 500 thousand yearly.
Age, Education, Measurement
Born on 24th March 1996, Myles was raised in Texas. He completed his schooling from Trinity High School in his home town. Whereas, he completed his college education from the University of Texas.
Drafted From College:- Mason Plumlee NBA Stats, Contract, Salary, Girlfriend
With a short braided hair, the 13-year-old sportsperson has impressive body features. The player stands 6 feet and 11 inches (2.1 meters) in terms of height; whereas, his weight is 113 kilograms.