It is the season of the NBA. With it, comes the pub talk among friends about basketball players such as Devonte' Graham and their lives. If one is a hardcore fan of the NBA, then s/he would be in the middle of the crowd while everyone basks in their knowledge of those players.
Now, some people, even though they do not have enough knowledge about the players, want to participate in the conversation.
Not to worry, for the life of the famous basketball player Devonte' Graham is discussed below so that it may help those people who want to learn about him and participate in the pub talk.
Devonte' Graham's Family & College
Born on 22 February 1995, Devonte' Graham is the native of Raleigh, North Carolina. His mother, Dewanna King, raised him as a single mom with the help of his grandmother as Dewanna gave birth to Devonte' only when she was fourteen years old.
Devonte' grew up alongside a sister named Shamaria. But, the details of his father remains unknown.
A few years after his mother graduated from high school, the family moved to a house in the Southgate community. In the city, the young Devonte' saw a man get shot outside while he was at a local community center with his sister.
It was during those times, before moving out of the community, he realized basketball was his escape.
When he was ten years old, Devonte' was approached by Clarence Coleman, an AAU coach. This became his first break as he spent another eight years with the AAU program before becoming one of the best point guards in the country.
He went to Brewster Academy for high school but was often overlooked by different teams because of his then height as he stood at 5 foot 3 inches (1.6m). It all changed in senior school after he reached a height of 6 feet, 2 inches (1.88m) with a weight of 79 kgs. Finally, coach Jeff Ferrell of Broughton High saw him as a special player.
Devonte', who is at the age of 24 as of 2019, went to Kansas University from where he started shining as the point guard of Charlotte Hornets.
The Kansas Guard's Girlfriend
It might be clear to the Hornets' fans that the Kansas guard is dating a Kansas cheerleader named Avery Miller. It is not clear when they started dating, but according to Avery's Instagram, their earliest connection goes back to December of 2015. It could mean that they might have started dating sometime then.
You Might Like:- A Real Shooting Guard OF Basketball, Exploring Doron Perkins Career Highlights
The duo, although, do not share much about their relationship to the public, is often seen together in Avery's Instagram handle.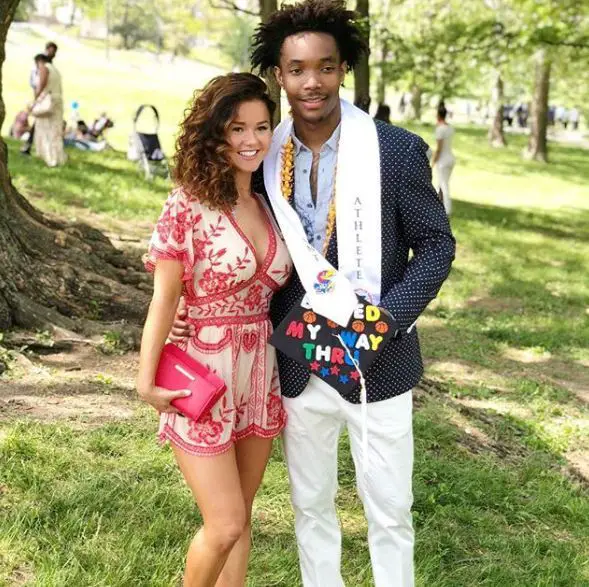 Devonte' Graham with his girlfriend Avery Miller on 14 May 2018 (Photo: Avery Miller's Instagram)
However, the duo was last seen on Instagram in May of 2018. Since then, it is not known whether the two are still together or not. So, it is unclear if the two remain in the relationship or have chosen different paths. Whatever it is, one can only speculate about the couple while the truth remains with Devonte' and Avery.