Nicolas Batum might be a great name in basketball, but he did not have the brightest of stars when it came to relationships. The shooting guard was due to pay a sum of $5 million to his ex-wife Melanie Pimentel as a divorce settlement.
On top of that, he was also asked to pay her spousal support until the settlement was cleared, which compelled him to sell his fabulous 1.5 acres home in Lake Oswego for $2.5 million in 2015.
After facing such hard times, Nicolas finally steadied his ship with a new girlfriend, Aurélie, with whom he got engaged in 2018. Let's know more about what is going on in his new love life.
Married To Wife Or Dating?
Married life did not go as planned for the Charlotte Hornets forward Nicolas Batum as he ended up getting a divorce with his wife of two years, Melanie Pimentel.
The couple who got married in 2011 created a big noise in media when the Frenchman was not able to pay the sum as per the divorce settlement. However, the NBA star didn't give up on love.
In 2017, he introduced a new face on his Instagram, calling her his girlfriend. Soon the girl, Aurélie, often started appearing on the forward's Instagram. In October 2018, Nicolas also announced being engaged to his girlfriend, who he had been dating for a long time.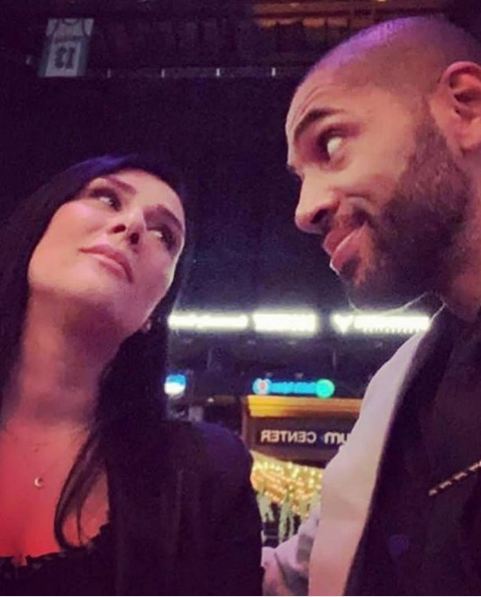 Nicolas Batum with fiancee' Aurélie in February 2019 (Photo: Nicolas Batum's Instagram)
Similarly, he also revealed his son Ayden - age 3 - in April 2019 wishing him on his birthday. Though it is not clear if the baby is from his relationship with Aurélie, the three appear to have a close family bond with each other.
Age, Family, Height
Nicolas Batum was born and raised in Lisieux, France, in a family of four with a younger sister Pauline. The forward possesses French Nationality and inherits a mixed ethnicity from his parents.
His father, Richard, was a basketball player, and he inspired the 30-year-old to pursue a career in the same. He often trained with his father and worked on his skill set.
Surprisingly, the 6 feet 9 inch (2.10 m) forward did not participate in any high school or college basketball competition. Nicolas directly featured in the Under-18 Albert Schweitzer Tournament in Mannheim, Germany.
Celebrity Sensation:- Charles Melton Girlfriend, Parents, Ethnicity, Net Worth
In the same tournament, his outstanding three-point shooting abilities and defensive solidity earned him the MVP and helped his French Team to the title in 2006. Just two years after that he was drafted to play for the Houston Rockets in 2008.
Despite getting picked, he did not play any game for them and was traded off to the Portland Trail Blazers, where he made his NBA debut. While playing for the Blazers, the forward put out impressive performances in the 2013-14 season.
Then, the Hornets signed him for a five-year contract worth $120 million in 2015. As of 2019, Nicolas has 768 games under the raps, with an average career point per game of 11.8.
Though he is out for 3-4 weeks due to a broken finger which he suffered on 24 October 2019, the Frenchman is itching to get back in the court with his team.