Entertainment
Wife Of Howie Long Diane Addonizio Wiki Details Age To Married Life
Diane Addonizio is famously recognized as the wife of former professional football player turned actor, Howie Long. However, Diane's identity is not confined to her husband as she is a well-educated woman and a licensed lawyer. Although she is a nonpracticing law authority now, Diane had her fair share of cases during her early years of practice.
Married to a renowned sportsman, Diane is a loyal wife and a source of inspiration to her children. Learn about the personal life of the famous WAG along with her wiki-related details.
Over Three Decades Married Life; Children Follow Father's Footsteps
For the USC School of Law graduate, sports might have been the common attracting factor in his romance as he has been married to sports analyst Howie Long. The former professional football player tied the knot on 27 June 1982 and has been going strong ever since for more than three decades now.
Read Also: Isaiah Mustafa Engaged-To-Get Married! Girlfriend Nods 'Yes' To Be His Wife
Also, the actor who acted in movies like Broken Arrow, 3000 Miles to Graceland, and Firestorm, the pair first met during Howie's sophomore year in college and soon commenced a romantic relationship. Diane recalls her first impression of Howie in her own words,
"At first, Howie was extremely defensive. He thought everyone was making fun of him or degrading him."
Diane, who is shorter than her husband of height 6'5", revealed in a 1994 interview that she was impressed by Howie's gentleness and was instantly attracted by him. She remembered the moment as,
"I could just sense a real gentleness about him."
And the duo's first date took place only after Howie invited Diane to his room for watching an NFL game live on TV. After Howie signed an NFL contract for an amount of $38,000 in 1981, he bought an engagement ring for Diane and later the partners got married in 1982.
The couple has three grown-up children from their marriage: Chris Long born in 1985, Kyle Long in 1988, and Howard Long Jr. in 1990.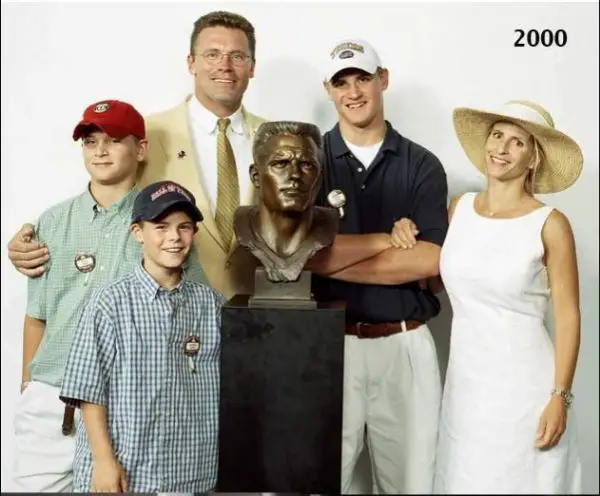 Diane Addonizo with husband Howie and kids on 29 July 2000 (Photo: ProFootballHof.com)
Diane and Howie's kids have followed their father's footsteps and are actively contributing to American Football. Chris plays as a defensive end for the Philadelphia Eagles, Kyle is a guard for the Chicago Bears, and Howie Jr. works as a player personnel for Oakland Raiders.
While their children were still young, Diane and Howie had strict rules of not flying in the same flight as in case of any misfortune, they didn't want their kids to lose their parents.
You May Also Like:- Jonathan Sadowski & Fiance Cum Wife-To-Be Insanely Chic! Engaged In Paradise
Apart from that, the couple is regularly spotted attending public events together. On 29 January 2015, the life partners attended the Roast of Terry Bradshaw during the ESPN Super Bowl Roast which was held in Phoenix, Arizona.
Diane Addonizio and husband Howie Long attend Friars Club Roast of Terry Bradshaw on 29 January 2015 (Photo: Zimbio.com)
Diane, who has always supported and inspired her husband for great, leads a comfortable life with Howie and shares her beau's net worth of $16 million. The couple has shown no signs of differences or unsatisfaction despite being married for a long time. And looking at their relationship, the pair's romance might last forever.