Entertainment
Dina Eastwood: After Divorce With Ex-Husband in 2013, Married to Boyfriend: Who's The Lucky Guy?
Well, people often find love; at any stage of their life. Sometimes, they are lucky enough to find the love of their life more than once. Of course, one must cheat or separate themselves first. Dina Eastwood also seems to have found love but is it for the first time? Let's find out.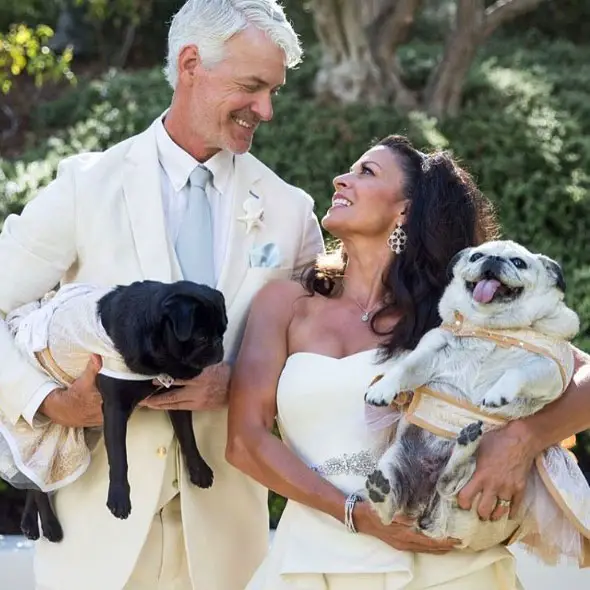 Well, people can find love at any stage of their life. Dina Eastwood also seems to have found love but is it her first love? Let's find out.
Caption: Dina Eastwood with husband Scott Fisher on their wedding day.
Boyfriend and Married?
Dina, 50, married the basketball coach, Scott Fisher, 52, on July 1, 2016, at Bacara Resort & Spa in Santa Barbara.
Following the wedding, Dailymail went on to report Dina-Scott wedding as an event followed after a peculiar case of wife swap.
Dina and ex-husband Clint Eastwood, 86, got divorced in 2012. Soon after, American actor/director Clint started dating Scott's ex-wife Erica Tomlinson-Fisher. This event brought longtime friends and former high-school sweethearts, Scott and Dina together. 
 Dina now seems to be enjoying the company of her boyfriend turned- husband and her daughter Morgan.
Divorced with Ex-Husband:
Dina was addressed as Dina Ruiz before she got married to Clint Eastwood. She took the surname after getting married to Clint on March 31, 1996. They first met in 1993.
Dina and Clint, who already was father of two children, welcomed a baby girl the same year on December 12, 1996, and named her Morgan Eastwood. Sadly after about 17 years living together as lawfully wedded husband and wife, the couple went through the process of divorce, which was filed by Dina.

Caption: Dina Eastwood with her then-husband Clint Eastwood on March 31, 1996. They officially divorced in 2013. In the papers, Dina asked for full physical custody of their then 16 years old daughter Morgan and spousal support.
Source: divorcedebbie.com
Before Dina filed for the divorce, she checked into a rehab to fight her depression and anxiety.
Dina also revealed that though they got divorced in 2013, they were living separately since June 2012 but were close.  However, the divorce wasn't a cheap one for Clint.
Dina got a share of Clint's property as spousal support, which was worth $375 million dollars. Her current net worth may be in the range of 350 to 380 million US dollars.
Dina Eastwood's short bio:
Dina Eastwood (née Ruiz) was born on July 11, 1965, in California and currently ages 51 years old. She enjoys a mixed ethnicity, as her father was an African-American Hawaiian  native and her mother was of  English, Irish, and German descent. She attended the Arizona State University and later graduated from San Francisco State University with a degree in broadcast communications.
Her career started as a reporter for KNAZ-TV in 1990. She has also guest anchored for KSBW and has also been featured in the San Francisco State University's "Alumni Hot Shots" list. She has also made short appearances in Clint Eastwood's two movies, True Crime, and Blood Work.
American reporter and television news anchor Dina Eastwood is best known for starring in a reality television based on her life called Mrs. Eastwood & Company on the E! network.