Entertainment
Who Is Dominique Crenn? Meet Soon-To-Be Wife Of Actress Maria Bello
Dominique Crenn is a big name in the restaurant world. The first and only female chef in the U.S. to have attained three Michelin stars, she was named the best female chef of 2016 at The World's 50 Best Restaurants awards.
Despite all these impressive feats she has achieved, her list of accomplishments doesn't end here; she is also the first female executive chef in Indonesia's history. She added this exploit to her list while working at the Intercontinental Hotel in Jakarta.
Engaged To Maria Bello
The world-renowned chef and actress Maria Bello made headlines in February of 2020 after announcing their engagement to the world.
More On Maria Bello:- Actress Maria Bello Is Engaged To Get Married With Superstar Chef
The NCIS actress revealed the news to Entertainment Tonight at Elton John's annual Oscar viewing party on 9th February 2020.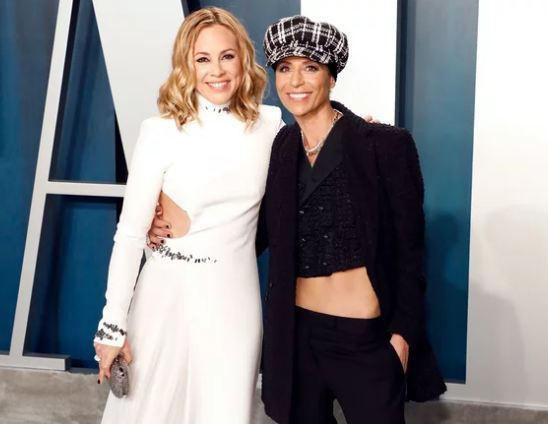 Dominique Crenn with fiancee Maria Bello in February 2020 (Photo: people.com)
The couple disclosed that they got engaged in Paris on 29th December 2019. The actress further shared her emotions and excitement about the marriage. In her own words:
We're pretty happy, considering that we just got engaged. So this is sort of our fun time out in Hollywood for the first time. It was very surprising and meant to be, but about time. I've finally grown up enough to get married.
When asked about what made the couple click, Maria answered, "I think we just light each other up," while Dominique said, "Love and joy and I think we cook for each other."
Dominique Crenn's Daughters
The celebrated chef is a mother to two daughters who are twins. Dominique revealed that her daughters were three years old in her interview with bullcity.mom in September of 2017.
She shared that her daughters loved cooking and even posted a video of her daughters cooking bison on her Instagram on 31st December 2019.
Restaurants & Career
Dominique opened Atelier Crenn, her first restaurant in 2011. She shared the story with Time. The restaurant is a homage to her father, who was a farmer, politician, and a painter.
The chef moved from France to San Francisco to pursue a career as a chef. When she first opened the restaurant, nobody wanted to invest in her because she was a woman. She didn't let it stop her continued her journey.
Bon Appetit's Bad Leone:- Brad Leone Married Status Now, Insight His Personal Life
In 2014, she became the first female chef to receive two Michelin stars in the U.S. Two years later, she was named the best female chef of 2016 at The World's 50 Best Restaurants awards. Dominique made history once again in November of 2018 after being awarded three Michelin stars.
She also runs Boutique Crenn, Petit Crenn, and Bar Crenn.
Cancer
Dominique shared her breast cancer diagnosis in May of 2019. She took to Instagram to share the news and raise awareness about breast cancer. She said that she was both scared and humbled yet not alone.
After that, she proceeded to state that one in eight women have breast cancer and shared some more heartfelt words. She concluded the post with the following words:
For all the women who have been on this journey before me and now with me, my heart is with you.