Entertainment
NCIS Actress Maria Bello Turns Lesbian After Husband Rift; Was It So Bad?
American actress, Maria Bello rose to fame playing in movies like Coyote Ugly, A History of Violence, Prisoners, and more. The actress, who entered the TV series, NCIS, as Jacqueline "Jack" Sloane in the 15th season, might be written off by the end of the 16th season.
Even if the actress exits from NCIS, she still has a lot to look after. For instance, she has a loving son to take care of and an ex-boyfriend, who is still a close friend to her.
But, important of all, Maria is looking way far from the husband partner after she went into a lesbian relationship after multiple failed relationships!
Former Relationship With Partner Of Years, Couldn't Become Husband Despite Sharing Child Together
Maria, aged 51, was previously involved in a heterosexual relationship with TV executive, Dan McDermott. The romance of several years resulted in the couple having a child together named Jackson Blue in 2001.
Other NCIS Actress:- NCIS' Linda Hunt a Wife to Someone? The Life of Actress With Her Young Companion
However, the love wasn't meant to last forever, and over time, the pair drifted away finally breaking up in 2006. Despite the split, the duo remained friends and even lived a few blocks away from each other to take care of their son.
Maria has even featured Dan on her social media posts on several occasions. On 18 June 2018, she posted a picture of her former boyfriend and son while calling him the "Best Dad Ever" and wishing him for Father's Day.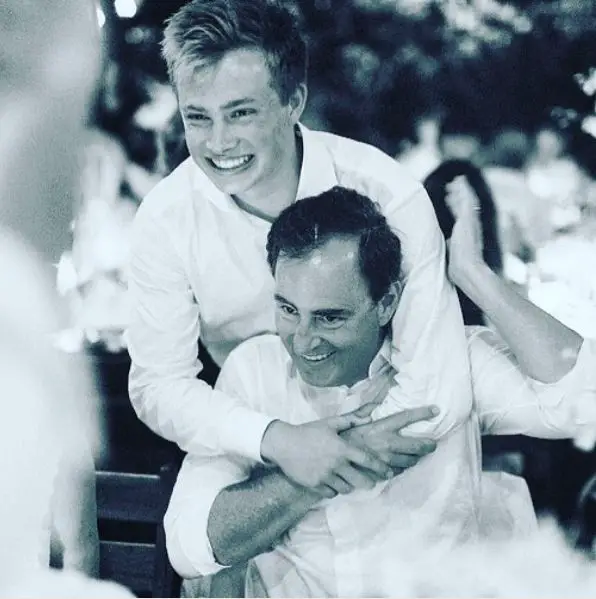 Maria Bello's ex-partner, Dan McDermott with his son, Jackson Blue (Photo: Maria Bello's Instagram)
Dan is a married man now, and a loving husband to his wife; but Maria had to wait for a couple of years and also experiment with her sexuality before she could finally find a suitable partner.
Turned Gay For Best Friend, Lesbian Relationship Didn't Last
After her unfortunate separation from Dan, Maria dated a few more men. Her relentless hookups would eventually end in 2013, but this time the actress would not go with the home team.
Other Lesbian Relationship In Our Vault:- Jenni Konner & Lena Dunham, Power Production Couple Split - What Went Wrong?
Back in 2013, The Cooler actress was assumably dating her close friend, Clare Munn. The reports later turned out to be true, but Maria still had to confess her newly found gay sexuality to her son, who was 12 at the time. Regarding her dilemma, she talked to NY Times,
"I had become involved with a woman who was my best friend, and, as it happens, a person who is like a godmother to my son."
Maria finally revealed the name of her lesbian partner to her Jackson expecting a tantrum, but his positive reaction surprised her. When Maria told her son that her girlfriend was none other than Clare, he replied,
"Mom, love is love, whatever you are."
The Pennsylvania native even wrote an essay to express her journey and sentiments while coming out of the closet called Coming Out as a Modern Family. In the essay, Maria mentioned how she initiated her romance with girlfriend Claire.
"I remembered how we had met two years before...We had an immediate connection but didn't think of it as romantic or sexual. She was one of the most beautiful, charming, brilliant and funny people I had ever met, but it didn't occur to me, until that soul-searching moment in my garden, that we could perhaps choose to love each other romantically."
Maria and Claire were close to each other and proudly flaunted each other as partners. The pair even attended Jackson's middle school graduation together in June 2015.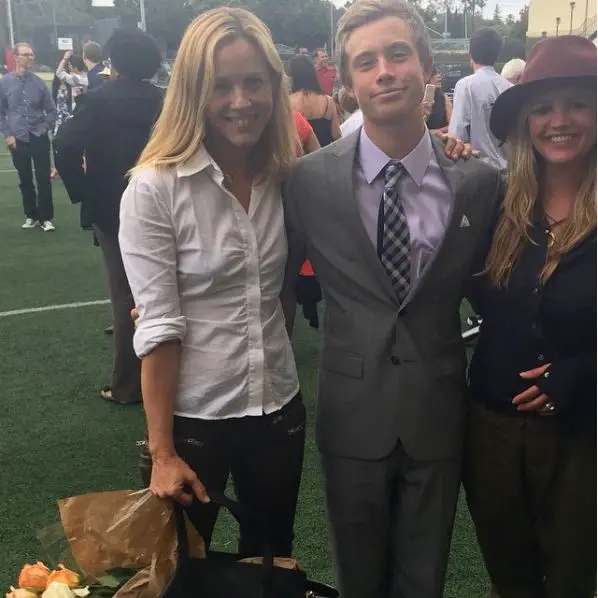 Maria Bello and girlfriend, Clare Munn attend Jackson's middle school graduation (Photo: Maria Bello's Instagram)
But sadly, Maria's lesbian run was over in 2016 as she separated with Clare and started dating a new partner. Back in March 2016, she was spotted hanging out with her close buddy, Elijah Allan-Blitz.
English Lesbian Singer To Check Out:- Lucy Spraggan & Wife A Lesbian Power Couple; A Teary Story To Bliss​​​​​​​
A source close to the actress affirmed that the two were indeed dating while also talking about their mutual friends,
"They complement each other and they care about the same things."
Maria and Elijah are a thing now and are expected to take their relationship to the next level by getting married soon. If the couple eventually decides to tie the knot, Elijah can actually become a loving husband to the actress while being the new father to her son, Jackson.