Entertainment
Dominique Fishback Bio: Age & Parents To Boyfriend & Dating Of Night Comes On Star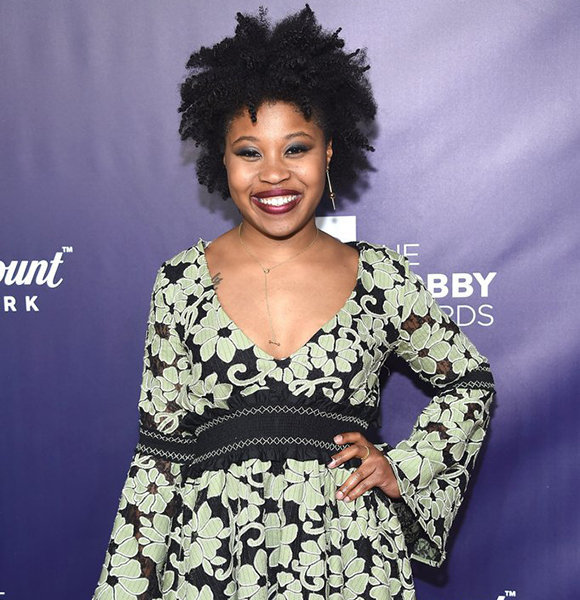 American actress, Dominique Fishback has exclusively expressed her subtle layers of acting abilities as Darlene on HBO's TV series, The Deuce, however, she has been doing so from way before. 
Showing a deep understanding of her character's charisma and graphing the emotions into the screen is what Dominique does best. But for such an accomplished actress, getting into the writer's room is her ultimate goal. 
Double passion and her demanding career might be the reason, her dating life seems so silent without any hint of presence of boyfriend figure! For the one, who does not hesitate to tell a story is yet a write her own romantic chapter!
Bio Reveals Parents' Support In Acting
Dominique Fishback, who is also a playwright, has been raising in her career in Hollywood. She has been excelling in acting while fully expressing the subtle layers in her characters.
Read Also: Lisa Riley & Musician Partner Soon To Get Married! Spills Future Husband Details
Dominique discovered her love for appearing on screens and portraying various characters during her childhood. When she was at the age of 10, she wanted to perform on the television while she watched "I Love Lucy" and wanted her own show.
Her dream for acting was supported by her parents as well. Her mother especially encouraged her to pursue a career in the acting field. Her mom was also the first person to make Dominique realized what she wanted from life. 
Dominique's mother motivated her by saying,
"Dom, you should try acting. You're really dramatic and I think you would be good at it." 
In turn, Dominique listened to her mother and continued on her path to acting. Despite a high school counselor told her that she lacked the "if" factor neither Dominique nor her mother gave up on her dream.
While following the dreams, the mother and daughter were even victims of various scams as they tried to get into acting. Dominique, who stands at the height of 5' 2" (1.57 m), later found an outlet for her passion at the MCC Youth Theater program which was meant for New York high schoolers.
Her enrollment in the program allowed her to write and perform which was her first exposure in the writing world. From that program, she applied to Pace University where she was accepted, and her creative energy flowed into her allowing her to fully pursue acting. 
Don't Miss: Jesse Watters' Wife Files For Divorce! Long-Time Relation To End – Why?
During her time there, she wrote and performed her own stuff where she did a one-woman show called 'Subverted.' She then appeared in television mini-series, Show Me A Hero in which she appeared as Billie Rowan. Her role as Billie landed her in another role as Darlene on HBO's The Deuce.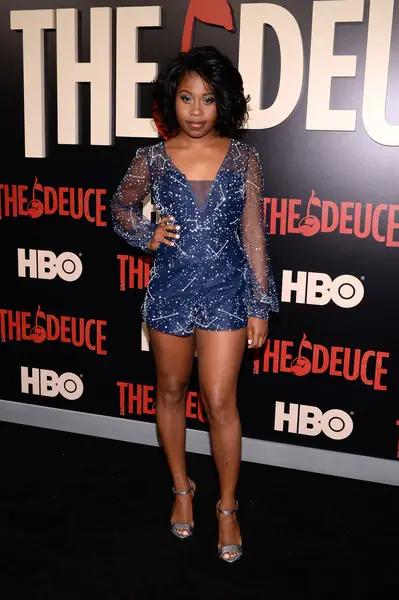 Dominique at the New York premiere of  "The Deuce" at SVA Theater in 2017. (Photo: zimbio.com)
Dominique, who is at the age of 27, made sure to do right by the characters that she performed and even as Darlene; she was able to make a mark doing stuff her character did and put life into it. 
While her acting is great, her writing is even better!
She is more emphasized in her writing experience with an intense desire to enter into the writer's room. Dominique, who is an avid playwright, is also working on a screenplay with hopes to have career breakthrough into television writing in coming future.
As now, she made her film debut this year with her performance in Jordana Spiro's Night Comes On.
Unrevealed Dating Life - Single?
Well, Dominique is filled with determination to uphold her passion and putting all her time into it. But while doing so, she seems to have missed out on her love life. When it comes to dating, Dominique has kept herself off the radar from her fans.
She has been keeping her romance with her possible boyfriend at the bay for her followers as there has not been any mention of him in any of her social media even though she often documents her life on it.
You May Also Like: Jean Currivan Trebek Wiki: Age, Net Worth To Alex Trebek & Family Bliss
This leads to speculation that she probably might be enjoying her single life all by herself. Indeed, she might have all her time devoted into her career which provides her with no space for romance in her life.