Entertainment
Lisa Riley & Musician Partner Soon To Get Married! Spills Future Husband Details
The TV star, Lisa is best known for appearing on Emmerdale and Loose Women, shared the happy news, claiming her partner.... to be the love of her life. She also confirmed her engagement news to her......on.....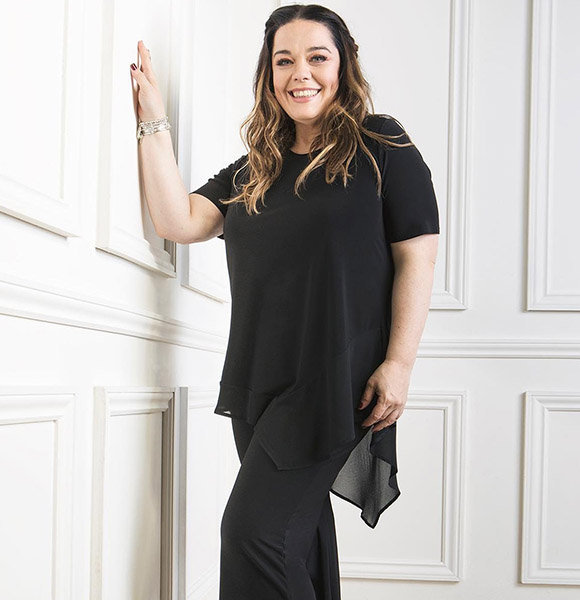 After being famous for being more than 20 years, the Loose Women panelist, Lisa Riley has spilled the bean over her rumored dating life. She was rumored to have a special partner in her life, but she had not affirmed the news.
While the rumors were circulating, she was obsessed with switching the engagement ring due to which she opened the tight-lipped information. Not only she confirmed her engagement news but also shed light to start her family with her partner.
She claimed to have found a perfect partner, who not only loved her but also supported her throughout her weight loss journey.
"Rumours Are True. I Have Got Engaged"; Fiance Going To Turn Husband
The TV star, Lisa is best known for appearing on Emmerdale and Loose Women, shared the happy news, claiming her partner, Al, was the "love of [her] life."
After facing a rumor over the dating life, she openly confirmed the speculation claiming her relationship is more than just dating relationship. She further disclosed that she shared the news about her engagement to stop the 'rumors' and to stop switching the engagement ring from one hand to another.
Story Of Another TV Presenter:- Yanet Garcia & Gamer Boyfriend Break Up! Split Reason - 2018's Weirdest
Describing Al as "soulmate and best mate and love of her life', she wrote on Instagram back in May 2018, stating:
"Yes I can now confirm the rumours are true....I have got engaged... just firmed our togetherness.,and got sick of having to keep switching fingers with my ring."
She shared the stunning snap on Instagram showing off her gorgeous ring.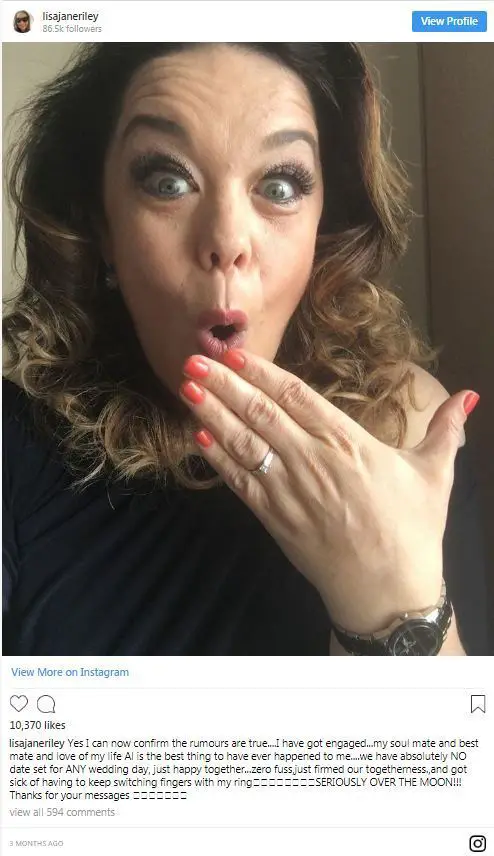 Lisa Riley announces her engagement (Photo: Lisa Riley's Instagram)
The actress and TV star have been with her partner named Al for the last three years, but only the couple went public about their relationship in 2017. It seems the couple was engaged a months ago before she shared the happiest news.
After the happiest news aired on the internet, she also expressed her desire to have a family with her fiance. Since she has a low fertility rate due to her low-quality eggs, she expressed that she will take the help of IVF treatment to have children.
She stated:
"Finding out that I was unlikely to get pregnant was a blow. We have decided now that we aren't going to go down that route, and now that we have made that decision I could not be happier."
Since she has already disclosed to start a family with her fiance, it seems the couple is not ready to rush the alter yet. Explaining the engagement ring is the sign of the commitment, Lisa explained in her Instagram post that they have not yet set a date for their wedding.
Dating Musician Boyfriend 
Keeping the things low, she has been dating her musician boyfriend named Al mysteriously after four long years which seemed to be from 2014 after being introduced by mutual friends.
Before confronting her engagement news in public, she has never talked about her boyfriend before. She has always kept her boyfriend out of the spotlight and had never mentioned him on the social media or has not attended any showbiz party or red carpet before.
Another Celeb With Musician Boyfriend:- Taylor Spreitler, Dating Musician Boyfriend In Cutest Way Possible
She is also thankful that her followers respected her privacy and previously in 2017 while talking to OK! Magazine, she said:
"Everyone's so supportive and thankfully recognizes it's private. The reason why it works is that it's the only thing I've got. It's our own little thing and we're so happy – it's been three years now."
She also claimed that she has never in love before, and this is her first love.
Also teamed up with the Robin Windsor on Strictly Come Dancing in 2012, she revealed that his boyfriend-turned fiance had helped her with the weight loss.
Her dancing partner, Robin also talked to Closer magazine that she has got a new man in her life and further told that they have been dating not long after she started her weight loss procedure.
She's got a new man in her life, and they're really happy together. He's been very supportive. They got together not long before she started losing the weight."
After going under the knife to have the excess skin removed in August 2017, she spoke to the Mirror Online that Lisa opened her boyfriend's effort throughout the tough ordeal.
Boyfriend As A Backbone; Weight Loss 
The White ethnicity dancing star lost more than half of her body weight, going from a size 28 to 12 in the past two and a half years through the daily exercise and adapting the healthy eating habits.
The main motivation towards her weight loss was her family disease that has been passed down into her family. Explaining her family history, she explained how she lost her grandmother and mother over breast cancer in 2000 and 2012 respectively. Following the year of her mother died, a cancer scar was found in her father and was diagnosed with type 2 diabetes.
Since then, she had sworn not to have a baby as she did not want her children to live without mother if she became a victim to the disease.
'I lost my mother, then I thought I was going to lose my dad. That was the moment I decided I had to change. I had to take control of my health and my life – I did it for both my parents.'
She is feared that she might have the cancer gene on her, but she rather wants to be unknown about it. Since her mother passed away, she has been too conscious of her health. She exercised, controlled diet, cut out snacks, alcohol, cigarettes.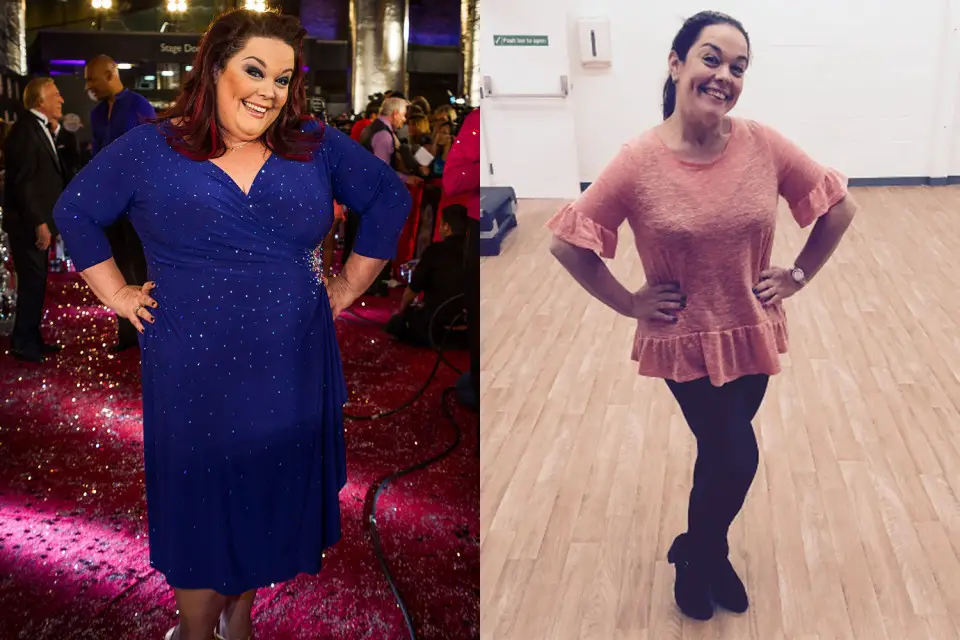 Lisa Riley after and before weight loss (Photo: Genmice.com)
The 41 aged star lost her weight without using any shortcuts, i.e., surgery or gastric band. To prove that she was not lying about her weight loss, she took a lie-detector test and proved that she was telling the truth about her weight loss journey.
Another Weight Loss Story:- Brittany Cartwright, Age 29, Unveils Weight Loss Secret! Before and After Pic Screams
After proving the disbelief of the people, she thought about to have children with her partner. Even while going through the skin-tightening surgery, she asked the doctor if she could have the baby.
Lisa, who stands at the height of 5ft 4 ½ inch, further explained that she would not have done it without his love and support. She claims him to be her backbone.
"He was there for me... He was so patient. He met me when I was big and he loved me then, but I think he prefers me now!".
She added:
"It is two years since I had a ­alcoholic drink. He got me a little card and two yellow roses. His pride in me means everything."
Coming over her fear, she wanted to take the help of IVF to have kids as she expressed that her partner would like to have a baby if she can. So, it seems she overcame her fear, thinking about her partner.
She appeared on Strictly Come Dancing, as her mother loved the show and proved herself. While the happiness of her weight loss and meeting the perfect partner made her feel like a butterfly, and even she could not bear the child, it seems the couple might go through another way to start a family.