Keeping a 'private life' private is one of the things that celebs are good at, but in the case of Donald Glover, the keeping things private is another level. However, like it's said 'the eye sees all' nothing is hidden from the media and the media says that Donald is at the moment is all about happiness.
Keeping a personal life private is one of the things that celebs are good at apart from their area of expertise. But, in the case of Donald Glover, keeping things secret is another level.
However, like the saying goes "the eye sees all" -- nothing gets hidden from the media. Per reports, the Community star is all about happiness at the moment.
Baby, Dating & Gay Rumours
Considered one of the greatest African-American creators of his time, Donald gets labeled as a woke individual. Therefore, the thought of him dating outside of the race didn't sit all among the black community.
But in the end, his love for girlfriend Michelle White proved all too important for Donald to take heed to the negative comments.
Saw Backlash For Dating:- Is Ray Diaz A Gay Man? Has Any Dating Affair Or Girlfriend To Fend Off Rumors?
In around mid-2016, the happy news broke out that the Atlanta actor became a father for the first time. He got photographed roaming out and about in New York City with a girlfriend, Michelle by his leading a baby stroller ahead of her.
This picture alone was enough to accurately speculate that the couple welcomed their first child after revealing pregnancy in January 2016.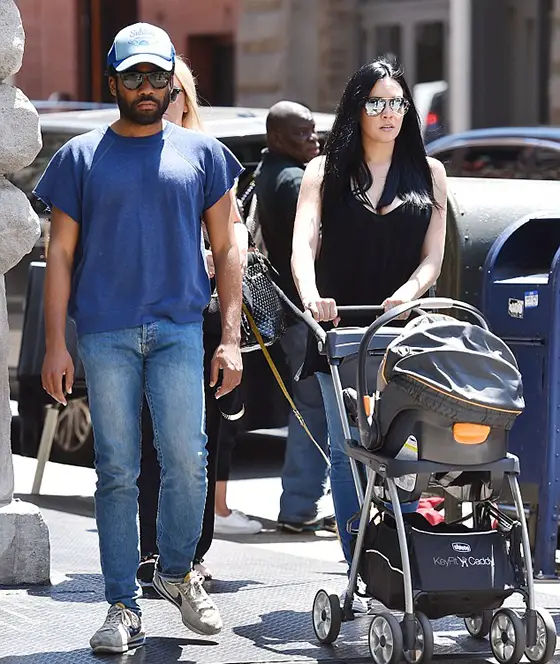 Donald Glover strolling down the streets of NYC with his girlfriend, Michelle White and the newborn baby (May 2016) (Photo:- Dailymail.co.uk)
In January 2016, the Red Bone hitmaker had got photographed with his girlfriend in Hawaii. In the pictures, the baby bump was visible on Michelle's curves. As the couple is incredibly secretive regarding their personal affairs, Donald and Michelle managed to keep the birth of their baby hidden till October.
But, even after every attempt of keeping the arrival of their first baby a secret, Bossip managed to get a glimpse of baby Donald.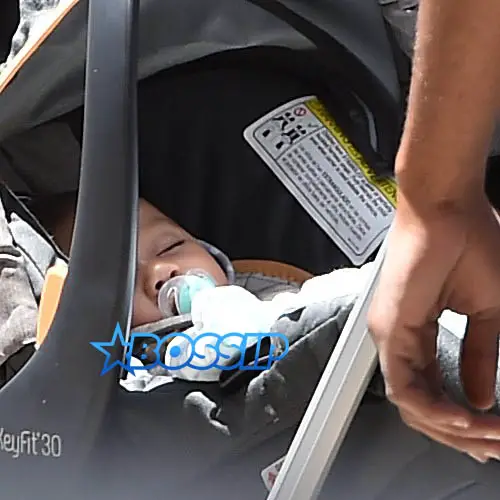 Baby Glover sleeping soundly in the stroller (2016) (Photo: Bossip.com)
Furthermore, the actor-cum-music artist thanked his 'son' and girlfriend during Golden Globes' speech after receiving the award for Best Actor in a Comedy Series for the role in Atlanta stating,
"I really want to say thank you to my son and the mother of my son for making me believe in people again and things being possible, so thank you." 
All the information - be it his family or his dating affair - points towards the fact that Donald Glover is not a gay man. He certainly does not has any gay dating affairs in the past.
Welcomes Baby #2 With Girlfriend
The Glover-White household turned into a family of four, barely a year or two after the first born's birth. Donald made the news public during the Television Critics Association Winter Press Tour in early-January 2018.
Dad Of Two:- Mike Caussin & Wife Welcomes Second Baby Keeping Married Life Strong
While opening about their second baby with girlfriend Michelle, The Lion King star joked about only being able to sleep four hours a night. Admittedly, he missed the dreaming aspect of the night. As predicted, he refrained from divulging more details.
When quizzed if his life was changing now that he was the father of two, Donald replied with a resounding know. He credited his wife prospect Michelle with balancing his life at home and career on the road.
Bio/Wiki Details Uncovers Ethnicity
While Donald is widely renowned as an actor, he's equally revered as a music artist and producer. Initially, an Indie artist, Donald Glover aka 'Childish Gambino' released his first Independent album Poindexter. He later on signed on with Glassnote Records for a contract. His first album was named 'Camp' and his second, "Because of the Internet."
Many have commented about his music which contrasts a lot -- some hilarious, others confusing and for the most part thought-provoking. But many of songs correlate with personal issues and issues within society, from alcoholism to troubled romantic relationships to even suicide. His music filled with great R&B vibes, rap, great beats, and hilarious demeanor is quite popular in the music industry. 
In 2017, the Guava Island actor announced his third album Awaken, My Love!. He also stated that he was retiring his title of 'Childish Gambino' and that his next album would be his last and explained his reasoning stating,
"There's nothing worst than like a third sequel, like a third movie and we're like, 'again? You know, I like it when something's good and when it comes back there's a reason to come back, there's a reason to do that."
He further justified his decision saying,
"Like I feel like there's gotta be a reason to do things and I always had a reason to be punk. Being punk just always felt really good to me and we always looked at 'Atlanta' as a punk show and I feel like the direction I would go with Childish Gambino wouldn't be punk anymore. As much as 'Redbone' is a punk song because it's a gospel song that's on the radio, I'm like there's only so far you can go before you just are the radio."
Donald Glover Childish Gambino, born on 25 September 1983, at Edwards Air Force Base, USA. Being born in the USA, the Atlanta star identifies as belonging to African-American ethnicity.
Not His Father:- Danny Glover, From One Wife To Other; Children At Age 72
Apart from The Martian(2015), Donald is famous for appearing in Community(2009-2015), Adventure Time(2013-2016). He also starred in on Spider-man: Homecoming(2017). Meanwhile, Disney announced him as the lead the Han Solo Star Wars movie starring as the titular character.
In 2019 Disney's live-action remake of The Lion King, the Freeks and Geeks rapper voiced the iconic character of Simba.