Entertainment
Donald Harris Bio, Family Background, Net Worth, Facts
In late-January 2019, senator Kamala Harris announced her presidential campaign. Shortly after, the media outlets began to dig through her family background. Former POTUS Barrack Obama could relate.
Digging through Kamala's lineage, nobody felt taken aback by what they discovered. The accolades that her father Donald Harris hoarded and the life he led didn't come as a surprise.
Kamala Harris's Father: Who is He? Bio And Quick Facts
Once employed at Standford, Donald Harris is an emeritus professor. His field of expertise is Economics. An innovator of the Alternative Approaches to Economic Analysis study, he is also a specialist in Theory of Capitalist Development.
Kamala's Competitor:- Is U.S Senator Cory Booker Gay? Married/Girlfriend Detail Amid Scandal
Donald research traversed analytical conception of the process of capital formation and its implications for a theory of the growth. With the exploration, he intended to explain the central character of growth as a process of unstable development.
Of all his works, he gets best recognized for integrating Post-Keynesian Economics with Development Economics.
A well-traveled individual, Kamala's dad previously worked at the University of Wisconsin (Madison).
Back in 1998, he took early retirement from Standford. Reportedly, he wanted to help develop policies which would advance social equity and promote economic growth.
Donald Harris Personal Life
Donald was born in the year 1938. A native of Jamaica, he later became a naturalized US citizen.
Young Donald excelled in academics at an early age. After graduating from the University College of the West Indies, he migrated to the US and enrolled at University Of California, Berkley.
At Berkley, he met his wife & Kamala's mother Shyamala Gopalan. A daughter of woman rights activist and an Indian diplomat, Shyamala had moved to pursue a doctorate in Endocrinology and Nutrition.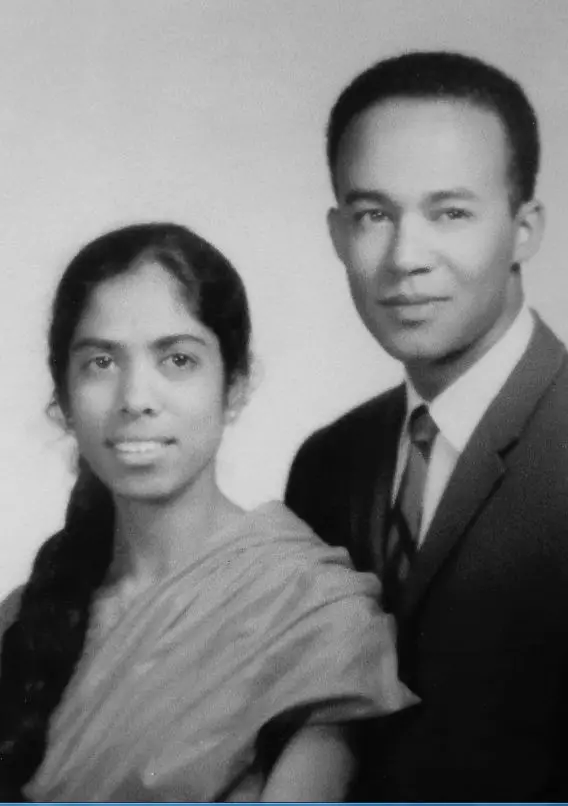 Donald Harris and his wife Shyamala Gopalan smile for a photo circa the 1960s (Photo:- mercurynews.com)
United by the 60s Civil Rights Movement, Donald & Shyamala married while still in Berkley. At age 25, Shyamala earned her Ph.D. and went on to have two children, Kamala and Maya.
Father Of Two:- Mike Caussin, Bio, Net Worth, Wife, Married
But by 1970, the duo's marriage was in tatters. It worsened when Donald - who should at the very least garner a six-figure net worth - took a teaching gig at the University of Wisconsin.
Then in late-1971, his wife Shyamala filed divorce papers. Six months later, it got finalized. Donald lost the custody of 7-year-old Kamala & 5-year-old Maya. Throughout the divorce proceedings, the once-married pair never discussed money.
Facts You Need To Know About Donald Harris:
Maya, his youngest daughter, is a lawyer by profession. In 2019, she got announced as Kamala's presidential campaign chair.
His former wife Shyamala passed away in 2009, succumbing to colon cancer.
81-year-old Donald and Kamala aren't as close as they would like. All because of his and wife, Shyamala's split.
Following the Breakfast interview, he slammed Kamala for making a weed-related joke about her Jamaican heritage.
Previously, Donald served as an economic advisor to several Jamaican prime ministers.