Entertainment
Donna D'Errico Husband, Divorce, Children, Net Worth
Donna D'Errico was previously married to singer Frank...As per the divorce settlement, she took the...he seems to be doing well now economically with a net worth of...height stretches to...boasts a net worth of...plastic surgery...
When audiences came across former playboy playmate and actress Donna D'Errico's personal life, she gave divorce a more serious meaning. Many might look up to her as just a voluptuous woman, but she also has an intelligent and weary brain hiding behind it all.
For the model, terms under which relationship are broken off offically hold as much meaning as the commitment itself. Notably, she doesn't take formal legal agreements lightly, no matter the time gap. And when it involves children and finance, she doesn't make compromises.
So first, let's go through the start of all these to find out why.
Ex-Husband, Children
Donna was previously married to singer Nikki Sixx - the co-founder and bassist of the rock band, Mötley Crüe.
More About Her Husband:- Nikki Sixx Found Luck The Third Time With Wife; Looks After Kids From Past Married Life - Especially Daughter
She was first introduced to Nikki by her Baywatch co-star, Pamela Anderson. After taking a liking for one another, the couple got married on 23rd December 1996. However, their relationship went sour when the actress was pregnant with her daughter, Frankie-Jean.
At that time, things got worse after Donna found out that her husband was having an affair with another woman. In 2000, the couple took a break from each other after Nikki got admitted to rehab.
The same year, she gave birth to her daughter. Apart from the baby girl, Donna also took care of her son Rhyan D'Errico, who was born from a previous relationship.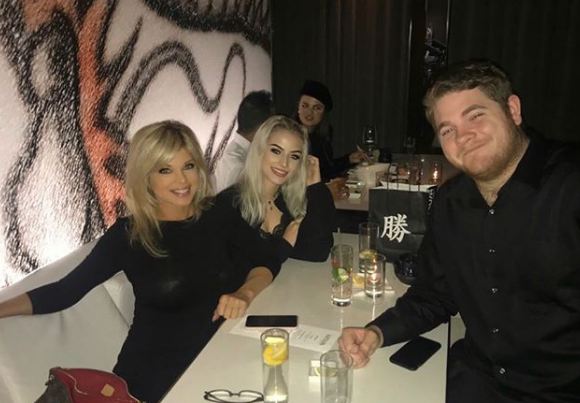 Donna D'Errico spends time with daughter Frankie-Jean and son Rhyan D'Errico in Mother's day on 12th May 2018 (Photo: Donna D'Errico's Instagram)
Although Donna reconciled with her now ex-husband after he was released from the rehab, the couple split again.
Divorce and Settlement
In 2006, after almost a decade of getting married, Donna filed for divorce against then-husband Nikki. As per the divorce settlement, she took the custody of her daughter while her ex-husband was made responsible for all the financial obligations towards his wife and daughter.
Later in 2015, their divorce settlement was restructured. As per the court orders, her ex-husband was supposed to pay $8,257 a month for the child support until their daughter finished her schooling.
He continued doing so until Frankie recieved "Certificate of Proficiency." Although the certificate allows a student to study at University, it doesn't bar a student from continuing the remaining months in school.
Since the Baywatch star's daughter was still active in school, Donna claimed that her Nikki still owed them child support. It's not known if the issue was eventually settled, but it did show she wasn't taking the annulment thing lightly.
What Is Donna's Net Worth?
Although the model claimed bankruptcy in 2014, she seems to be doing well now with a net worth of $500 thousand. It also appears that the child support money heavily contributed to her sudden growth in her income. 
Moreover, Nikki was also required to transfer a percentage of his income if he made between $1.6 million and $10 million.
Apart from the money received from her ex-husband, Donna made about $40,000 a year.
Age, Measurements
The 51-year-old performer stands 5 feet and 5 inches (1.65 m) in terms of her height and weighs nearly 50 kgs. Other distinctive features of Donna's body is considered her blue eyes and blonde hair
The Baywatch star has maintained an attractive figure even at her fading age, all thanks to the plastic surgery she underwent in 2016.
Cast Of Baywatch reboot :- Alexandra Daddario Boyfriend, Husband, Family
After the surgery, she was able to recreate her classic Baywatch hot look. It's also apparent that the procedure helped her maintain a youthful posture.