Entertainment
Who Is Doug DeMuro's Wife? His Married Life, Parents, Net Worth
An automotive enthusiast, Doug DeMuro converted his passion for cars into a reputed profession by making review videos on YouTube and writing books about the world of automotive.
Before deciding to go independent on the internet and humorously spread his knowledge of cars, he worked for Porsche Cars North America.
In January 2013, he left the job and started writing automotive articles for a company named AutoTrader. From then on, his rise to becoming one of the most genuine automotive bloggers started.
Married To Wife Or Gay?
While Doug DeMuro was living an ordinary life with a 10 to 5 job at the office, nobody knew about him. Then suddenly, when he burst into the automobile industry a became one of the funniest car bloggers, people were curious about him.
Another Funny Character:- Taylor Williamson Net Worth, Wife, Tour
Most of them knew what he brought to the table, but all of them wanted to know more about his personal life. Some even speculated him to be gay until he revealed about dating a girlfriend pre-2012.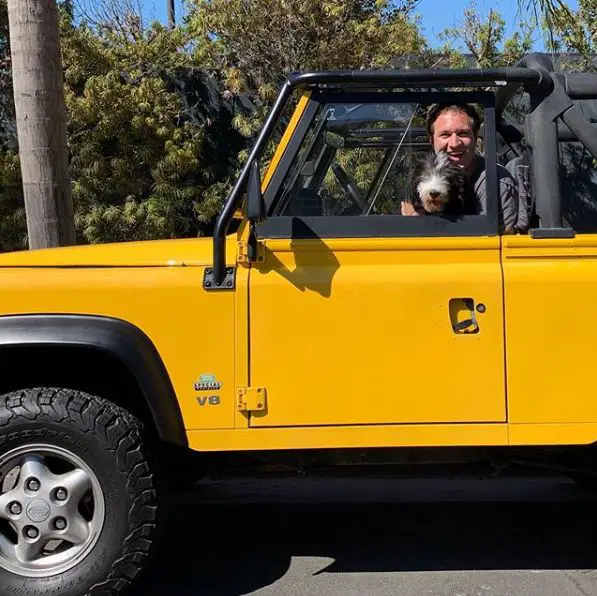 Doug DeMuro with his family dog, Noodle inside his G-Cab in September 2019 (Photo: Doug DeMuro's Instagram)
Though Doug has not mentioned her name, the loving couple married each other at Washington DC in July 2017. Now, the husband and wife live together in San Diego, California.
Net Worth & Articles About Cars
Doug DeMuro eventually quit his job in 2013 to follow his love for cars. After that, he started writing articles for the company called AutoTraders. While writing there, he sent an article named Plays With Cars, summarizing the Detriot auto show for The Truth About Cars.
Later on, his article got posted, and the audience liked his humorous way of writing about cars. Similarly, he started to write more and more, and at the end of 2013, one of his readers sent Doug an email asking him to make videos on the Internet.
Sprouting Talent:- Dion Waiters Married, Family, College
The idea really stuck to him, and Doug created his YouTube channel in September 2013 and uploaded his first video a month later. Now, Doug is one of the most recognized automotive bloggers with 3.19 million subscribers on his channel.
Not only that, he earns an estimated $76.7K - $1.2 million from his self-entitled YouTube channel alone, which has boosted his net worth.
Age & Family Detail
Doug DeMuro was born and raised in Denver, Colorado, on 22 May 1988. His parents sent him to Emory University in Atlanta, where he graduated with an Economics degree. 
Post graduation, he worked as a Resident Advisor (RA) at Dobbs Hall. Later he quit the job to join Porsche Cars North America. He worked there for three years and left the job to become a writer.
Now, Doug is an accomplished automotive writer/blogger with millions of fans who read and view his content on the internet.