If one is a fan of stand-up comedy, then Taylor Williamson should not be a new name to them. He is none other than the semi-finalist on the NBC show Last Comic Standing, who also won second place in America's Got Talent season six. Read on about his life.
Taylor Williamson's Age, Career & Net Worth
The native of Del Mar, CA, Taylor, was born on 15 June 1986 and attended high school in the same city he grew up in.
Having a passion for comedy from a young age, he performed at coffee houses, cafeterias, and pizza parlors since his high school years. As the years passed, he was able to perform at the renowned Just for Laughs Comedy Festival held in Montreal, Canada. 
Look Up Another Comedian:- Chris Redd Net Worth, Married, Family
The comedian was also the youngest person ever to perform on the Late Late Show with Craig Ferguson.
But he made it into the big spotlight when he not only auditioned but became the runner up of one of the biggest reality talent show called America's Got Talent (AGT).
In the show, Taylor first performed a joke about struggling to fit a comforter into a duvet, among other jokes. The judges of the show were so impressed with him that they all voted "yes" and sent him to Vegas.
Though he did not win the first place, winning the second place boosted his career like nothing else. 
Other shows that he has appeared are Comedy Central's Live At Gotham and MTV's TRL.
Other than his appearance on the national TV, he does frequent tours around the US, making people laugh wherever he goes. As of 2019, he seems to be busy in his nationwide tour that started in January 2019 in LA. 
With so many tours and publicity, he is sure to collect a hefty lump of net worth. But the stand-up comedian opts not to share his total net worth to the public.
Who Is Taylor's Girlfriend?
The question did arise in ones' mind when a video of Taylor being interviewed was uploaded on YouTube. In the interview for AGT, it was evident that Heidi was dating Taylor. The interview also elaborated on the relationship between the two. Presented in a funny way, the couple seemed like a match made in the stars.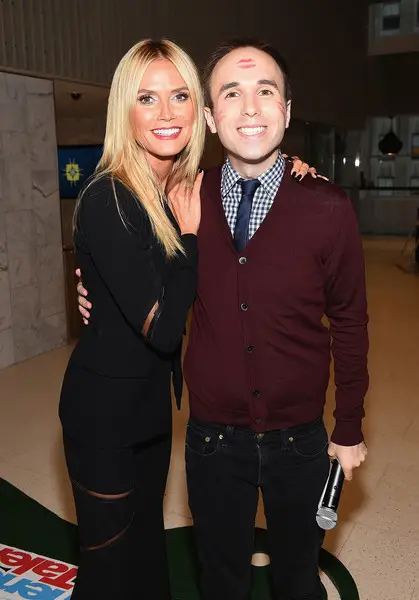 Taylor Williamson with supermodel Heidi Klum (Photo: zimbio.com)
By the end of the video, Taylor popped the big question to the supermodel. Yes, the comedian asked Heidi to be his wife. To the question, Heidi surprisingly said yes.
Suddenly, the video revealed that all of it was, in fact, a dream Heidi had. She recalled the whole dream as a nightmare. Poor Taylor! 
The story is made up as Heidi is already married.
Know More About Heidi Klum's Real Love:- Tom Kaulitz Girlfriend, Dating, Affair, Married 
But jokes aside, the comedian seems to be living a low-key life due to which it is hard to say if he is dating or not. Looking at his tweeted photo of him with a monkey in February 2019, however, it could probably mean that he is single.