Dr. Jackie Walters is a doctor by profession, but there is more to this philanthropist than just getting stuck in a hospital. A vocal advocate on women's welfare, she has devoted her life in making women free from diseases and other reproductory problems. 
Having helped thousands, Jackie still could not protect herself against cancer which eventually led to her infertility. Jackie's pain worsened when she was betrayed by one of her loved ones, her husband.
Husband Cheats; No Children
While many women choose their late-twenties to get married, Dr. Jackie waited nearly a decade longer.
Getting married at the age of 38, Jackie was aware of the slim chances of conceiving a child. However, she and her husband - former NBA player, Curtis Berry - tried their luck in commencing their family.
Luck favored the brave as Jackie was soon pregnant with a baby. But, her health condition deteriorated, and the doctor got diagnosed with breast cancer. Her declining health condition led to a miscarriage, causing Jackie to lose her kid. 
Equally Tragic Miscarriage:- Vienna Girardi Reveals Miscarriage of Twins With Husband-To-Be! Tragedy Fall at 18 Weeks
Although she defeated cancer twice, the disease left a void both physically and mentally. Jackie was not able to bear any more children.
But for Jackie, it wasn't the end. She still had her step-daughter, Kursten, who is Curtis' child from previous marriage. Jackie considers Kursten to be her family and loves her dearly.
Unfortunately, her compassion for Kursten could not save Jackie's marriage from crumbling when she found out about her husband's infidelity. 
In 2017, Jackie became aware of Curtis cheating on her in one episode of her TV show, Married To Medicine. Although she handled her husband's adultery with professional onscreen, she was left devastated.
Unable to handle the betrayal, Jackie filed for divorce three days after the incident surfaced in media.
But, she didn't go through the divorce and reconciled with her cheater husband. Being a forgiving woman, Jackie took Curtis back and now the two are inseparable.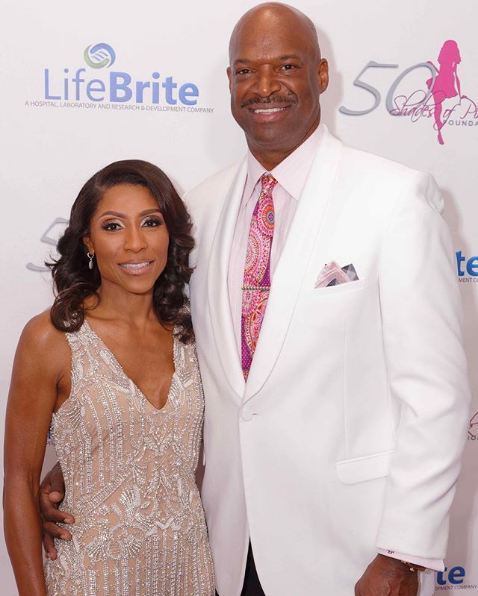 Jackie Walters with husband Curtis Berry 6th Annual Function of 50 Shades of Pink Foundation in October 2018 (Photo: Jackie Walters' Instagram)
While it may take some time for Jackie to fully trust her husband again, at least the partners are back on track.
Jackie Walters' Bio: Age, Birthday, And More
Two-times breast cancer survivor, Jacqueline Walters is a certified OBGYN (obstetrician-gynecologist). Born in Port Gibson, Mississippi, in 1958 (birthday: 27 July), Jackie proclaims to hold American nationality.
Another Doctors' Bio:- Vienna Girardi Reveals Miscarriage of Twins With Husband-To-Be! Tragedy Fall at 18 Weeks
Despite being a doctor by profession, she has also been involved in other businesses. Jackie - aged 60 - is the star of the Bravo reality show, Married To Medicine. 
Further, she is also a philanthropist and has established the 50 Shades of Pink Foundation for the welfare of women. Over the years, she has been advocating women's health and making them aware of different medical conditions.