Entertainment
Is Dragan Bender Dating? Girlfriend, Family, College
Basketball player Dragan Bender rose to fame in 2016 following his NBA debut with the Phoenix Suns. The versatile forward/center player was picked 4th overall in the 2016 NBA Draft.
However, his official entry into professional sports was not from the NBA. Before he was drafted by the Suns, Dragan spent two years with Israeli club Maccabi Tel-Aviv, which is a European powerhouse that bagged the 2014 Europen Championship.
Is Dragan Bender Dating?/ Girlfriend
Dragan Bender is, without a doubt, an attractive guy and has garnered a significant amount of fans & admirers over the years. Needless to say, his admirers are always curious to know about his personal life and dating affairs.
However, to their dismay, the young athlete has kept his personal life pretty secluded. Further, he has never even been spotted or linked with anyone who could be tagged as his possible girlfriend.
You May Like:- Coby White Dating, Gay, Family, hair
From such a squeaky clean personal life, it can be assumed that Dragan is focusing on his growing career. Having said that, he could also be dating someone away from the prying eyes.
Well, until an exact confirmation comes from Dragan himself, all one can do is make speculations.
Family/ Nationality
Dragan Bender was born in Capljina, Bosnia and Herzegovina. However, his family moved to Croatia when Dragan was merely a little child.
He is the youngest child to his parents; the athlete's elder brother Ivan Bender is also a basketball player - who plays as a forward in Maryland.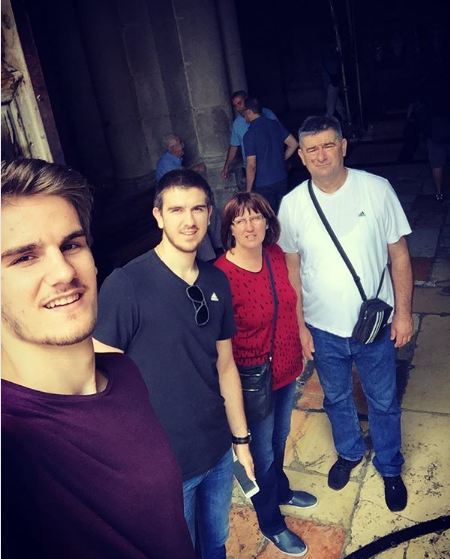 Dragan Bender on the right with his brother and parents in May 2016 (Photo: Dragan Bender's Instagram)
Both the Bender brothers fell in love with basketball at a very young age. Dragan and his brother, who is two years older than him, practiced together and were great players in the making from a very young age.
Brother's Accident
In 2012, a tragic accident happened to Dragan's brother, Ivan. He had earned a spot on the under-18 Croatian national team, the whole family was proud. But unfortunately, he tore his ACL during a match and had to go through surgery. After spending six months on recovery, Ivan tore the same ACL again and had to go through even complicated procedures.
You May Be Interested:- Jeremy Lamb Married, Dating, Parents, Brother
The unfortunate accidents affected Ivan's career to a huge extent, but it taught Dragan a lot. He never puts himself in harm's way on the court.
Age/ Height/ College
Born on 7th November 1997, Dragan Bender stands at a towering height of 7 feet (2.13 m) with a complimenting weight of 102 kgs.
Dragan started his professional career at a very early age. As a 14-year-old, he played for the Croatian national team in the U-16 European Championships. Later, he signed with Israeli club Tel Aviv and then with the Phoenix Suns.
During all this, the young player had a fantastic ride in his career. But, amid all his professional-level sport, Dragan missed out on college-level basketball.