Indiana Pacers star Jeremy Lamb has been at it since his NBA debut in 2012. After being drafted by Houston Rockets, he was traded to Oklahoma City Thunder before the season started that year.
Each year, he has proved his mettle and continues to work as a small forward and shooting guard for his team, Indiana Pacers.
Is Jeremy Lamb Married? Wife, Dating Info
Jeremy's life outside of court is an open book. He has been publicly dating his girlfriend, Hali Eplin, since 2016. She works as an asset manager for Northwood Ravin - a multifamily development, construction, and property management firm.
The hardworking couple's life got filled with joy when Hali became pregnant with their baby in 2018. Jeremy and his girlfriend were on cloud nine when their daughter, Halo Amor Lamb, was born on 26 June 2019. The baby girl weighed 2.5 kgs at her birth.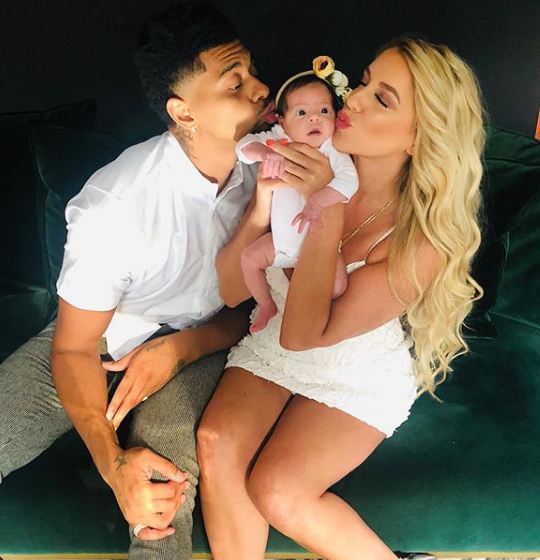 Jeremy Lamb with girlfriend Hali Eplin and daughter Halo Amor Lamb in July 2019 (Photo: Hali Eplin's Instagram)
The new parents continue to flaunt their love and family on Instagram. It all began when the athlete and his asset manager girlfriend met at Charlotte. However, in September 2019, the couple packed their bags, from their lovenest city, and moved to Indianapolis.
NBA Star:- Ryan Arcidiacono Dating, Family, College
Maybe in the new place, they will finally decide to take their relationship forward and get married. Fans need to wait and watch for Jeremy and his girlfriend, Hali, to become husband and wife.
Parents, Brother Info
Jeremy's parents have been his number one supporters since day one. Especially his father, Rolando Lamb, was his most significant influence growing up. Being a college basketball star at Virginia Commonwealth University and 1985 Seattle Supersonics draft, Rolando instilled the athletic discipline in his son.
Don't Miss:- Garrett Temple Dating, Wife, Family, College
No wonder Jeremy of age 27 went onto make basketball his full-time career. Interestingly, his brother, Zach Lamb, also played as a guard for William Jewell Cardinals in the 2014-2015 season.
College, Height & Tattoos
Jeremy got noticed by the NBA during his glorious run at the University of Connecticut's basketball team. His bright future was evident as he won the NCAA Championship in his first year.
As he got drafted by Houston Rockets in 2012, the rest became history.
Today, the athlete of height 6 feet 5 inches (1.95m) is a celebrated star even off-court. His tattoos and hairstyle always became the talking points for fans. Well, Jeremy boasts over 25 tattoos all over his body; he likes to cover his athletic body in permanent ink quite a bit.
Among one of his many tattoos is a quote on the right side of his chest. On the left side of the same body part is a depiction of the city with birds and stars.
Similarly, Jeremy boasts a Buddhist god tattoo, pocket watch tattoo, and bible verse tattoo.