Entertainment
Drena De Niro: Eldest Of Six Children of Famous Father – Is She Married?
If you are into Hollywood movies, you have probably heard of the legendary actor Robert De Niro. The Taxidriver actor Robert is one of the most talented veterans in the film fraternity and has been a part of some incredible movies that have made it to the golden pages in the history of Hollywood film industry.
The actor is an incredible father to his six children: Drena, Raphael, Aaron Kendrick, Julian Henry, Elliot, and  Helen Grace De Niro. He and his two wives had most of their children through surrogacy. But we are here to talk about one in particular, who was neither surrogated nor conceived naturally. 
Well, we're talking about Drena De Niro, the eldest child of Robert De Niro, who was not conceived naturally but was adopted. Keep reading to take an even more in-depth look at the life of the daughter of the Hollywood star!
Eldest Of Six Children; Famous Father & Caring Step-Mother
Robert De Niro's daughter Drena is the eldest among the rest of her siblings. She was adopted by Robert De Niro and his ex-wife Diahnne Abbott back in 1976 when Drena was five years old. The actress has been paparazzi's favorite ever since, given her illustrious father and famous actress mother.
Discover:- Engaged in 2010, Why Has Hallie Jackson Kept Her Married Life a Secret? Husband? Plus, Her Career Portfolio
Although Robert got divorced with Diahnne and got married to Grace Hightower, Drena seems very close to her family as they are often spotted together for Robert's movie premieres or other events.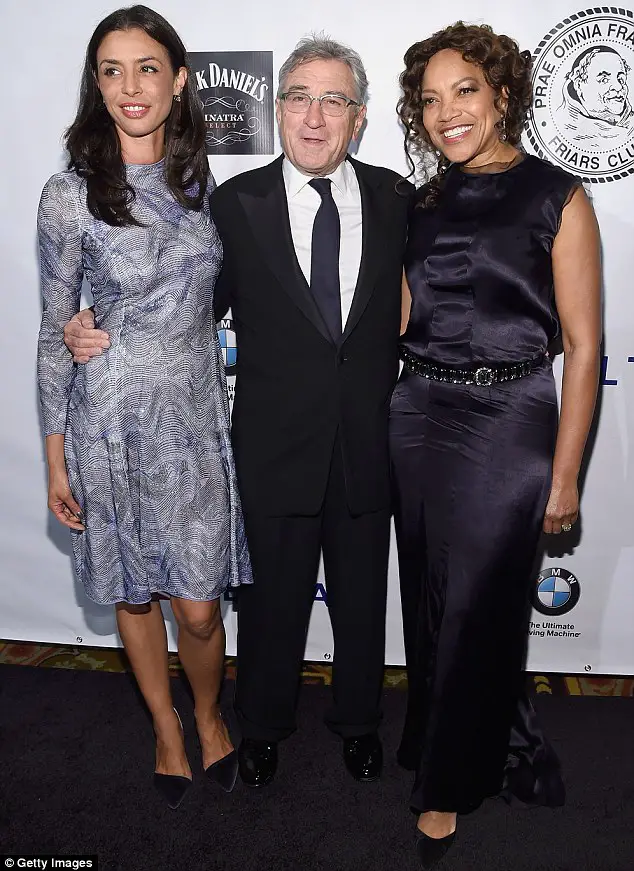 Drena with her father, Robert De Niro, and step-mother, Grace Hightower attending an industry event (Photo:- dailymil.co.uk)
The bond between Drena and her father was evident on this year's Father's day when she penned a heartwarming tribute. An excerpt of the said Instagram post reads:
"Anyone can be a father...Few can be a ' Dad' Big Up and Big KISS to all you Dads out there!"
Furthermore, she credited her father for helping her get through dark times with "inappropriate jokes."
Drena is not in the news only for her father, however. The actress was in the ultimate spotlight after she attacked her ex-boyfriend, Austin Young.
Almost Married; Attacks Former Husband-To-Be
The actress was briefly engaged to him, but her father did not approve of their engagement, due to which Drena gave her engagement ring back before the pair could get married and share a husband-wife relationship. 
Interesting:- What Is Brett Kavanaugh Religion? Did Allegation Tremble Wife Relationship?
The couple broke up, ending their engagement on bad terms. But it did not stop there. Drena attacked Austin while he was walking his dog. When asked about the incident, Austin recalled it and said,
"I can take a punch, but she whaled on me, like, 10 times. She's a Thai boxer, and a very good one."
Apparently, Drena found out that Austin had moved in with his other girlfriend, which sent Drena into a frenzy. He further added that she yelled while she attacked him:
"I want my sweater back, I want my engagement ring back! I want to be compensated because you never loved me."
That got pretty ugly!
Even after such a brutal attack, Drena was not arrested which made Austin very upset.
"If the roles had been reversed, I would have been arrested. I feel like I was bullied by celebrity power."
After that unfortunate incident, Drena has not been romantically linked to anyone, but she is often spotted with Wilfredo Rosado.
Wilfredo Rosado: Future Husband Or Just Friends?
She even went on somewhat of a date with Wilfredo and shared a picture on her Instagram.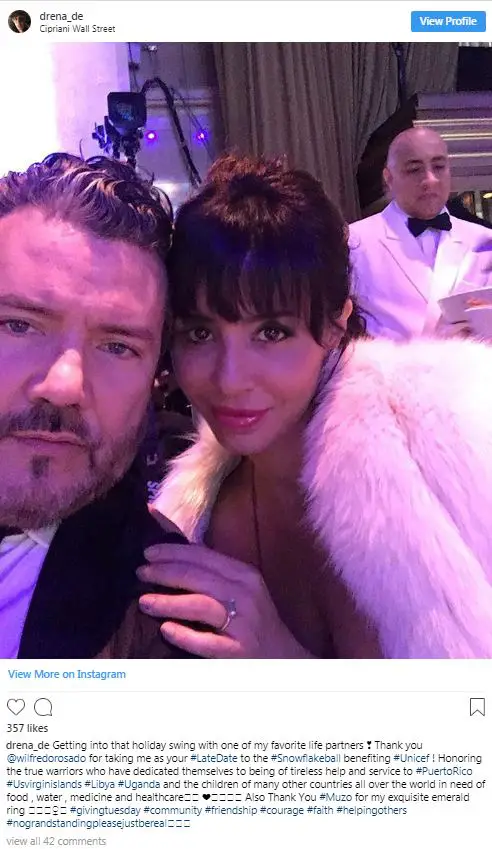 Drena alongside her "life partner" attending SnowFlake Ball (Photo:- Drena De Niro's Instagram)
Well, Drena - who stars as Dave Chapelle's character's wife in A Star Is Born - is not the only one to flaunt the duo on social media. Wilfredo Rosado also took the liberty to share a picture calling Drena a "friend" on the caption.
Read Also:- Pete Davidson & Girlfriend Ariana Grande; Engaged To Split Details | Reason
In a separate post where Drena is photographed wrapping her arms around Wilfred continues the raise suspicions about a possibility of a brewing romance between the two.
To deflect the rumors involving her and Wilfried, she put up another post calling their relationship "friendship." The Instagram post featured a photo of the rumored pair with a caption that read:
"Weathering the storm, slipping off the grid and having good ol' KiKi with one of my dearest and nearest @wilfredorosado?? ?Unconditional love and friendship needs #nofilter ?"
One of the hashtags used in the said post was "Homies 4 Life."
Based on the images they share, it seems like something is going on between the two, but neither of them has confronted anything on that matter till this date!