Entertainment
What Is Brett Kavanaugh Religion? Did Allegation Tremble Wife Relationship?
The most recent justice to join the list of judges of the Supreme Court of the United States (SCOTUS), Brett Kavanaugh's integrity was put to the test when multiple of women came forward alleging him of sexual misconducts with Senate Judiciary Committee all set to cast their votes.
What ensued following the revelation in the Senate Judiciary Committee Hearing can be only described as one big political soap opera. Instead of focusing on the credibility of the allegations against Brett, both Republican and Democratic senators made it seem like a smear campaign against the opposing party.
While all this was going on, one would assume that Brett, age 53, was dishing out one prayer after another, hoping "the man" above looks after his disgraced soul. Call it Senate's incompetency or miraculous working of religion, all his prayers he had saved for a rainy day seemed to have worked as he was left off scot-free and eventually sworn in as one of nine Supreme Court Justices after the Senate voted 50-48 in his favor.
For a guy - no less, a Supreme Court justice - to be exonerated of such vile allegation is very telling of today's political climate. And in spiritual front, Brett's acquittal is a testament to a man's faith in religion.
What is Brett Kavanaugh's Religion?
As an old American saying goes:
"Justice prevails where religion fails."
For alleged victims of Brett Kavanaugh's sexual assaults, neither religion nor the justice system could offer the salvation they had intended to find when they first came forward with allegations against the current Supreme Court Justice.
Related:- Marie Harf Bio: Fox News Reporter Wedding To Height & Essential Details
Christine Blasey Ford, the first woman to come out accusing Brett, testified in front of the Senate Judiciary Hearing alleging him of assaulting her at a high school party. Addressing Christine's allegations, he quipped:
"This is a completely false allegation. I have never done anything like what the accuser describes — to her or to anyone. Because this never happened..."
Soon after, another woman named Deborah Ramirez came forward claiming Brett exposed himself to her during their time at Yale. Julie Swetnick, the third woman to accuse Brett of grave sexual misconduct, signed a declaration claiming to have seen Brett "spiking" drugs to cause girls to lose their inhibitions.
Discover:- Piers Morgan, Massive Net Worth Holder Fired By CNN? Here's The Truth
Like Christine's claims, Brett - who recieved his law education from Yale Law School - staunchly denied the allegations by Deborah and Julie throughout the Senate Judiciary Hearing all the while asserting the accusations was a concentrated effort to smear his name and beliefs in public.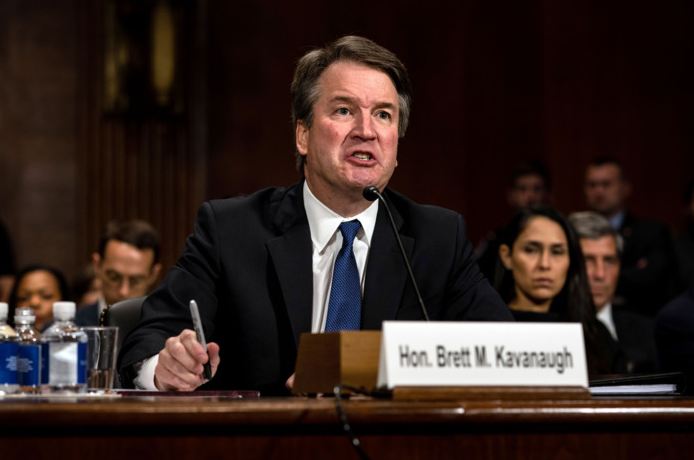 Brett testifying in front of the Senate Judiciary committee regarding sexual-assault allegations (Photo:- nymag.com)
Justices, in the books at least, should remain impartial. But judging by his supporters and ideologies, he leans to and the fact President Donald Trump hired him; there's no denying that Brett is a man with a conservative core -- and one that is typified by his affiliation to Roman Catholic religion.
So, when the push came to shove, fellow Roman Catholics lend their helping hands as they set up a GoFundMe account - which has raised over $500 thousand - for the Kavanaugh family's security expenses.
Read Also:- Who is Eivin Kilcher Mother? Including Bio With Age, Education, Net Worth
Did Sexual Misconduct Allegations Create Strife Between Brett & His Wife?
Given the nature of allegations against Brett, it's logical that the wellwishers of Brett - whose reported net worth is believed to be much higher than $4.6 million median net worth of Supreme Court justices - would want to beef up Kavanaugh family's security.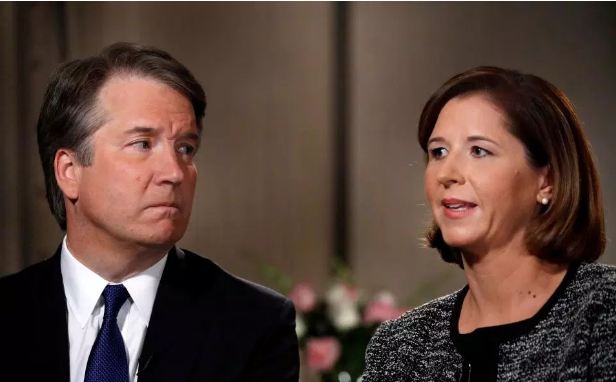 Brett and his wife, Ashley talking to Fox News (Photo:- thesun.co.uk)
Brett's wife, Ashley Kavanaugh, on the other hand, seemed less concerned about the family's security and more worried about what the allegations might do to her husband's image when she sat down with Fox News. She said:
"I know Brett. I've known him for 17 years. He's decent, he's kind, he's good. I know his heart. This is not consistent with Brett. I know Brett. I know who he is..."
While remaining very supportive of her husband, Ashley - who recieved her high school education from Abilene Cooper High School - also sympathized with the alleged victims' cause. She quipped:
"I don't know what happened to [Ford] and I don't even want to go there. I feel badly for her family. I feel badly for her through this process. This process is not right."
Forget strife, the allegations against Brett didn't even so much falter his relationship with his wife. If anything, the whole fiasco solidified Ashley's position as a loyal wife, who can turn a blind eye to her significant other's wrongdoings, if need be.
Interesting:- Pete Davidson & Girlfriend Ariana Grande; Engaged To Split Details | Reason
Brett's wife, Ashley's decision to stick by her man could be something to do with trying to put on a defiant face for their daughters' sake. Or she might - in the depths of her heart - believe that her husband isn't capable of perpetrating such heinous crime.