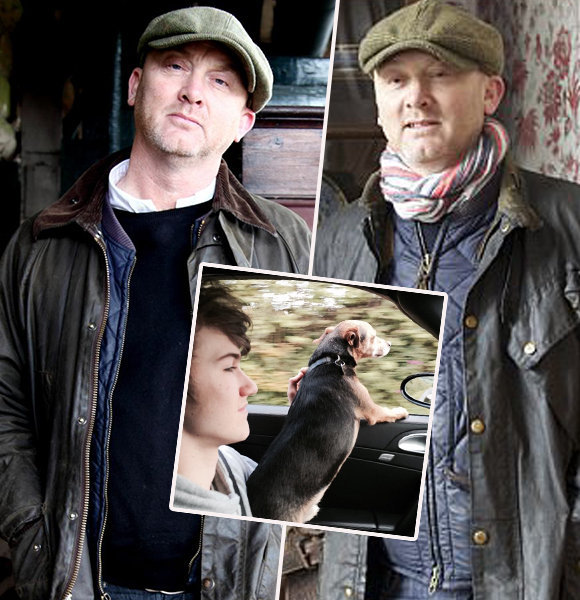 If you are a lover of antiques, you have probably heard of Architectural Antique Dealers; Drew Pritchard, who collects unique antiques. He is a famous name when it comes to vintage designs and restoration. 
Apart from his successful life as a restoration expert, his personal life is not the same as his career. 
The success he has today is all with the help of his wife. But the public is more interested in his new partner. 
Let us learn more about him.
Drew Pritchard's New Wife?
Drew Pritchard is currently single and is not married to anyone. But he did have a wife who assisted him in getting to where he is now.
Drew was previously married to Rebecca Pritchard. Drew met Rebbeca when she worked in a property development firm. They did not rush into being in a relationship and started slowly. 
Another Personality With Same First Name:- Drew Lynch Girlfriend, Wife, Net Worth, Tou
After knowing each other for a while, Drew asked Rebbeca to be his wife. After some time, they settled down and had their own family. They have kept their wedding date a secret. 
But they did welcome their son in 1999. Although Drew has chosen not to share the details of his son, he has shared his son's pictures on his social media. 
On June 04, 2015, Pritchard posted a picture of his son holding their dog Enzo enjoying a car ride. The caption read- 
Son and Enzo enjoyed the weather and the 911 #myloves
Drew Pritchard's son poses with their dog in June 2015 (Source: Instagram)
Drew and his wife were balancing their personal and professional lives in addition to raising a baby son.
Drew and Rebbeca used to run a reality program called Salvage Hunters. He and his wife used to work as a team; he traveled and brought back unique antiques, whereas his wife used to assess them. 
However, after being together for more than a decade, they decided to end their relationship and get a divorce. After splitting up, Rebecca left the show and was replaced by Jhon Tee. 
Drew and Rebecca never revealed the actual reason for their split. But we can assume that Rebecca found out about Drew's affair.
Drew Pritchard's Affair
Drew and Rebecca have not disclosed the real reason for their split in 2017. However, in October 2017, it was reported that Drew was punched to the head outside a pub on the quayside at Conwy by Janus Bryn Thomas. 
According to Janus, Drew had been having an affair with his wife, Amanda Thomas, for two and a half years. 
About Another Famous Celeb With Dating Affair:- Gunplay Personal Life: Failed Marriage & Multiple Dating Affairs Insight
The assault was taken to court, and the defense lawyer claimed that Drew smirked at Janus and provoked him for the action. 
According to the reports, two months before the fight, Drew had allegedly texted Janus and called him a coward for not getting his revenge for the affair. 
After seeing his text, Amanda's husband got furious, and when he saw Drew smirking at him, he couldn't control his anger and "swung out with his left hand in a rage."
Despite this, Janus accepted his fault, and he was fined a total of $1561, ordered to pay $108 in compensation and $196 costs.
Maybe, Rebecca found out about his affair earlier and decided to leave her cheater husband.
More About Drew Pritchard 
Drew Pritchard was born on 24th June 1970. 
He is an architectural antique dealer who was initially trained as a stained glass restorer and designer before becoming an antique restoration & salvage hunter. 
He began to deal independently in 1993, and ever since then, he has been focusing on originality and good design when it comes to his antique products. 
His life as an antique dealer was also covered through a TV series called Salvage Hunters, which came out in 2011.
The antique dealer is quite popular on Instagram, with over 137K followers, where he mostly posts about his projects. 
Apart from his show, Drew collaborated with Barker & Stonehouse to launch an exclusive range of furniture designed by him. 
He still posts pictures of the antiques he has collected on social media and on his website Drew Pritchard.
There has been no news about his personal life as he prefers to keep it a secret. 
We will keep you updated on Drew Pritchard in the coming days. Till then, stay tuned.