EJ Johnson came out as openly gay...since his dad has a jaw-dropping net worth of...he has an impressive height of 6 feet and... recurring cast in E Networks reality show...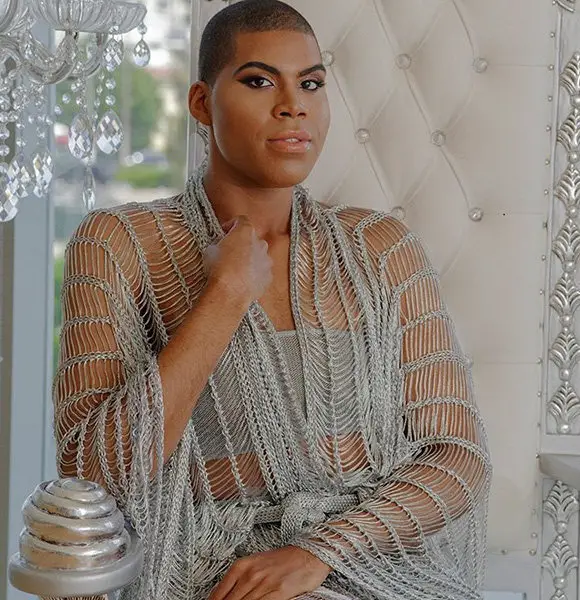 Reality Television Personality EJ Johnson grabbed massive fame through E Networks' reality show Rich Kids of Beverly Hills.
During the beginning, he faced backlashes for his huge weight. But, as the show progressed, he went through a significant weight loss.
In 2014, the reality star lost about 63 kilograms after undergoing a Gastric Sleeve Surgery. Since then, the actor started to focus on his health and worked out by doing pilates to keep his height of 6 feet, and 2 inches (1.9 meters) fit.
What Is His Net Worth?
EJ Johnson is notable for making lavish wealth at a young age.
From his recurring role in the show, he already has a net worth of $2 million. On top of that, there are chances he will see substantial growth in his finance from the inheritance of his parent's jaw-dropping net worth of $600 million.
EJ Johnson's Age & Parents
The 27-year-old star was born on 4th June 1992 in Los Angeles, California.
He grew up in a family full of fame and riches. His father Magic Johnson is a professional basketball player with a legendary career whereas his mother Cookie Johnson is an entrepreneur with her clothing brand. Also, his elder brother, Andre Johnson, is the founder of Love + Light Ventures.
EJ has an adopted sister named Elsa Johnson, who became part of the Johnson family in 1995.
More Information On His Sister:- What is Elisa Johnson's Age? Has A Blessed Dating Affair With Boyfriend Amid Brother's Refusal
Interestingly, the television personality also has a stepbrother as per an unresolved accusation.
In 2017, his father Magic got accused by a woman named Renee Perkins for abandoning her son for 35 years. She claimed Magic as the father of her son. Moreover, she reportedly had proof about the player's conversation with her where he had promised to raise the kid.
EJ's father neither denied, nor did he made any comments publicly on the accusation.
Openly Gay, Has Boyfriend?
His parents not only provided him all sorts of materialistic requirements, but they also supported him during critical emotional years of his life.
However, when the reality icon first came out as gay in 2013, his father was anxious, due to concern that his son would have a hard time in the world. But, on The Ellen DeGeneres Show in 2017, he expressed full support for EJ and revealed he would continue to love and support him.
He even beautifully added that parents need to help their children, who face harsh discrimination since they are the ones children look up to in need.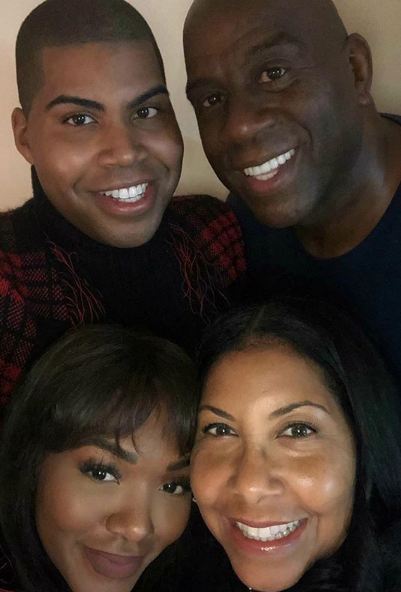 EJ Johnson (top right) takes a selfie with father Magic Johnson, mother Cookie Johnson, and sister Elsa Johnson on 24th November 2018 (Photo: EJ Johnson's Instagram)
While EJ has all support from his family, his dating status and boyfriend prospect are yet to assist him.
In the talk show Red Table Talk, he revealed that it was hard to get a date having honest intentions towards him. EJ implied that most of them would be attracted to him for his father's fame.
You Don't Wanna Miss:- A Throw Back! Ellen DeGeneres Came Out As Gay Long in the Past; View On Turning Girlfriend Into Wife
Nevertheless, in 2017, he was rumored to be dating Love & Hip-Hop star, Milan Christopher.
The gossips started after they were spotted sharing lunch at Hollywood spot Toast and they appeared together at the LGBT Center's 48th Anniversary Gala Vanguard Awards.
But, neither of them ever confirmed about the dating affair in public.