90 Day Fiance star Elizabeth Potthast's life has changed a lot since 2016. From meeting the love of her life to facing disapproval from her family, her love story was no less than the story of star-crossed lovers.
Having to choose between the family she grew up in or the one man who could make her happy, she was in a quiet dilemma. Did she marry her beau or did her disapproving family win? Let's find out!
How Did She First Meet Her Boyfriend?
Elizabeth, age 28, went through a transition in her life when she signed up for TLC's 90 Day Fiance. After being profiled for season five of the dating show, she met Andrei Castravet via a dating app in 2016.
It was like; the couple was meant to be as the pair connected instantly and got engaged in August 2016.
Although the couple got engaged pretty quickly, it was no surprise to the fans.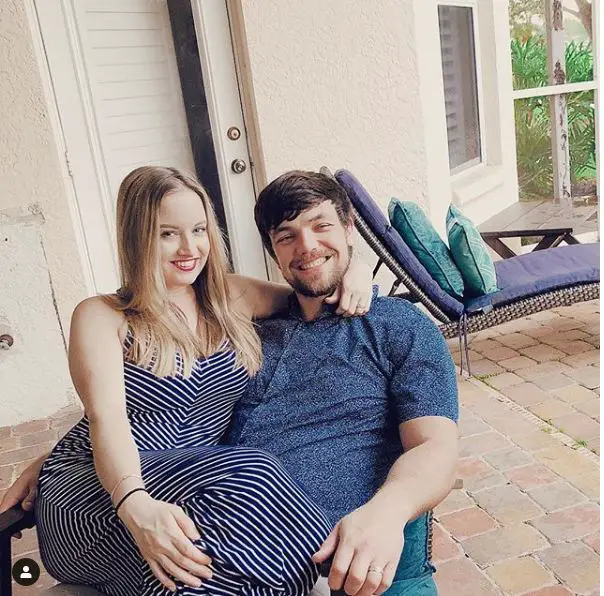 Elizabeth Potthast looks happy with her fiance' Andrei Castravet on 5th July 2018 (Photo: Andrei Castravet's Instagram)
In the concept of the TV show, a pair get introduced, and if they connect, the next step is to get engaged. One of the individuals among the couple has to hold a foreign nationality whose visa expires in 90 days; thus the clock starts to tick on the love-birds' relationship.
And if the pair get married within 90 days, the foreigner in the relationship can stay in the USA. Otherwise, the poor guy/girl has to pack bags and return to his/her original country.
Related:- Ashley Martson Divorce From Jay Smith Halts; Affair, Kids, Family
When Elizabeth entered the show, her family was not bothered as they were letting the talent scout enjoy her dating life. All hell broke loose when the pretty brunette got quickly engaged to the foreigner from Chisinau, Moldova.
Her family was worried that Andrei wanted his wife to be conservative. Adding to that, they also suspected that he only wanted to get married to Elizabeth for the green card.
Poor TLC star was torn between her family's concerns and wanting to be with her fiance. But after a lot of challenges, she finally got married to her beau on 28th October 2017.
Elizabeth's Baby Bliss
Happiness smiled at Elizabeth as she was bestowed with the world's greatest joy. On 15th October 2018, she and Andrei announced they were expecting a baby girl.
After revealing the news, the pregnant lady started sharing pictures of her baby bump on Instagram. On 23rd January 2019, the reality star welcomed her new-born daughter Eleanor with Andrei by her side.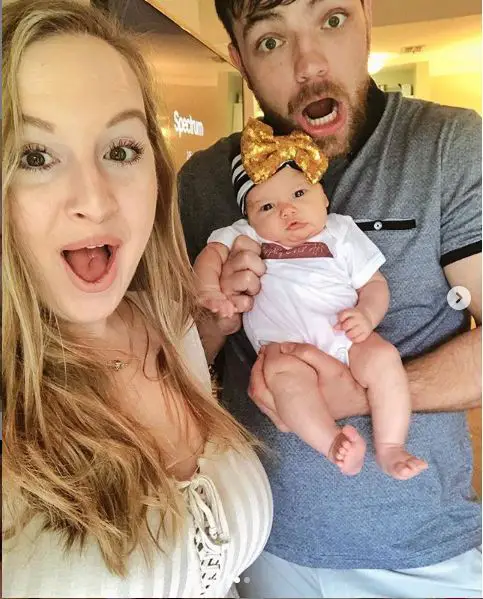 Elizabeth Potthast takes a selfie with her husband Andrei Castravet and daughter Eleanor on 20th March 2019 (Photo: Elizabeth Potthast's Instagram)
Oscar Nominated Director's Baby Bliss:- Greta Gerwig Pregnant, New Baby, Boyfriend
Elizabeth, who celebrates her birthday on 30th July, keep posting about her adorable munchkin on social media making everyone fall in love with the baby girl.
On Reality Star's Wiki
Before Elizabeth tasted the height of her career as a reality star, she had small roles here and there on few shows.
Well, she played a cashier in the hit show, Homeland. Similarly, she had a small part in Secrets in the Snow.
Well, her past credits and reality star status helped her earn a decent net worth due to her salary of an average $50,677 a year.