British singer and songwriter Ella Mai is a self-made star rising in popularity in 2019. Her very first taste of limelight in 2014, Ella appeared on The X Factor but sadly couldn't go beyond the initial stages of the reality music show.
She later diverted to the popular music platform SoundCloud to showcase her talent. Posting her music on the online platform, she even took to other social media stages like Instagram to share small clips of her as well.
Her hard work and determination slowly began bearing fruit. Ella's work was recognized by DJ Mustard, who contracted her with 10 Summer Records. Soon after, in 2016, she released her debut EP Time, and the rest was history.
What About A Dating Life?
About the dating life of the singer, Ella remained quite coy, gaining much attention from her fans and followers. For most of her life, relationship status and a boyfriend remained absent but not in 2019.
Relationship Details:- Katherine Schwarzenegger & Chris Pratt Wedding, Dating
Officiating the mark of new dating status, Ella went from single to in a relationship quickly with NBA star Jayson Tatum. Jayson, who shares a baby with Samie Amos, was reportedly dating Ella in the early time of 2019.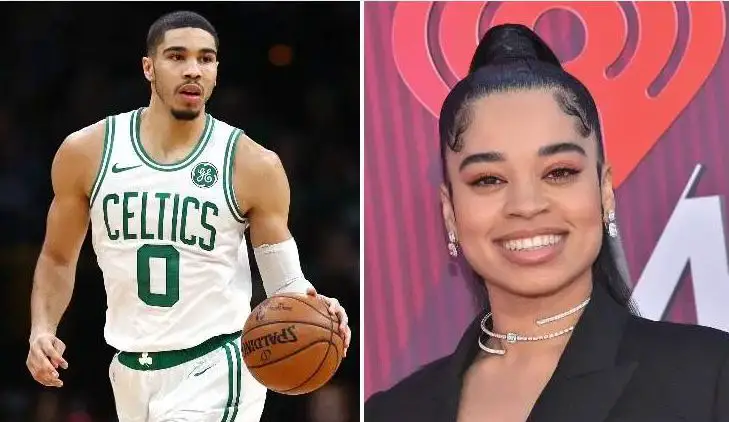 The rumored pair: Ella Mai and Jayson Tatum (Photo: heavy.com)
Their alleged romance brewed up after Ella Mai secured her first Grammy's. Ella and Jayson reportedly have been flirting through their Instagram posts, at least publicly. It was also stated that Jayson even flew from Boston during one of his games to Baltimore to Attend Ella's Concert.
Interestingly the duo has yet to confirm the existence of a relationship. Jayson, however, was rumored to have broken up with a previous girlfriend to be with Samie, only to leave her for Ella.
Not much is known about their previous history. Ella and Jayson have been linked together from March 2019, and if there is or was a relationship, the duo is sure to address the topic sooner or later.
As for the rumors of her sexuality come into question, if there are any, it is pretty clear that her orientation is straight and not gay.
Ella's Early Life
Born on 3 November 1994, Ella is the daughter of mixed ethnicity parents: Irish father and Jamaican mother. She was raised in Mitcham, Southern London, alongside brother Miles.
Ella's biggest motivation in the world of singing and music was her mother. While her mother occasionally enjoyed the tunes of classical jazz music, her daughter soon began to like music with a burning passion for herself.
Her mom was a teacher. So during Ella's academic years, she not only received proper knowledge but also received opportunities in singing and other performing arts. She was later enrolled at a performing arts school where she was trained in the arts of acting, dancing and singing all together.